2012 NFL Mock Draft: Players Who Will Immediately Become Fan Favorites
April 26, 2012

Kevin C. Cox/Getty Images
In the next couple days, a couple hundred young men are going to go from being simple prospects to being professional football players.
Most of them will carry on in relative obscurity in 2012. Relative to the number of players who are drafted every year, very few make an instant impact in their rookie seasons.
Players who go in the first round tend to be the exception to the rule. Take a look at what Cam Newton did last year. A.J. Green and Julio Jones also made big impacts on the offensive side of the football, and Von Miller, Aldon Smith and Patrick Peterson opened eyes on the defensive side. Fans quickly learned to love them.
So which of this year's first-rounders are going to burst onto the scene and become fan favorites? I have a few guesses, and I'll point them out as I move through my latest mock.
1. Indianapolis Colts (2-14): Andrew Luck, QB, Stanford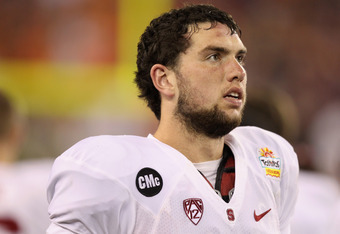 Christian Petersen/Getty Images
This one's all set. After months of speculation, Colts GM Ryan Grigson came out on Tuesday and officially announced that Andrew Luck will be the Colts' No. 1 pick on Thursday.
Luck is going to start right away in Indianapolis, and I for one think he's going to be just fine in his rookie season. His experience playing in Stanford's pro-style offense will make his transition into the NFL much easier, and Luck knows what to do in terms of reading and adjusting at the line of scrimmage.
The Colts aren't a strong team, but that shouldn't faze Luck. He was surrounded by lackluster talent at Stanford, and that didn't stop him from having an impressive college career.
Colts fans are going to love Luck. Before long, Peyton Manning will be a distant memory.
2. Washington Redskins (5-11, from St. Louis): Robert Griffin III, QB, Baylor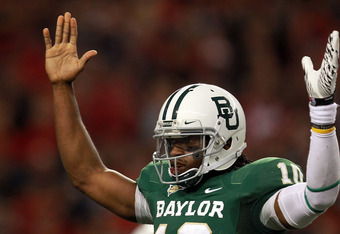 Ronald Martinez/Getty Images
With Luck going No. 1, RG3 is a lock for the No. 2 overall pick.
Griffin did the right thing by saying (via NFL.com) that Rex Grossman is the starter in Washington until further notice, but the Redskins aren't going to draft him just so he can ride the bench in his first season. They wouldn't have paid a king's ransom for him if that was their plan. 
RG3 will start right away, but I don't think he's going to have the same kind of instant impact as Luck will have. Griffin's ceiling is through the roof, but he's facing a harsher learning curve than Luck. It's going to take some time for him to develop, so Redskins fans will have to be patient.
3. Minnesota Vikings (3-13): Morris Claiborne, CB, LSU
The Vikings most certainly should go for Matt Kalil at No. 3. If they don't, it will either be because they traded back, or because they decided to take Morris Claiborne instead.
Taking Claiborne wouldn't be a horrible idea given the quarterbacks the Vikings have to face in the NFC North. Unfortunately for Claiborne, having to face these quarterbacks six times in his first season would invariably lead to some growing pains. 
If Claiborne ends up on the Vikings, he'll be humbled before becoming a star.
4. Cleveland Browns (4-12): Trent Richardson, RB, Alabama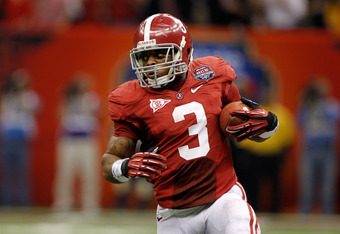 Chris Graythen/Getty Images
To summarize an article I published yesterday, Trent Richardson is the only player the Browns should consider taking at No. 4. He's the safest pick, and he's the smartest pick.
Richardson would start right away if the Browns took him, as they basically don't have any better options right now. He would be tasked with getting the tough yards for Cleveland's offense, taking a lot of pressure off Colt McCoy in the process.
Peyton Hillis became a fan favorite in Cleveland doing these things. Richardson will step right into his shoes. Browns fans will love him.
5. Tampa Bay Buccaneers (4-12): Matt Kalil, OT, USC
The Buccaneers would love to draft Claiborne, and they would love to draft Richardson. If they can't get either, I anticipate them taking Matt Kalil. They don't need an offensive tackle, but this would be a situation where taking the best player available is the best idea.
6. St. Louis Rams (2-14, from Washington): Fletcher Cox, DT, Mississippi State
It's been reported by Jason La Canfora of the NFL Network that Cox is very much in play for the Rams at No. 6. My guess is that this pick wouldn't sit well with most Rams fans, as many are hoping the Rams will take a wide receiver with the No. 6 overall pick.
Cox would face an uphill battle in terms of winning fans over. He could play well, but even the best defensive tackles can be overlooked.
7. Jacksonville Jaguars (5-11): Justin Blackmon, WR, Oklahoma State
If Justin Blackmon falls to the Jaguars at No. 7, they won't hesitate to take him. Wide receiver is arguably Jacksonville's biggest need, and Blackmon is the best the 2012 draft class has to offer.
Blackmon's going to be a solid NFL player, but I don't see him becoming an instant star. It's not so much that I have a problem with him. My problem is with Blaine Gabbert. He needs to get a lot better.
8. Miami Dolphins (6-10): Ryan Tannehill, QB, Texas A&M
I've said it before, I'll say it again: Ryan Tannehill has no business being a top-10 pick.
The Dolphins, however, are desperate. They need a young quarterback they can build around, and Tannehill is the next best thing after Luck and Griffin. Plus, Mike Sherman, his old college head coach, is Miami's offensive coordinator.
Tannehill shouldn't start away, and my guess is that he wouldn't in Miami. His rookie season would consist of watching and learning.
9. Carolina Panthers (6-10): Quinton Coples, DE, North Carolina
The word from the Charlotte Observer is that the Panthers met with Quinton Coples in Chapel Hill on Monday, a not insignificant meeting.
It's easy to understand why the Panthers are interested in Coples. They have needs on their defensive line, and Coples has the size and the skill set to play at any position. He's billed as a defensive end, but he's played defensive tackle. Some think he's better suited to play DT than he is to play DE.
Versatile D-linemen are all the rage these days. Rolling the dice on Coples wouldn't be the worst idea in the world for the Panthers.
10. Buffalo Bills (6-10): Mark Barron, S, Alabama
Butch Dill/Getty Images
It's been reported that the Bills are very high on Mark Barron, and I for one immediately came around to the idea.
Safety isn't a huge area of need on the Bills, but Barron's talents would be of use to the Bills. He's better in coverage than he gets credit for, and he's particularly good at matching up against tight ends.
Seeing as how the Bills have to go against two of the best tight ends in the league twice a year, drafting Barron would be a shrewd play at No. 10.
All Barron would have to do to win Bills fans over is get the better of Rob Gronkowski and Aaron Hernandez. That's something he can do.
11. Kansas City Chiefs (7-9): Luke Kuechly, ILB, Boston College
The Chiefs will be tempted to take Dontari Poe here, but Luke Kuechly is the safer pick. He'd be a tackling machine in Kansas City's defense, and he'd make Tamba Hali's job a lot easier.
12. Seattle Seahawks (7-9): David DeCastro, OG, Stanford
The Seahawks will mull taking a defensive end or a linebacker at No. 12. However, with Coples and Kuechly off the board, their best option will be to take a look at David DeCastro. Offensive guard is an area of need, and DeCastro is far and away the best guard in this year's draft class.
13. Arizona Cardinals (8-8): Riley Reiff, OT, Iowa
The Cardinals need an offensive tackle, and Riley Reiff would be a steal for them at No. 13. If he falls to them, they won't hesitate to pick him.
14. Dallas Cowboys (8-8): Dontari Poe, DT, Memphis
Mark Barron would be an outstanding get for the Cowboys at No. 14, but they'll have to move to Plan B if the Bills take him at No. 10.
Dontari Poe will be an option for the Cowboys. Their defensive line needs to disruptive player, and Poe is most definitely disruptive. He'll be a problem for offensive lines for years to come.
15. Philadelphia Eagles (8-8): Michael Brockers, DT, LSU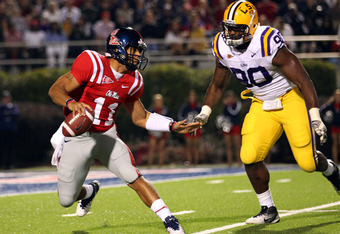 Joe Murphy/Getty Images
With Barron and Poe both off the board, I'll expect the Eagles to take a long look at Michael Brockers.
Brockers is a bit of a project, but down the line it's easy to see him as an impact defensive tackle. If he ends up on the Eagles, he'll become a star sooner rather than later. Philly's defensive line loves to spread out wide and attack quarterbacks from the edges. If the Eagles insert Brockers right in the middle, he'll be able to do a lot of damage.
And for that, Eagles fans will love him.
16. New York Jets (8-8): Michael Floyd, WR, Notre Dame
If Michael Floyd falls to the Jets, they won't hesitate to grab him. They need a big, physical receiver who can line up opposite Santonio Holmes.
Floyd wouldn't make an instant impact on the Jets, however. Mark Sanchez and Tim Tebow represent a nightmare for wide receivers.
17. Cincinnati Bengals (from 8-8 Oakland): Stephon Gilmore, CB, South Carolina
Stephon Gilmore would come gift-wrapped at this point.
Gilmore is one of the hottest prospects in the draft, and there's a train of thought out there that he'll go in the top 10 on Thursday night. If he doesn't, I'll be expecting him to slide down the draft until the Bengals are on the clock at No. 17. They need a corner, so they won't pass on Gilmore if he's there.
18. San Diego Charges (8-8): Cordy Glenn, G/T, Georgia
The Chargers need an upgrade at right tackle. Cordy Glenn projects as an above-average right tackle, and he could also fill in at guard if need be. The Chargers would be getting a lot of bang for their buck if they choose to draft Glenn.
19. Chicago Bears (8-8): Mike Adams, OT, Ohio State
The Bears are going to take a look at a lot of different players on Thursday night, but their top need has always been at left tackle. They drafted Gabe Carimi last year to play right tackle. This year, they could very well draft Mike Adams to play left tackle. If he's there and they can't get guys like Kuechly or Gilmore, they should take him.
20. Tennessee Titans (9-7): Dre Kirkpatrick, CB, Alabama
When Cortland Finnegan left for St. Louis, cornerback immediately became Tennessee's top need. They could go for Janoris Jenkins, but the Titans strike me as a team that will be scared off by Jenkins' character issues. Dre Kirkpatrick is the safer pick for them, and he'll fit well in their defensive scheme.
21. Cincinnati Bengals (9-7): Melvin Ingram, DE/OLB, South Carolina
After drafting Gilmore, the Bengals will be in a position to take the best player available at No. 21. That will be Melvin Ingram. The Bengals could use a defensive end and an extra linebacker, and Ingram could fill in at both spots. This would be a straight value pick, and I'd expect Ingram to be a situational player in his rookie campaign.
22. Cleveland Browns (from 10-6 Atlanta): Kendall Wright, WR, Baylor
If the Browns draft Richardson at No. 4, I'll be looking for them to take a wide receiver at No. 22. Kendall Wright will be the best receiver on the board at this point, and his speed will come in handy in Cleveland's passing game. Due to Colt McCoy's limitations, however, I doubt we'd see a big breakout season from Wright.
23. Detroit Lions (10-6): Jonathan Martin, OT, Stanford
The Lions should be doing everything in their power to keep Matthew Stafford healthy. If they have a shot to upgrade their offensive line by adding Jonathan Martin, they should take it.
24. Pittsburgh Steelers (12-4): Dont'a Hightower, ILB, Alabama
The Steelers need offensive line help, but they'll be out of luck at No. 24. With no lineman worth taking, look for them to grab Dont'a Hightower. Their linebackers are getting a little long in the tooth, and Hightower just has the look of a classic Steelers linebacker. Hightower could be a part-time player until the old guys move on.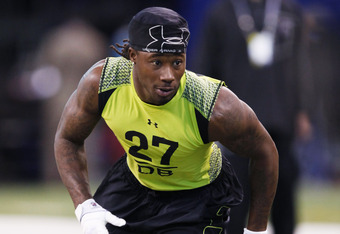 Joe Robbins/Getty Images
25. Denver Broncos (8-8): Janoris Jenkins, CB, North Alabama
The Broncos would love to find a defensive tackle here, but they won't be so lucky. Besides, Janoris Jenkins would be an outstanding value pick at this point, and the Broncos could easily draft him as an heir apparent to Champ Bailey.
26. Houston Texans (10-6): Stephen Hill, WR, Georgia Tech
The Texans are already loaded on offense, but they could use a speedy wide receiver who could stretch the field for Andre Johnson. Stephen Hill is first-round material exactly because of his speed, as he was one of the fastest runners at the combine in February. He'll be the pick if he's still on the board for the Texans at No. 26.
27. New England Patriots (from 13-3 New Orleans): Nick Perry, DE/OLB, USC
Bill Belichick will be on the lookout for versatile defensive players at the end of the first round. Nick Perry will catch his eye because he can play down on the line or back off it. He'd fit well in New England's defense.
But you want to know what will actually happen here? The Patriots will make a deal. It's what they do.
28. Green Bay Packers (15-1): Courtney Upshaw, OLB, Alabama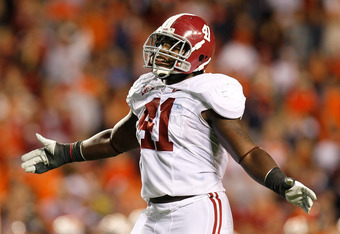 Kevin C. Cox/Getty Images
The Packers need a pass-rusher who can help take pressure off Clay Matthews, who wasn't the same in 2011 after dominating in 2010. Courtney Upshaw is a pass-rush specialist and a great value pick at this point, so he'll be the pick if he's still available.
Upshaw is a bit of a one-trick pony, but he'd fit well in Green Bay's defense. I wouldn't be surprised if he had an Aldon Smith-like impact in his rookie season, which would be just fine with Packers fans.
29. Baltimore Ravens (12-4): Peter Konz, G/C, Wisconsin
The Ravens need to find an heir for aged center Matt Birk. Peter Konz is the best center prospect in the 2012 draft class. Until he's ready to take over for Birk, the Ravens could use him at guard.
30. San Francisco 49ers (13-3): Amini Silatolu, OG, Midwestern State
More than any other team, the 49ers can afford to make a reach pick in the first round. They'll definitely be reaching if they draft Amini Silatolu, but Eric Branch of the San Francisco Chronicle sold me on the idea that Silatolu would be a great solution to the 49ers' problem at right guard.
31. New England Patriots (13-3): Jerel Worthy, DT, Michigan State
If they stay put at No. 27 and draft Perry, look for the Patriots to target a player who could help out their aging defensive line at No. 31. Jerel Worthy is a top option, and the Patriots will go for him because of his ability to get after quarterbacks.
32. New York Giants (9-7): Coby Fleener, TE, Stanford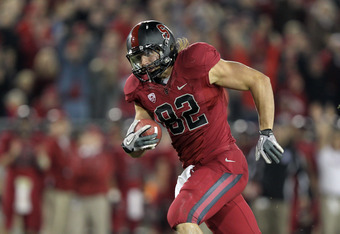 Ezra Shaw/Getty Images
The Giants will draft the best player available when they're on the clock at No. 32, regardless of position. Coby Fleener will be the best player available, and it just so happens the Giants need a tight end.
Fleener would be an instant star in New York. He's an ultra-athletic pass-catcher, not unlike Jimmy Graham and Rob Gronkowski. Tight ends like them are in demand, and you can only wonder what Eli Manning will be able to do with one of them in his offense.
Great things would be my guess.