Paul Holmgren Snubbed as NHL General Manager of the Year, Finalists Announced
April 25, 2012

Bruce Bennett/Getty Images
Paul Holmgren is not one of the three finalists for the NHL's 2012 General Manager of the Year Award, which should come as a surprise to anyone who watched him orchestrate one of the most revolutionary offseasons in Philadelphia Flyers history.
Finalists for the award are Dale Tallon of the Florida Panthers, David Poile of the Nashville Predators and Doug Armstrong of the St. Louis Blues, as announced by NHL.com. 
While Poile made a number of quality moves during the season (notably near the trade deadline), a case can easily be made that Holmgren deserves a nomination ahead of both Tallon and Armstrong.
Voters of the award did not give proper recognition to the risks that Holmgren took in order to improve the Flyers' chances of winning the Stanley Cup.
The finalists were determined by "the league's 30 general managers and a panel of NHL executives and media members," according to Sam Carchidi of the Philadelphia Inquirer.
After an embarrassing goaltending carousel saw the Flyers eliminated from the 2011 Stanley Cup Playoffs, Holmgren immediately addressed the problem by signing Ilya Bryzgalov.
Bryzgalov had struggles at times, but came around in March, winning the NHL's Player of the Month award and setting a Flyers record by going 249:43 without giving up a goal.
Holmgren's next move was the most shocking. He traded team captain Mike Richards (and Rob Bordson) to the Los Angeles Kings for Wayne Simmonds, Brayden Schenn and a second-round pick in the 2012 NHL draft.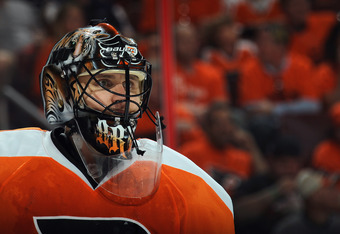 Bruce Bennett/Getty Images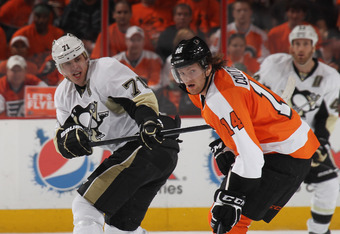 Bruce Bennett/Getty Images
On the same day, he traded the team's leading goal-scorer, Jeff Carter, to the Columbus Blue Jackets for Jake Voracek, the eighth-overall pick in the 2011 NHL draft and Columbus' third-round pick in that draft.
Simmonds totaled 49 points in 82 games, whereas Richards had his least productive season since 2006-07, scoring just 44 points in 74 games. Richards' career high is 80 points.
The 20-year-old Schenn had an injury-shortened 54-game rookie season, but totaled six points in six first-round games in a series against the Pittsburgh Penguins.
It's hard to argue that the value of Simmonds and Schenn does not outweigh the value of a captain whose play declined over the past few seasons as his leadership was questioned. While Richards wore the "C" in Philadelphia, he does not even dawn an alternate "A" for the Kings.
The Columbus trade was a steal for Philadelphia.
The 27-year-old Carter totaled 34 points over a 55-game season; the 22-year-old Voracek just totaled 49 points in a 78-game season. Carter's points-per-game pace over 78 games comes out to 48 points.
So, the Flyers got more offensive production out of Voracek than Columbus and Los Angeles got from Carter. That's looking at the trade without noting what Holmgren did with the eighth-overall pick.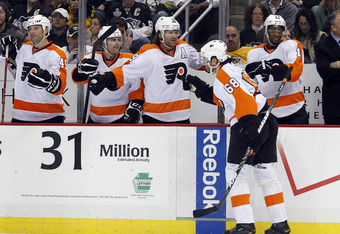 Justin K. Aller/Getty Images
He selected Sean Couturier, now known as the 19-year-old who shut down likely Hart Memorial Trophy winner Evgeni Malkin in the playoffs.
It can easily be argued that of all the players taken in front of Couturier, only the first (Ryan Nugent-Hopkins) and second (Gabriel Landeskog) picks had a more immediate impact at the NHL level.
As if these three huge moves weren't enough, Holmgren's signings of Max Talbot and Jaromir Jagr are having an incredibly positive effect on the team.
The defensive-minded Talbot totaled a career-high 34 points this season. He is second on the Flyers with a plus-five playoff plus/minus.
Signing Jagr for $3.3 million was a risk that paid off. After a two-year absence from the NHL, Jagr came back to score 54 points on the Flyers' best line, helping both All-Stars Claude Giroux and Scott Hartnell to career-highs in points.
Additionally, Jagr and Talbot were noted by head coach Peter Laviolette as key pieces of the Flyers' leadership group. 
Holmgren's work didn't stop during the season either. When the Flyers' captain, Chris Pronger, went out for the season with concussion issues, the team had a clear weak spot on defense. They needed a skilled shut-down defenseman, and Holmgren added that in Nicklas Grossmann, later signing him to a four-year extension. 
Defenseman Braydon Coburn was also signed to a four-year extension in November.
The intense renovations Holmgren made in the offseason led some to think the Flyers would not be a playoff team, including ESPN's John Buccigross.
The Flyers won the same amount of regular season games as last season. If they do not get swept in their second-round series, their playoff run will be longer than the 2011 team. 
Prior to this season, Holmgren tore apart the Flyers core and introduced a plethora of new players to improve the franchise, which ended up rebuilding the team without ever putting it through a rebuilding stage.
Compare that to what happened with Florida, Nashville and St. Louis.
In Nashville, Poille's work might make him the front-runner for the award.
Though it took arbitration, he was able to keep captain Shea Weber for one more season. He made additional moves during the season, locking up Pekka Rinne to a seven-year extension, plus adding Andrei Kostitsyn, Paul Gaustad and Hal Gill. He also brought talented scorer Alexander Radulov back to the team.
Still, is signing Rinne for seven years, adding Kostitsyn, Gaustad and Gill, plus bringing back a player he already had the rights to (Radulov) that much more impressive than Holmgren's signing Bryzgalov for nine years, adding Jagr, Talbot and Grossman?
In Florida, Tallon added a number of new players, but did so by utilizing an incredibly high amount of salary cap space. It is hardly a creative risk to utilize a ton of money on making a team better
Tallon gets a nomination simply because he knew how to burn the Panthers' money.
Keep in mind, going into the 2011 offseason, Holmgren was $1.4 million over the cap hit last season, according to CapGeek.com.
Tallon's Panthers still have $8.8 million in cap space to work with despite adding the likes of Tomas Fleischmann, Wojtek Wolski, Scottie Upshall, Sean Bergenheim, Kris Versteeg, Brian Campbell and Ed Jovanovski, who take up a combined $28.9 million in cap space this season.
Let's see Tallon work those players onto the Panthers without cap space to work with before nominating him in front of Holmgren.
Armstrong's work in St. Louis was relatively uneventful compared to Florida and Philadelphia; his biggest moves this offseason were bringing in Brian Elliot to backup Jaroslav Halak while signing veterans Jamie Langenbrunner and Jason Arnott.
He also hired head coach Ken Hitchcock, who could probably be given most of the credit for the Blues' turnaround; the team won 47 of 75 games (including playoffs) with him behind the bench.
A balanced offensive attack and shutdown defense led St. Louis to where they are, not a radical offseason. Credit should be given where it is due, but it's hard to believe Armstrong is as important to the Blues' success this season as Holmgren was to Philadelphia's.
All four mentioned general managers certainly deserve recognition for their work, but it's baffling that one who could very well be the best choice for the option is not even a finalist.
Though Holmgren was snubbed as a candidate for this award, the team he put together has a very realistic chance at winning a more important one.
-Jason Sapunka covers the NHL and Philadelphia Flyers. He is available on Twitter for updates, commentary and analysis.Follow @moreSapunka