Real Madrid vs. Bayern Munich: Stars Under Pressure as Los Blancos Try Comeback
April 25, 2012

Denis Doyle/Getty Images
Mario Gomez scored a late winner for Bayern Munich to put Real Madrid behind the eight ball heading into the second leg of its Champions League semifinal matchup. Los Blancos will need a more complete performance on Wednesday to advance.
Let's take a look at three players feeling the most heat heading into the match. They will need to step up if Madrid wants to keep its dream of winning both La Liga and the Champions League alive.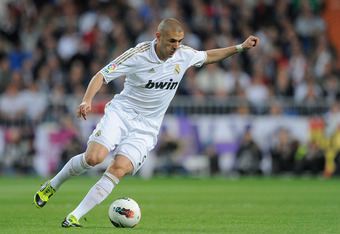 Denis Doyle/Getty Images
Karim Benzema
Benzema attempted four shots in the first match, second to only Cristiano Ronaldo for Madrid, but wasn't able to find the net. He's third on the team in scoring with 18 goals during league play, so it was simply a matter of not converting his chances.
He's got a tremendous combination of size and speed, making him a nightmare matchup for any back line when a team has so many other weapons like Los Blancos. Benzema can often get overlooked because of those other stars, but his contributions are vital.
It will be important for Madrid to come out aggressive in front of the home crowd. If Benzema can work his magic early, Los Blancos will be on track to complete the comeback.
Cristiano Ronaldo
Even though Ronaldo didn't score in the first leg, he was consistently putting himself in scoring positions. When a player like him finds space, it's only a matter of time before he scores and that's exactly what manager Jose Mourinho is hoping for today.
The Portuguese sensation should be full of confidence after scoring the game-winning goal in El Clasico over the weekend. He's gained the reputation of coming up small in big games, but a vital strike against Barcelona should silence the doubters for awhile.
Ronaldo needs to serve as the driving force if Los Blancos are going to come from behind. He did it against Barca and it shouldn't surprise anybody if he does it again.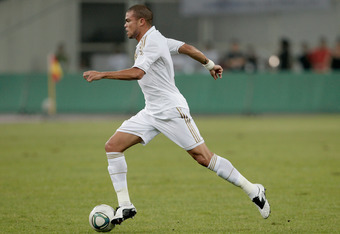 Lintao Zhang/Getty Images
Pepe
Madrid's back line needs to have a more steady performance in the second leg. Giving up a goal in the 89th minute was a disaster and puts the defense under a lot more pressure. Pepe has to lead the way to ensure a similar breakdown doesn't occur again.
The 29-year-old central defender has played in several huge matches during his time with Los Blancos, but few can match the impact of the second leg against FCB. He must step up and help Iker Casillas keep a clean sheet.
Coming back from a one-goal deficit isn't impossible, especially for a squad with as much firepower as Real Madrid, but giving up another goal or two would likely signal the end of the line.