2012 NFL Mock Draft: Final Potential Selections for First-Round Teams
October 10, 2016
Donald Miralle/Getty Images
With the 2012 NFL draft just hours away, we run down the final selections for each first-round team in our final 2012 NFL mock draft:
1. Indianapolis Colts: Andrew Luck, QB, Stanford
No pick in the 2012 NFL draft is more certain than Luck to Indianapolis. No surprises here.
2. Washington Redskins: Robert Griffin III, QB, Baylor (trade w/ St. Louis)
The Redskins didn't send an historical amount of draft picks to St. Louis for the opportunity to draft anyone but Luck or Griffin. With Luck off the board, Washington has no problems taking the Heisman Trophy winner. 
3. Minnesota Vikings: Matt Kalil, OT, USC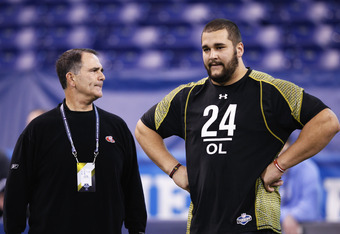 Joe Robbins/Getty Images
Once a sure-fire pick, Kalil-to-Minnesota has cooled in recent weeks. Whether that waning interest is factual or a figment of the media's imagination has yet to be seen. But the Vikings may very well be torn at No. 3 overall between Kalil and LSU cornerback Morris Claiborne, who is also considered a top-5 value and plays a position that desperately needs help in Minnesota.
However, left tackle is simply too important a position for a team like the Vikings to pass on Kalil, and this draft is deep at cornerback in the second round.
4. Cleveland Browns: Trent Richardson, RB, Alabama
The most complete non-quarterback in the 2012 draft, Richardson gives the Browns the kind of offensive identity they have lacked with Colt McCoy under center. 
5. Tampa Bay Buccaneers: Morris Claiborne, CB, LSU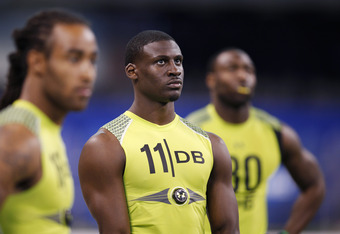 Joe Robbins/Getty Images
Aqib Talib continues to face unresolved legal issues that could eventually lead to a long suspension. Re-signing veteran Ronde Barber and inking former Detroit Lions cornerback Eric Wright in free agency helps, but keep in mind that Barber is well into the twilight of his NFL career, and Wright has never shown the consistency needed to be a No. 1 corner.
Also, Ron Cooper—Claiborne's former position coach at LSU—is now the secondary coach in Tampa Bay. The only way I can see Tampa Bay passing on Claiborne is if Richardson gets past the Browns at No. 4 overall. 
6. St. Louis Rams: Justin Blackmon, WR, Oklahoma State (trade w/ Washington)
Mississippi State defensive tackle Fletcher Cox has become more common to the Rams, but this front office has to get Sam Bradford something to work with offensively. 
7. Jacksonville Jaguars: Melvin Ingram, DE, South Carolina
Jacksonville could also go receiver (Michael Floyd), offensive line (David DeCastro) or cornerback (Stephon Gilmore) here, but getting a pass-rusher to fill in for the oft-injured Aaron Kampman may represent the best value.   
8. Miami Dolphins: Ryan Tannehill, QB, Texas A&M
It will be hard to make sense of the Dolphins offseason if they fail to get a young quarterback in this draft.
9. Carolina Panthers: Fletcher Cox, DT, Mississippi State
Cox represents top-10 value while filling a big hole for the Panthers along the defensive line. 
10. Buffalo Bills: Riley Reiff, OT, Iowa
Grades on Reiff seem to be all over the board, but the Bills need to find a replacement for departed free agent Demetress Bell at left tackle.
11. Kansas City Chiefs: David DeCastro, G, Stanford
Luke Kuechly will be an option, but with the Chiefs intent on getting back to a power-run offense, DeCastro makes the most sense at No. 11.  
12. Seattle Seahawks: Luke Kuechly, LB, Boston College
The Seahawks will have to consider the top pass-rusher available, but Kuechly is an easy choice after Seattle watched former starting middle linebacker David Hawthorne bolt to New Orleans.
13. Arizona Cardinals: Nick Perry, OLB/DE, USC
Few pass-rushers in this class have the kind of upside Perry possesses, and there's no easier way to build a defense than through pressure players. 
14. Dallas Cowboys: Mark Barron, S, Alabama
Unless a team moves ahead of the Cowboys, Barron should be the pick at No. 14.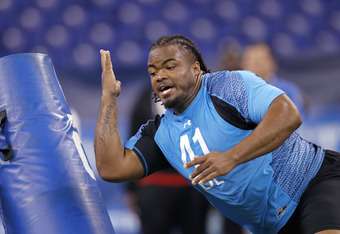 Joe Robbins/Getty Images
15. Philadelphia Eagles: Dontari Poe, DT, Memphis
I am far from convinced that Poe is worthy of a top-15 pick, but if the workout warrior is going to go that high, I struggle to find a better fit than in Philadelphia. Defensive line coach Jim Washburn is one guy who could get the very most out of Poe. For a player who didn't produce the way he should have at Memphis, Washburn will be a valuable resource. The Eagles defense needs a plugger in the middle, too. I wouldn't expect instant impact, but there's a fit here.
16. New York Jets: Courtney Upshaw, OLB, Alabama
If Rex Ryan has any say in the Jets war room, Upshaw will be one of the top players on New York's board. He's a perfect defender for what Ryan likes to do defensively.  
17. Cincinnati Bengals: Stephon Gilmore, CB, South Carolina
Is Gilmore's rise up boards a product of media speculation or real interest from NFL teams? Probably a touch of both, but I don't see a fit for Gilmore until No. 17. He could certainly go much higher.  
18. Cleveland Browns: Michael Floyd, WR, Notre Dame (trade w/ San Diego)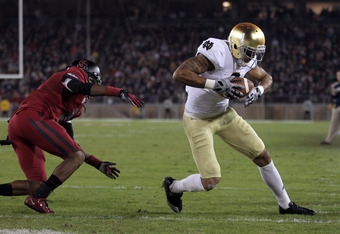 Ezra Shaw/Getty Images
Adding trades into the mock-draft equation might be crazy, but I struggle to see why the Browns wouldn't jump at the opportunity to move up four spots and get the receiver they need. A Floyd-Richardson haul in the first round would be a dream come true for vice president Mike Holmgren and GM Tom Heckert, even if getting Floyd costs a third- or fourth-round pick.  
19. Chicago Bears: Quinton Coples, DE, North Carolina   
Coples is a prime candidate to fall in this draft, but the Bears won't allow a high-ceiling pass-rusher to get past them at No. 19 overall. 
20. Tennessee Titans: Peter Konz, C, Wisconsin
This might be a little high for Konz, but teams haven't been shy about taking centers in the late-teens or early 20s in recent years.  
21. Cincinnati Bengals: Cordy Glenn, G, Georgia
While Riley Reiff went at No. 10 to Buffalo, the Bengals may be getting a better overall player in the versatile Glenn. 
22. San Diego Chargers: Jonathan Martin, OT, Stanford (trade w/ Cleveland)
Chargers GM A.J. Smith is never scared to move up or down in the first round, and he won't mind moving down four spots here. Picking up an extra mid-round pick and still getting an instant starter at right tackle makes the decision worthwhile. 
23. Detroit Lions: Dre Kirkpatrick, CB, Alabama
The futures of both Kyle Vanden Bosch and Cliff Avril make getting a pass-rusher an interesting option, but the Lions need the help Kirkpatrick could provide in the secondary.
24. Pittsburgh Steelers: Dont'a Hightower, ILB, Alabama
Hightower is one player I could see a couple of teams wanting to trade up for at the end of the first round.
25. Denver Broncos: Michael Brockers, DT, LSU
Almost everyone has Brockers as a top-20 pick, but he's as raw a first-rounder as you'll find in this draft. The team that takes him will have to be patient.  
26. Houston Texans: Kendall Wright, WR, Baylor
The Texans will be a top-three offense in 2012 if Wright can be the kind of dynamic vertical option in the NFL that we has with RGIII at Baylor.  
27. New England Patriots: Shea McClellin, OLB/DE, Boise State
McClellin went from mostly unknown to a near first-round lock. His versatility and explosive first step will be selling points for Patriots head coach Bill Belichick.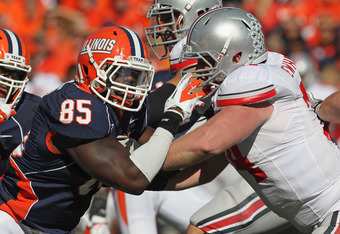 Jonathan Daniel/Getty Images
28. Green Bay Packers: Whitney Mercilus, DE, Illinois
Despite winning 15 regular-season games, the Packers were one of the NFL's worst at getting to the quarterback last season. The lack of pass rush was directly tied to their finish as the worst passing defense in NFL history. High on GM Ted Thompson's draft list should be outside linebacker, and Mercilus is far-and-away the best remaining player at that position. He'd be counted on to play a high number of snaps opposite Clay Matthews in 2012. 
29. Baltimore Ravens: Andre Branch, OLB, Clemson
The Ravens might want Peter Konz or Dont'a Hightower to fall, but getting a versatile pass-rusher like Branch is a fine consolation prize. 
30. San Francisco 49ers: Devon Still, DT, Penn State
The 49ers went heavy on offense during free agency, which makes it hard for me to believe that they are looking at that side of the ball early in this draft. Grabbing Still here gives San Francisco another big piece to play with along the defensive line. 
31. Chicago Bears: Coby Fleener, TE, Stanford (trade w/ New England)
Again, trades in a mock draft are almost impossible to predict. But one thing we do know is that New England rarely stays put in the first round. The Bears may be one team that bites on a potential move up, as Fleener gives Chicago the tight end it needs to complete the offense.
32. New York Giants: Mike Adams, OT, Ohio State
Despite some of the red flags, Adams' ceiling at left tackle gives GM Jerry Reese all the motivation needed to make him the pick at No. 32.