NBA Playoffs: Power Rankings LeBron James' Biggest Playoffs Collapses
Chris Trotman/Getty Images

Check his historical stats. LeBron James, by all box-score accounts, is the best all-around player in the NBA. Check his reputation. LeBron James has the most raw talent of any player in the NBA, and is most prone to collapsing when his squad needs him the most—in the NBA Playoffs.
As usual, when a player of LeBron's caliber fails, it is far more intriguing to examine his collapses than his many accomplishments (i.e. two-time regular season MVP, Rookie of the Year, NBA All-Star, All-NBA first team selections).
Those individual accolades pale in comparison to how he has refused to lead his squads in the trenches to an NBA championship win. This is what will trademark his career. Either he will retire as one of the greatest, or he may retire as "he who never made it."
In any event, it is almost bewildering that he has yet to win a ring and it is because of these collapses that the 2012 NBA Playoffs may give him his first.
Begin Slideshow

»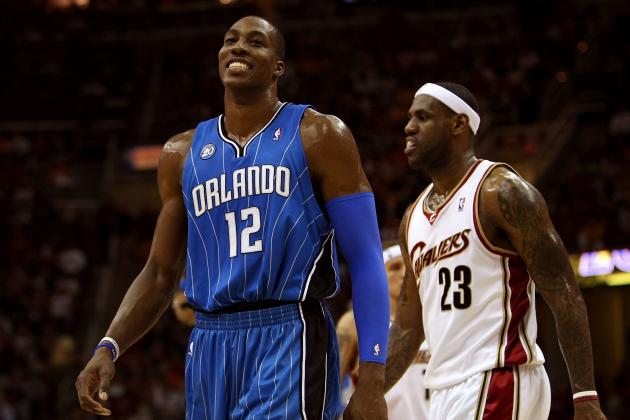 Elsa/Getty Images

When: May 30, 2009
Where: Orlando, Florida
Stat line: 25 PTS, 7 AST, 7 REB, 40.0 FG%
This series would be some kind of precursor to what Dwight Howard would go on to experience in last year's playoffs in Orlando's series against the Atlanta Hawks.
James is sometimes blamed for the collapse it appeared he had against the Magic, however, in the first five games against Orlando he averaged 41.2 points. In Game 6, Orlando simply outlasted Cleveland with a torch of threes (12) and a 40-point game from Dwight Howard, Superman himself.
Cleveland's bench was outplayed, and James could not withstand the collaborative effort of Orlando's starters and reserve players. This should not be a game that defines his career, because it came after an array of beautiful individual performances.
The blame for the loss of the series does not rest solely on James' shoulders. Yet, it was a game in which there was an obvious decline in play from the superstar, so it counts as a collapse.
Anything less than great from the league's greatest in the NBA Playoffs constitutes the "collapse" label.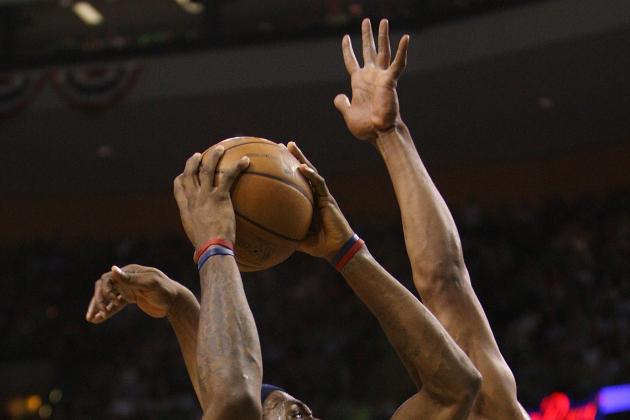 Elsa/Getty Images

When: May 8, 2008
Where: Boston, Massachusetts
Stat line: 21 PTS, 6 AST, 5 REB, 25 FG%
James may have scored 21 points in this meeting, but the 25 percent field-goal shooting was barely reminiscent of someone ready to take on a stacked Celtics squad.
At one point in this game, Boston held a 24-point lead and they capitalized off of Cleveland's turnovers, of which LeBron had seven and the rest of the team had eight, collectively. Sure the Cavaliers were without Wallace for this game due to allergies that could not be overcome, even after treatment during the game.
Yet, Wallace had not been the type of force throughout the Washington Wizards series that would imply his absence from this game was that much of a hurdle to overcome.
Boston's defense had a stranglehold on James' offensive game, and for the second time in two games in this series, he was incredibly...blah. There was no fire and with all of the bricks at his expense, it was no surprise that Boston stole two quick wins to lead the series 2-0.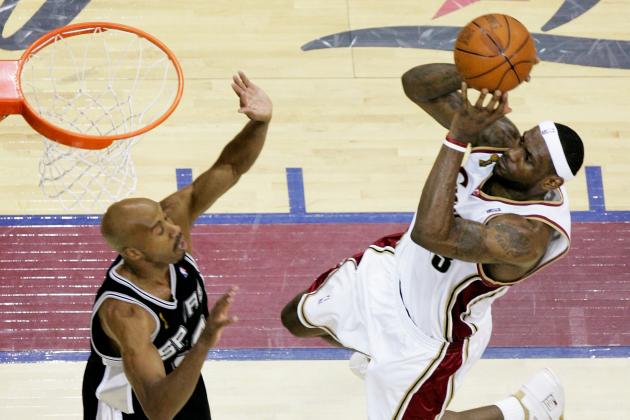 Gregory Shamus/Getty Images

When: June 7-14, 2007
Where: San Antonio and Cleveland
Stat line: 22.0 PTS, 6.8 AST, 7 REB, 35.6 FG%
This series has been sort of forgotten, in light of the point of LeBron's career in which it happened. It was against the Spurs, which helps in its irrelevance, seeing as how San Antonio is rarely given credit for their fundamentals to this day.
Still, the sweep against the Cleveland Cavaliers and their almighty LeBron was very impressive. To get to this point in the 2006-07 NBA Playoffs, the Cavaliers had to battle past the Detroit Pistons, the Washington Wizards and the New Jersey Nets, teams who are laughed out of contention currently.
James had five 30-plus point games and a single 40-plus point outing against those three squads, and it was time for the Michael Jordan comparisons to fly. People were expecting James to take over as Jordan had done in his prime and against a five-star Big-Three Spurs effort that was virtually impossible.
Cleveland did not play with the fundamentals the Spurs did, and still play with to this day. With Bruce Bowen's defensive efforts and surprising offensive contributions, mixed with Tony Parker's lights out play, Manu Ginobili's forever wild card domination and Tim Duncan playing like Tim Duncan, the Spurs beat out and dominated the Cavaliers to end the series with a 4-0 sweep.
Bring out the LeBrooms!
James scored a series-low of 14 points and even missed 20 shots in Game 4. It wasn't what anyone expected from the seeming-Jordan-heir and the urgent comparison is what made it so much worse.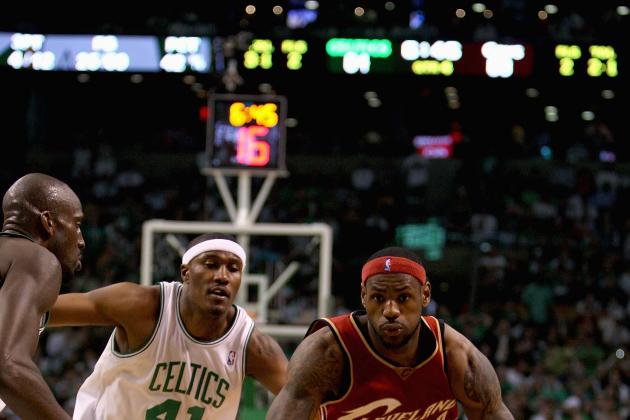 Elsa/Getty Images

When: May 6, 2008
Where: Boston, Massachusetts
Stat line: 12 PTS, 9 AST, 9 REB, 11.1 FG %, 10 TO
The first game of the series was an ugly one. Despite the fact that Cleveland only lost by four, LeBron James only shot 11.1 percent from the field, had 12 points and a ridiculous 10 turnovers, while the rest of the team only calculated eight turnovers.
It is possibly the worst playoff performance by the former Cleveland standout to date. He missed three drives and a three-pointer in the last minute. Although the three-pointer was a last-ditch effort to close the lead a bit, it was the start of what would be a cumulative 8-of-42 shooting performance over the first two games of this series.
Despite slow games from both Paul Pierce and Ray Allen, Kevin Garnett's 28 points kept Boston from suffering a loss at the hands of such weak leadership.
With all the potential that James brought in that series, it was a phenomenally embarrassing start to a series that would end with a 45-point Game 7 from LBJ. It didn't keep James from being kicked out of the postseason at the hands of the Celtics, who would go on to win the 2008 NBA Championship.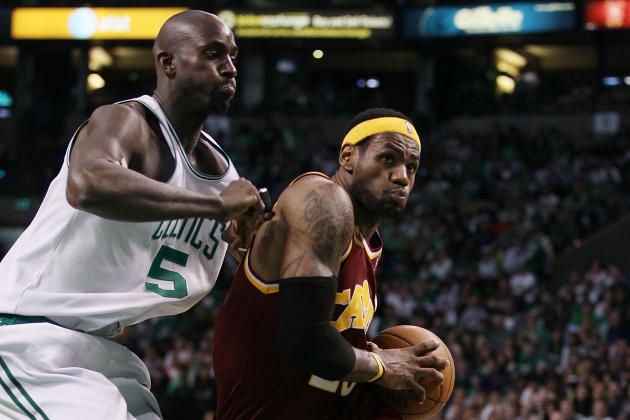 Elsa/Getty Images

When: May 9-11, 2010
Where: Boston and Cleveland
Stat line: 18.5 PTS, 7.5 AST, 7.5 REB, 30.2 FG%
It wasn't that James gave up on the Cleveland Cavaliers for the entire series. It wasn't even that he gave up on them in the final game of the series, despite his exit where he snatched off his Cavaliers jersey on his way to the locker room.
In hindsight, that was blown entirely out of proportion, as every basketball player exiting the court with disdain in his heart for an ejection or loss has been seen doing the exact same thing. Andrew Bynum did not even wait until he was in the tunnel.
He did it halfway off the court and walked into the locker room bare chested. But, that's neither here nor there.
The point of the matter is, that this series was decided in Games 4 and 5 in which LeBron was outplayed by Rajon Rondo and was blown out in Game 5 as he missed a bunch of open shots, layups included.
Game 5 was the worst home playoff loss in the team's history. James seemed to have lost his fire, and the attack mode that he had showed so effortlessly against this very same team in Games 1 and 3. Game 2, he scored 12 points in the fourth quarter, but only scored 12 in the first three.
He dropped in the pits of this series as he only scored 15 points in Game 5, one that forced the hand of Cleveland to step up and win the next two games or be booted out of the playoffs by Boston—again.
James did not fail them in the last game of the series, recording a triple-double, but it was obvious that the series had already been won. It was over, and soon after so was his career in Cleveland.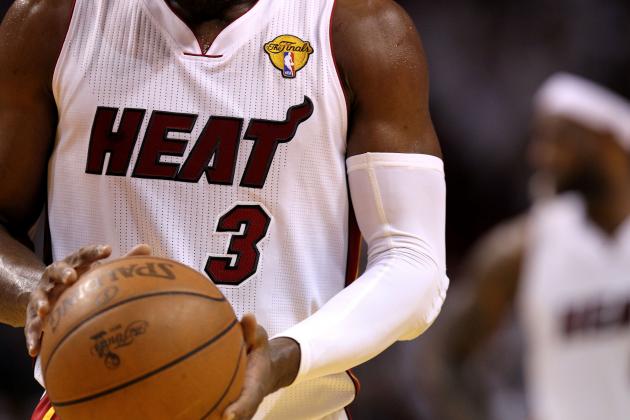 Ronald Martinez/Getty Images

When: May 31-June12, 2011
Where: Miami and Dallas
Stat line: 17.8 PTS, 6.8 AST, 7.2 REB, 47.8 FG%
LeBron James' heart just wasn't in it.
He had a lapse in what he was playing for, or in confidence that his team ultimately needed a grand effort from him, 24/7, to overtake the team-effort of the Dallas Mavericks.
James did not handle his business, and the Heat blew an amazing opportunity to start their journey off with an NBA championship win against a team that was not as talented as they were. Yes, Dallas may have won the 2011 NBA Finals, but it is undoubtedly true that the Heat were a more talented team.
Mentally, however, Miami had checked out right behind their front man—LeBron. That series opened the flood gates to the criticism that not only will James never be able to lead Miami to a championship, but he will also be the backup to Wade's star presence.
He scored as low as eight points in the series (Game 4), and averaged less than four points per, in the fourth quarter. His average at the end of the series, 17.8 points, was too gracious, as he had a supreme negative impact on where Miami landed as the season came to a close.
James marked his legacy with an excruciating display of what a superstar should never do in the playoffs, and has an incredible road to redemption to embark on to prove himself.