WWE Extreme Rules 2012: 7 Bold Predictions for What Will Unfold on April 29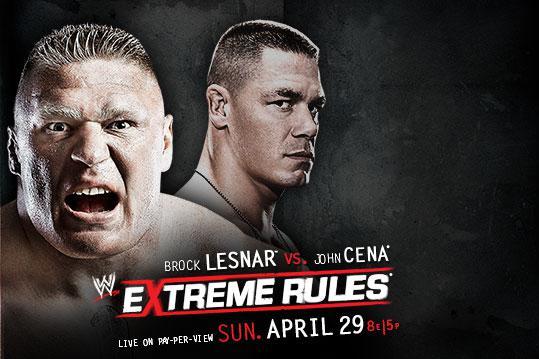 Photo courtesy of WWE.com
We are only four days away from the fourth-ever WWE Extreme Rules PPV, and I'm convinced that it'll be a great followup to WrestleMania XXVIII.
Not only have five potentially great matchups been announced (besides a pre-show match for the United States Championship between champion Santino Marella and challenger The Miz), but the PPV will take place in one of the hottest WWE cities of all time—my hometown of Chicago.
The five announced matchups are:
5) Randy Orton vs. Kane (Falls Count Anywhere Match)
4) Intercontinental Champion Big Show vs. Cody Rhodes
3) World Heavyweight Champion Sheamus vs. Daniel Bryan (two-out-of-three Falls Match)
2) WWE Champion CM Punk vs. Chris Jericho (Chicago Street Fight)
1) John Cena vs. Brock Lesnar (Extreme Rules Match)
Look at that card! Are you as excited as I am? Hopefully WWE doesn't disappoint us.
With that said, I invite you to view seven bold predictions for what will unfold at Extreme Rules in Chicago.
Enjoy!
Begin Slideshow

»
According to Justin LaBar of WrestleZone.com,
"It is believed that Nikki Bella took the title off of Beth Phoenix (this past Monday night on RAW) so Kharma could return and get the belt without having to face Phoenix, as WWE wants to save that match. This would also continue the Kharma/Bella Twins storyline that began last year before Kharma left."
What better place to have Kharma return than at Extreme Rules in Chicago, a city where she would surely receive one of the greatest crowd reactions any WWE Diva has ever received.
I'm sure that WWE will have time to add an unannounced Divas match to the event, which would include the new Divas Champion, Nikki Bella. During or after the match, Kharma could make her return and take care of her unfinished business with the Bella Twins.
If there is a Divas match added to the Extreme Rules PPV match card, be sure to stick around for it, or else you might miss something exciting. Save your bathroom break for later.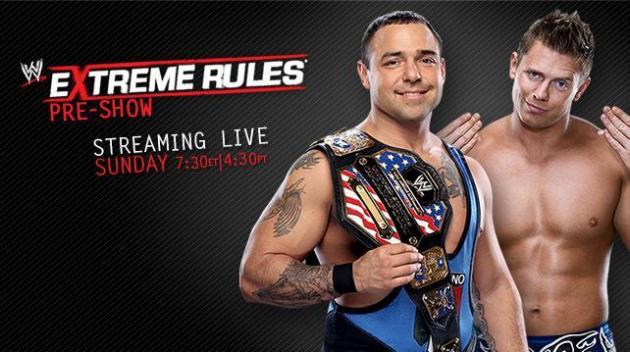 Photo courtesy of WWE.com
According to WWE.com,
"United States Champion Santino Marella will put his championship gold on the line this Sunday against The Miz in a free Extreme Rules Pre-Show event that streams live on WWE.com, YouTube and Facebook at 7:30 p.m. ET/4:30 p.m. PT."
I believe Miz will defeat Santino for the U.S. Championship.
In my opinion, even though Santino is the champion, Miz has more to lose. Santino is known first and foremost for being a highly entertaining comic relief guy, not a champion. Ultimately, I think Santino can survive without gold, while Miz can't. I don't think Miz can do much without gold around his waist.
Giving the U.S. title to Miz takes him out of the darkness and puts him back into the spotlight.
Giving Miz the U.S. title also makes the PPV pre-show unpredictable and worth going online to watch. It seems to me that WWE will add a pre-show to the start of every PPV, so what better way to get people to watch it in the future than to make this one unpredictable?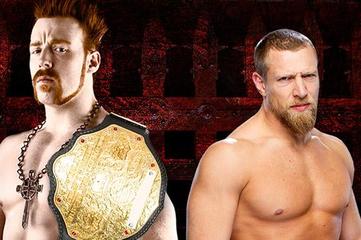 Photo courtesy of WWE.com
In a recent Bleacher Report article by Sharon Glencross, the "curiosity surrounding the role that SmackDown diva AJ will play in the two-out-of-three falls World Heavyweight Championship match between Sheamus and Daniel Bryan" was discussed.
Will AJ seek revenge on Daniel Bryan for dumping and repeatedly humiliating her? Or will AJ try to win Daniel Bryan back by helping him defeat Sheamus and regain the World Heavyweight Championship?
I believe that when the match is over, Sheamus will still be the World Heavyweight Champion thanks to outside interference from AJ.
Something I cannot see WWE doing is having Daniel Bryan lose cleanly. Therefore, I could see AJ intentionally or unintentionally costing Daniel Bryan the match. Something else I cannot see WWE doing is stripping Sheamus of the World Heavyweight title just a month after he won it.
Besides AJ costing Daniel Bryan the match, I predict that two other things will happen during this match: 1) Chicago will cheer Daniel Bryan and 2) Chicago will boo Sheamus.
I expect to hear "YES!" chants throughout the entire night, but they'll be loudest during this match.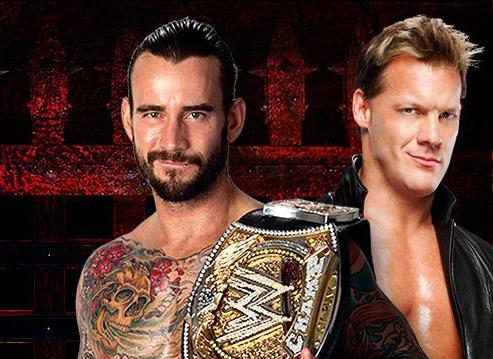 Photo courtesy of WWE.com
I believe that CM Punk will destroy Chris Jericho at Extreme Rules, but I also believe that he will lose both the match and WWE Championship to Chris Jericho, thanks to interference from Lord Tensai.
In a WWE.com article from April 2nd, it was noted that "Tensai" means "disaster." Then, during Monday Night Raw on April 2nd, Raw/SmackDown General Manager John Laurinaitis told CM Punk that "natural disasters" were headed his way.
Following Raw on April 2nd, multiple reports, such as one by WrestlingInc.com, claimed that Lord Tensai would be feuding with CM Punk, and that Tensai would be a henchman for John Laurinaitis.
On the April 16 edition of Monday Night Raw, John Laurinaitis put John Cena in an extreme rules match against Lord Tensai, which probably confirms reports that claimed Tensai would join forces with Laurinaitis.
Lord Tensai has been having trouble getting over with the fans, and by having Tensai interfere in CM Punk's match against Chris Jericho in Punk's hometown of Chicago, Tensai is guaranteed to receive a strong negative reaction from the always-hot Chicago crowd.
As a result, Tensai can begin a high-profile feud with CM Punk, while Chris Jericho can have a run as WWE Champion before leaving the company prior to SummerSlam.
For those who do not know, multiple reports, such as one by WrestleZone.com, have stated that Jericho plans to leave the WWE prior to SummerSlam in order to work with his band Fozzy on new music and a tour.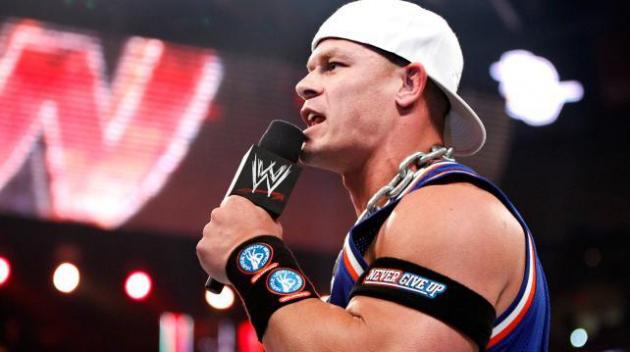 Photo courtesy of WWE.com
This past Monday night on Raw, John Cena came out to the contract signing (for his Extreme Rules match against Brock Lesnar) with a chain around his neck—a chain he once wore as the "Doctor of Thuganomics."
Many fans believe that this is a sign that John Cena will bring back his Doctor of Thuganomics gimmick at Extreme Rules (just search "thuganomics" on Twitter).
As much as I think it would be fun to see the Doctor of Thuganomics return at Extreme Rules, I believe that Cena coming out with a chain this past Monday night was nothing more than a red herring to get more people to think about buying the PPV this Sunday.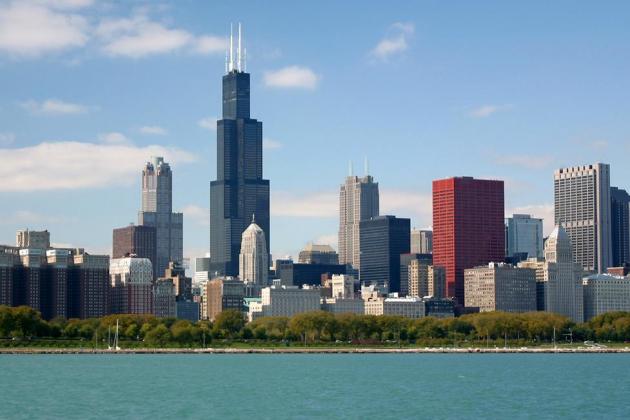 Photo courtesy of richard-seaman.com
At Money In The Bank 2011 in my hometown of Chicago, I booed John Cena until I lost my voice.
I did not boo Cena because I hated him, but because his opponent was CM Punk and more importantly, because I disliked the status quo of the WWE at the time. I wanted change. I was tired of Super-Cena.
I wanted change and I got it. Times have changed. John Cena is not the WWE Champion. Super-Cena has been made to look like an underdog, especially in his current feud with Brock Lesnar.
I will not be going to Extreme Rules, but if I were, I would boo Brock Lesnar and root for John Cena.
Unlike Lesnar, Cena has never left the WWE. Unlike Lesnar, Cena seems to love the business. Ultimately, John Cena comes across as a genuine babyface, and Brock Lesnar comes across as a genuine heel.
Maybe all of John Cena's "I've been here, stayed here and will always be here" speeches (mixed with how Lesnar comes across as a genuine heel) have gotten to me, but I like John Cena for the first time since before he first won the WWE Championship.
If my fellow Chicagoans are like me (I hope they are), they will boo Lesnar and cheer for Cena at Extreme Rules. If you agree with me and are attending the event, I urge you to start a "Let's go Cena! Lesnar sucks!" chant.
This match is not about the status quo vs. change, as it was at Money In The Bank 2011 with Punk vs. Cena. It is about a man who loves the wrestling business vs. a man who couldn't care less about the wrestling business.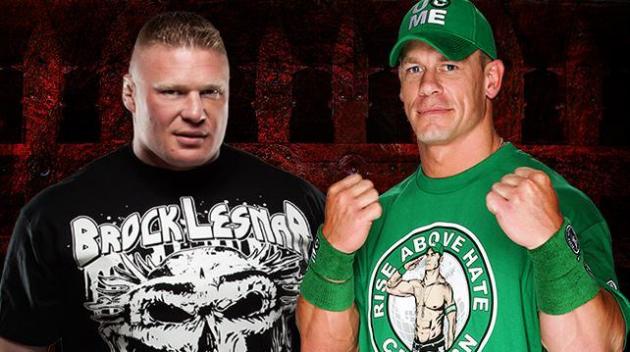 Photo courtesy of WWE.com
Brock Lesnar and John Cena will have an "extreme rules" match at Extreme Rules. "Extreme Rules" can mean anything, but I don't expect to see a mixed martial arts fight.
No matter how much WWE wants to make it seem that this will be a legitimate fight, I don't see WWE risking the well-being of two of its biggest investments.
Speaking of risking investments, I cannot see WWE having Brock Lesnar lose this match. WWE cannot afford to make Brock Lesnar look weak, so I do not see him losing. Cena, on the other hand, has nothing to lose by losing the match.
John Cena lost to The Rock at WrestleMania XXVIII. Yet he's still the face of the WWE, and losing against Brock Lesnar will not change that fact.
I expect Brock Lesnar to win this match and go after new blood, and I expect John Cena to lose this match and re-invent himself.
Thanks for reading! Now that you've read what I think will go down at Extreme Rules, what do YOU think will happen?