What MLB Teams, Players Look Better Than They're Going to Be?
April 25, 2012

Chris Trotman/Getty Images
The MLB season is now in full swing, and unlike the NFL or even the NBA seasons, we still have roughly more than 140 games left for each team.  That means there is plenty of baseball to be played before we can make any substantial claims for teams.  However, based on these first few weeks, let's take a look at which teams and players are going to disappoint as the season goes on.
Teams:
1. Baltimore Orioles
As of right now, the Orioles are locked in a four-way tie for first place in the AL East.  That sentence won't be true later on in the season or even later on this week.  While the Orioles have shown promise with good starts in recent years, their team is still lacking in consistent starting pitching and depth in the batting order.
They certainly have a lot of power in their lineup, but this also results in a high number of strikeouts.  When their power hitters hit slumps and slow down, they don't have many other players who can keep getting on base by hitting for average.
Also, their pitching is young but hasn't been quite as good as their 10-7 record reflects.  They don't have a quality starter in their rotation, but their bullpen has been doing well with closer Jim Johnson leading the AL with seven saves.
Overall, this team is not built to last through the season, and the tough AL East will eventually prove to be too much for Baltimore.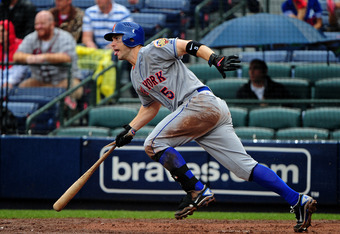 Scott Cunningham/Getty Images
2. Chicago White Sox
One aspect the White Sox lack right now is a star that can produce every day.  They were hoping Adam Dunn would fill that role but he has been quite disappointing since signing his monster contract.  Their 10-6 start this season has been guided by the solid production from veterans A.J. Pierzynski and Alex Rios.
I don't see this hot hitting lasting, however, and age/injuries may creep up on an older White Sox team. 
As for pitching, Phillip Humber just threw a perfect game but their rotation took a hit when they lost Mark Buehrle to Miami this offseason.  Their rotation is still decent as it stands and the bullpen is led by All-Star Matt Thornton.  Will that be enough to carry streaky hitting through the long season? My guess is no.
3. New York Mets
The Mets have defied some low expectations coming in this season after trading away Carlos Beltran and losing Jose Reyes in free agency.
David Wright has gotten off to a really good start and the Mets have gotten a lot of help from other generally unknown players like Ruben Tejada and Kirk Nieuwenhuis.  
Even Johan Santana is showing shades of his former self with a solid 27 strikeouts and 3.00 ERA in his four starts.  
This is all an illusion, though, as the Mets are generally a very shaky team and no real foundation to build on.  Sitting a game above .500 right now (9-8) may not last long for the Mets, so they should enjoy it while it lasts.
Players:
Derek Jeter, SS, New York Yankees
El Capitan has been on fire to start this season and all at the ripe age of 37.  After accomplishing the 3,000-hit milestone last season, Jeter has been on a tear so far, hitting .416 with four homers and 14 RBIs.  Considering Jeter hit six home runs last year, this is something new.
Is it the lack of pressure to reach 3,000 hits?  Is it the Yankees' small ballpark?  Is he out to prove he should still be the leadoff hitter in New York?  I think it could be all three.
However, this man is 37 years old.  It's a long, tiring season and he has shown signs of slowing production in the past few years.  My guess is his power numbers will probably take a hit as the season progresses and we'll see his average slowly creep down to the .290 range (which still isn't too bad).  
Chris Young, OF, Arizona Diamondbacks
Young is still included on this list, even with his recent trip to the disabled list.  Before his injury, Young was tearing things up, hitting .410 with five dingers and 14 RBIs.  
He has shown that he can hit for power in the past (32 HRs in 2007), but he doesn't hit the ball many other times.  Young's career batting average is a dismal .242 and he is notorious for a high volume of strikeouts.
Injury concerns have luckily not plagued him before, but coming off one that causes him to miss more time than he's used to may put a damper on his spectacular start to the season.
Bartolo Colon, SP, Oakland A's
The former Cy Young winner has found a new home in Oakland and had some solid starts to start the year.  Most impressive of all was a recent outing against the Angels where he threw 38 consecutive strikes.  That is quite a feat to accomplish, especially against a team that has players you may want to throw around.
Colon, however, is also on the older side and his team doesn't have much hitting to support his outings.  He's not going to go out and throw 38 consecutive strikes every night, and even if he tries, there's a good chance his stuff isn't good enough to keep blowing away hitters.  Expect to see a decline in Colon's performance as the season wears on against tough hitters in the AL West.