2012 NFL Draft: 5 Sleeper Picks You've Never Heard Of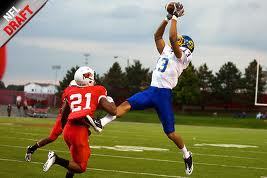 We all know the big names in the 2012 NFL draft. You have Andrew Luck, RG3, Justin Blackmon and Trent Richardson to name a few. However, there is a lot of talent throughout this draft.
While the top guys deservedly get all the press, most of every teams' NFL roster is made up of players who weren't elite first rounders. The bread and butter of every NFL squad are players, many from smaller school like the ones on this list, who flew under the radar and were selected later on in the draft.
So, here are the top five players in this years draft, who unless you are a draft geek or a hardcore college football fan, you may have never even heard of.
Follow me on Twitter: @rlongo924
Begin Slideshow

»
Dale Moss is a wide receiver out of South Dakota State who I seriously doubt you've heard about. He's currently being projected to go anywhere between round six and possibly even undrafted. However, this kid has serious talent.
Moss is a big wideout standing tall at 6'4'' and about 215 pounds. Moss pulled down 61 catches in 11 games this season for 949 yards, about 16 yards a catch. He runs a 4.5 in the 40, so he has good speed for his size as well.
One thing that I really like about Moss is that he seems to have a knack for going up and catching the ball at its highest point, and he has above average hands. If he goes to the right team he could be a really good NFL player. And as a wideout with that last name, he can't go wrong.
Watch the video of Moss. He's a two sport athlete (basketball). You'll definitely be impressed.
Janzen Jackson is an excellent player. The problem is that he has serious character and maturity issues, which is scaring a lot of teams away. He was charged with armed robbery, and though the charges were dropped, he has reportedly failed multiple drug tests and was dismissed from the University of Tennessee.
Jackson is currently sitting at about a fourth- or fifth-round pick, but I really think just in terms of raw talent that he's equal to a lot of first and second rounders. Jackson is extremely athletic and is a natural playmaker, and can lay the wood (see the video).
Someone will take a chance on Jackson, and if he can shape up and mature, they'll be rewarded.
Thomas Mayo is a 6'2, 205 pound WR out of Cal. California University of Pennsylvania. Yes, it exists. Mayo has flown under the radar, but he quietly put together a very nice season last year. I think he is being seriously overlooked just because he played at a D-II school, because he's got game.
Mayo showed at the East-West shrine game that he could get separation from players who went to big schools. He has good speed, running in the low 4.5's and has good hands. I think that Mayo will ultimately go undrafted, but whoever can pick him up will be doing themselves a favor.
Mayo can play, and he'll prove it at the next level. Check out the video; he shows he can hang onto the ball and make a tough catch.
Jonathan Grimes had a great season last year, with almost 1,700 yards from scrimmage and 14 touchdowns. Grimes is another victim of playing at a small school which has limited his exposure. However, like the other guys on this list, he can play football.
Grimes has decent size for a RB at 5'10 210 pounds and 4.5 speed. From watching highlights, it appears he has great vision and very good lateral quickness. He showed the ability to break away in the open field from defenders. He's currently looking like a seventh-round pick, which seems about right.
Grimes has excellent durability; he played in 47 games in his four years and never had any significant injuries. If he can continue this as the next level, he'll be a valuable asset for any team.
Steed, in my mind is being extremely underrated by NFL draft scouts. Sure he might need a little polishing, but he has the athleticism and instincts to start at the next level. Steed played well at the Senior Bowl, showing he could stay with receivers who came from bigger schools than his own.
He is somewhat of a playmaker, scoring two touchdowns on defense last year. As long as Steed is selected by a team which is willing to work with him and give him a couple of years to develop, he should absolutely succeed upon his entrance to the NFL.
Steed is currently looking like a fourth- to fifth-round pick, but he sure has skill and talent. Remember his name in a few years, he could be a potential pro-bowler.