2012 NFL Draft Predictions: Denver Broncos Won't Draft DT in 1st Round
April 25, 2012

Chris Trotman/Getty Images
Despite the incessant clamoring for the Denver Broncos to draft a defensive tackle in the first round of the 2012 NFL Draft, I just don't see it happening.
Defensive tackle is a position that is one of the deepest positions in this year's draft. Not only is it incredibly deep, but also defensive tackle is one of the riskiest positions to draft and one of the positions most likely to find a bust as opposed to a gem.
John Elway and the Denver Broncos will hold a best player available attitude when they approach the 2012 draft and as the top talent at defensive tackle will likely be gone early, the scraps available rated at probably second or third round talent will be all that is left late in the first round.
I think prospects like Jerel Worthy, Kendall Reyes, and the like will have a good chance of making it in the NFL, but do they warrant a first round pick? Not if better talent at other positions is available.
Some of the better options in the first round for example, might include Alabama's Donta' Hightower at middle linebacker. He's a beast in the middle and he would be a perfect match alongside Von Miller and D.J. Williams. He has lots of intelligence and has the look of a defensive quarterback. He can call plays on the defense, has experience in a pro-style defense from Alabama, and is ready to start Day 1.
How about top, first-round talent like Lamar Miller from the University of Miami? He is a home run hitter on offense and would be an awesome complementary back to Willis McGahee, a fellow Hurricane alumnus. In open space he is nearly impossible to run down. A threat out of the backfield, Miller would further boost the increasingly dynamic Broncos' offense.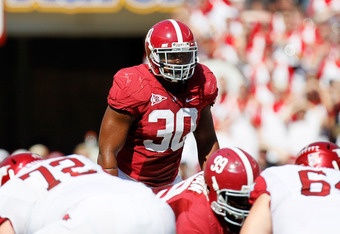 Kevin C. Cox/Getty Images
Recent news of the Broncos' interest in cornerback Asante Samuel, points to the Broncos possibly acquiring South Carolina's Stephon Gilmore at cornerback with their first overall pick. Gilmore had an awesome NFL Combine, running a speedy 40 time and impressing in defensive back drills. Imagine what next year might look like: Gilmore, opposite of Tracy Porter, Champ at free safety. That might ease some of struggles the defensive backs had in 2011.
So what does the Broncos' VP of Football Operations say about their likelihood to draft a DT in the first round?
He was recently quoted in a pre-draft press conference on ESPN.com saying, "We don't feel as bad about our tackles as everybody else does. I think that we feel OK there and Ty Warren will be back coming off an injury and (Kevin) Vickerson is coming back and then we have some young guys in there where we feel like we'll be OK. It's not nearly the need in our minds that people think it is."
Despite last seasons' struggles, mostly due to early injuries during the preseason, the Broncos are not looking too shabby at defensive tackle come into training camp. They have Ty Warren and Kevin Vickerson returning. Justin Bannan was brought in on a one-year contract during free agency. Air Force DT Ben Garland is coming back to the team after being on military reserve. Mitch Unrein is returning after an OK rookie season. Plus, there are a whole handful of others who will be wrestling over a roster spot during the offseason.
Unless a "can't miss" defensive tackle happens to fall into Denver's laps at No. 25 don't assume the Broncos will be "buying" Jerel Worthy or Kendall Reyes with their first pick. Don't even assume that the Broncos will be looking to pick up help on the defensive side only with their first rounder.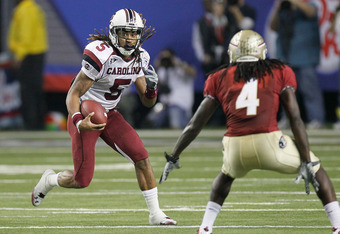 Kevin C. Cox/Getty Images
"We're going to go in and continue as we get closer if we hear some things about going up or down, we'll look at everything" Elway said during his pre-draft press conference. "We'll continue to work on our board, set our board, do our mock drafts, see how things might fall. Again, we don't have a mindset of exactly what we're going to do. We're going to have to wait and see until we get close to that pick at No. 25 and see how the board falls, we'll never know. It's a mindset that we want to find the guy that is going to come in and have an impact when it is offensively or defensively."
Lots of positions on the Broncos' roster could use upgrades. A first-round pick at a sure starter and instant impact player would be just what the doctor ordered.
My bet is, it's going to be somewhere other than defensive tackle.