Redskins Mock Draft: Final 7-Round Mock Before the Actual Draft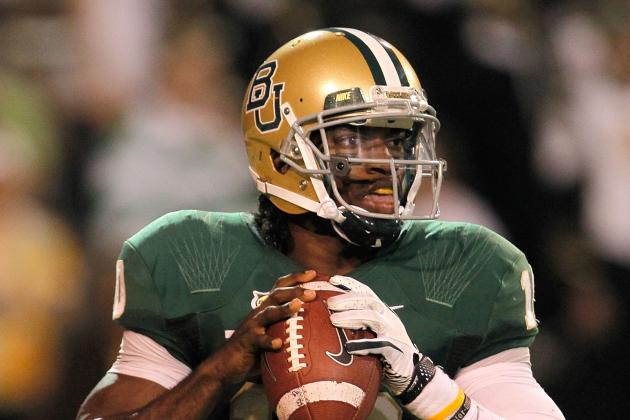 Sarah Glenn/Getty Images

Despite the excitement that surrounds the anticipation of the NFL draft, nothing beats the feeling you get when the draft actually starts.
When NFL commissioner Roger Goodell takes the stage for the first time and announces that first draft selection, the battle between a league of teams begins, as each war room searches for the young men that could hold the key to their franchise's future.
And for us fans and draftniks, it's time to hold our mock drafts to the fire. To see just how close we are to guys like Mel Kiper Jr. and Mike Mayock.
This is the final version of my Redskins 2012 NFL mock draft—based primarily on value in each round and secondly on positional need.
Begin Slideshow

»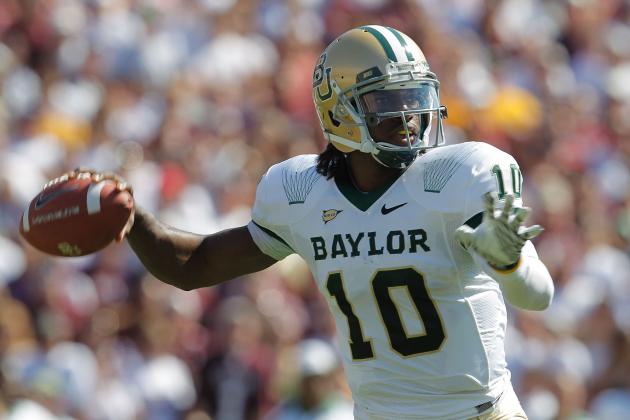 Sarah Glenn/Getty Images

Not that there was ever any question to begin with, but Robert Griffin III and the Washington Redskins are a confirmed wedded couple just two days before the draft, according to ESPN.
Mike Shanahan and Bruce Allen knew who they wanted and they weren't willing to settle—whether it be for another season of Rex Grossman or another prospect that they weren't absolutely in love with. Albeit an expensive move to draft their guy, Griffin is the franchise quarterback that front offices dream about.
Like I've mentioned so many times before—there's no better fit for the Redskins than Griffin. He's the necessary playmaker that the Redskins have lacked for more than two decades, and he's the elite athlete the fans so desperately need.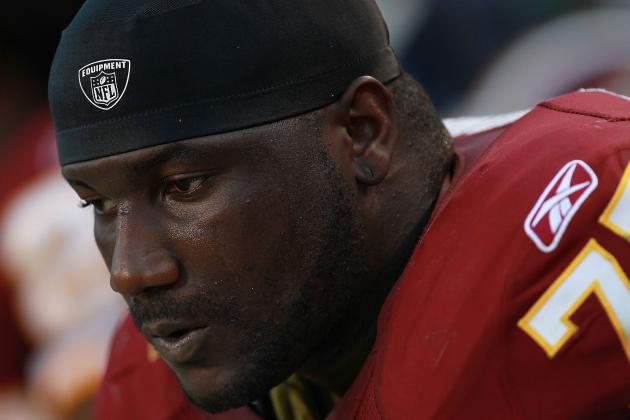 Ronald Martinez/Getty Images

The Redskins' second-overall pick in the draft—coming in the third round—looks more and more like a team opportunity to address the depth and overall talent along the offensive line.
UAB's Matt McCants is an athletic tackle prospect with all of the physical tools and tendencies to make him a fit in the zone-blocking scheme. And while some teams will wishfully project McCants as a left tackle, he's better-suited on the right end in the NFL.
McCants is arguably worthy of a second-round selection, but other tackles like Bobbie Massie and Mitchell Schwartz appear to be gaining ground, and I believe they go within the top 64 picks, ultimately pushing McCants to the early third.
Despite being a raw talent at this point, McCants could benefit quickly in Shanahan's system. All can expect a typical learning curve, but the offense in Washington could help naturally speed-up the transition.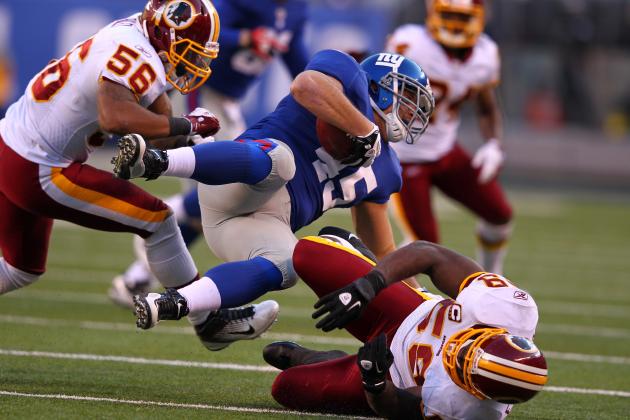 Al Bello/Getty Images

With rising stock as of late, mocking Nevada linebacker James-Michael Johnson here in the fourth round may be wishful thinking. But wilder things have happened.
The Redskins made the right move and inked veteran linebacker London Fletcher to continue holding down the middle of the defense, but even the ageless Fletcher will be forced to hang up the cleats one day. Not that the Redskins need to find Fletcher's replacement now, but the position could use overall depth anyway.
Johnson is a versatile linebacker with a lot of experience, and he has all the physical tools necessary to effectively play inside in a 3-4 scheme. He's a leader on the field, a positive force in the locker room and he'd have one of the game's best as his early mentor.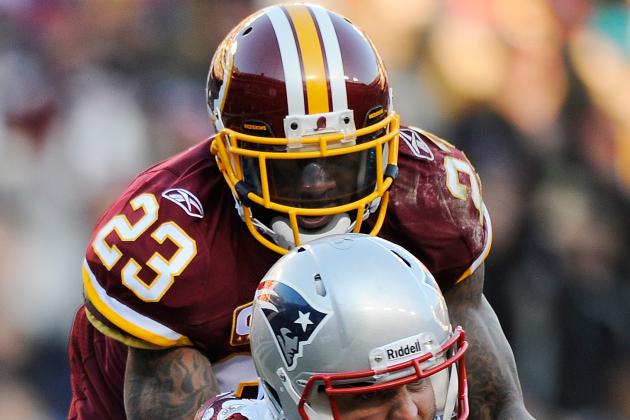 Patrick McDermott/Getty Images

The fourth round will undoubtedly be a crucial one for the Redskins, as their two picks within the round could go a number of different ways.
If Mike Shanahan wanted to add valuable depth along the offensive line with a guard/tackle like Miami's Brandon Washington, he may be available here. With the uncertainty of returning left guard Kory Lichtensteiger's knee, perhaps Shanahan would feel better drafting a guy that could step in Week 1 if need be.
Will Montgomery is assumed to be the Redskins' returning center for 2012, but drafting a good zone-scheme center like Michigan's David Molk or Baylor's Philip Blake could be a building block for the future and worth doing so at this point.
Although the Redskins have been busy addressing the team's paper-thin secondary this offseason, the added quality is nothing to write home about. Assuming Shanahan believes the same, he could very well go with a guy like Montana cornerback Trumaine Johnson.
Johnson appears sexy on paper, but his play at a small school and his obvious stiffness in coverage could concern some teams and force him to slip.
On this current Redskins team, Johnson would likely beat out competition for the nickel corner position, and he has the potential to become a starter in just a couple years.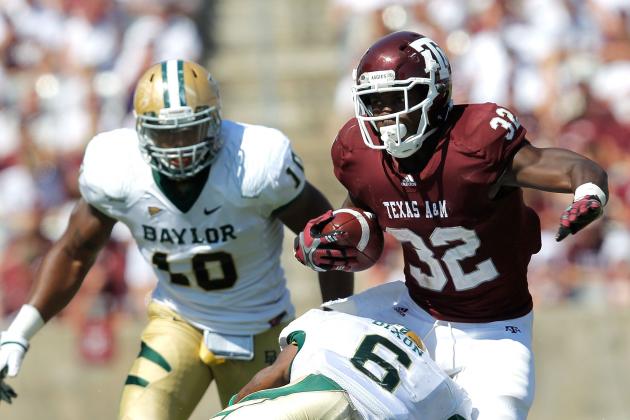 Sarah Glenn/Getty Images

Despite mocking a running back to the Redskins since January and receiving more than enough flack for it, I continue to do so and truly believe that it will happen by this Sunday.
I realize that it will go against the beliefs of others, but the Redskins' backfield should not be considered a solidified position with Roy Helu and Evan Royster. And while Tim Hightower returning to the team is possible according to the Washington Post, it's not certain.
Regardless of his current pen of running backs, Mike Shanahan has a thing for ball-carriers. He'll like an experienced back like Cyrus Gray that comes from a conference known for its explosive offenses, and he'll be intrigued by Gray's preparedness as a dual-threat out of the backfield.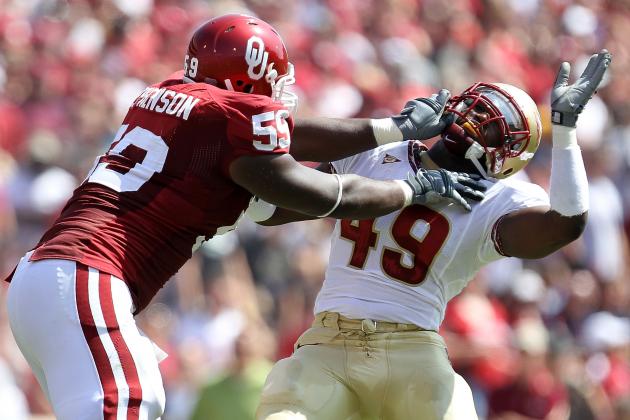 Ronald Martinez/Getty Images

Shanahan and the front office find some late-round value in the sixth round by grabbing Oklahoma offensive lineman Donald Stephenson.
Stephenson is a versatile lineman along the offensive front, and Shanahan could work him at four of five spots in his scheme.
While other teams may like Stephenson's upside, his experience and football IQ could easily push him into the late rounds. For the sake of the Redskins, let's hope this is true.
What else could you look for here in the sixth?
Depending on earlier selections (more specifically in the fourth round), the Redskins could look to the secondary at this point.
How far does a guy like Nebraska's Alfonzo Dennard drop after his recent off-the-field concerns discussed on ESPN.com? Seeing as how he was once considered a top-20 pick, is he worth a late-round flier with hopes of curving his character?
Is a cornerback like Texas A&M's Coryell Judie still around? If so, the Redskins could take a liking to his physicality and potential at the next level.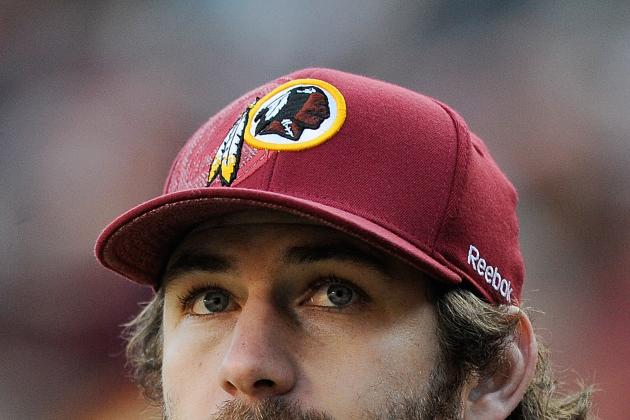 Patrick McDermott/Getty Images

As much as it hurts to say, the chances that we see Chris Cooley back with the Redskins next season appear to be dwindling.
Not only is Chris Cooley on the apparent downside of his career, but he also has a large cap hit this season that is especially difficult for the team to manage after being hit with surprisingly ridiculous financial penalties.
Although Fred Davis is back for a very crucial year in his career, and the coaching staff is trying their hand with converted wide receiver Niles Paul at tight end, the Redskins could still afford to take an H-back in the seventh round.
Temple's Evan Rodriguez isn't likely to be available past the sixth round, but it's possible because of his position. If he's here, he's a perfect replacement for Cooley.
Rodriguez is an experienced fullback/tight end hybrid that has the hands to effectively contribute in the passing game and the willingness to remain physically intense in all remaining aspects of play.
Not to mention, tight ends are extremely valuable for rookie quarterbacks. With a playmaker like Fred Davis and a safety valve like Rodriguez, Robert Griffin III would hopefully feel comfortable with the blanket.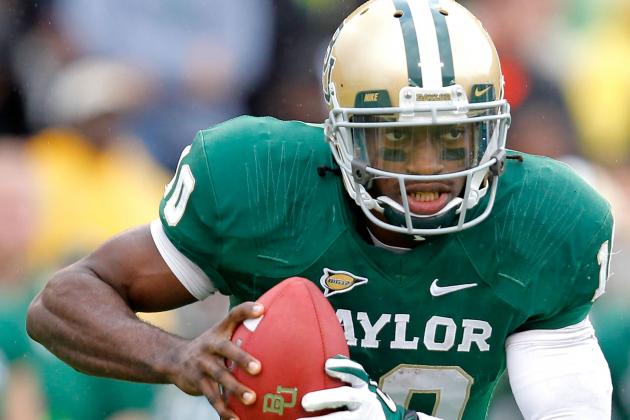 Sarah Glenn/Getty Images

Round 1: Robert Griffin III
Round 3: Matt McCants
Round 4: James-Michael Johnson
Round 4: Trumaine Johnson
Round 5: Cyrus Gray
Round 6: Donald Stephenson
Round 7: Evan Rodriguez