NBA Playoffs 2012: New York Knicks Can't Beat Chicago Bulls in Playoffs
April 25, 2012

Some think the New York Knicks could upset the Chicago Bulls in the NBA playoffs. However, the Knicks significantly lack the depth and chemistry to knock off the Bulls. 
The Knicks do have star players in Carmelo Anthony and Amar'e Stoudemire compared to the Bulls' Derrick Rose. All three have suffered major injuries this year, but the Bulls have the deeper team. 
New York has lost Jeremy Lin (14.6 points, 6.2 assists) for the year, and Anthony didn't put forth his best effort until former coach Mike D'Antoni quit. Lin was the spark plug for the Knicks offense, getting them back into the playoff race. 
Without Lin, the Knicks have to rely on an older and slower Baron Davis (5.9 points, 4.8 assists)— someone Rose (22.2 points, 7.9 assists) wouldn't have to guard closely. 
Iman Shumpert (9.6 points, 3.1 rebounds) is a great defender who lacks a consistent offensive game. The Bulls' Richard Hamilton (12.0 points, three assists) is the more experienced player and will use his length to frustrate the young Shumpert. 
Hamilton has also gotten back into his offensive groove, collecting 19 or more points four times in the past two weeks. 
Anthony (22.7 points, 6.3 rebounds) was the reason the Knicks overpowered the Bulls in a 100-99 Easter win with 43 points. However, the Bulls still bested the Knicks three out of four times this season, even though Anthony averaged 29.8 points, 5.8 rebounds and 3.5 assists. 
Plus, the Bulls' Luol Deng (15.5 points, 6.5 rebounds) is a tough perimeter defender who makes Anthony work for his points. Deng averages 16 points and three assists in two games against Melo this year.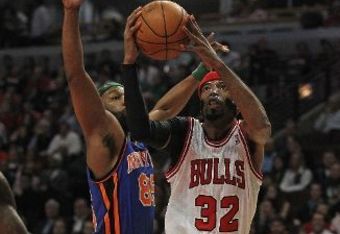 Stoudemire (17.6 points, eight rebounds) is the biggest wild card for the Knicks against the Bulls. If he's close to 100 percent, he's a faster and more efficient post scorer than Carlos Boozer (15.1 points, 8.7 rebounds). If STAT is still struggling with his back, Boozer should have the advantage. 
Moving to center, Tyson Chandler (11.3 points, 10.0 rebounds) could very well be the Defensive Player of the Year. Chandler clogs up the lanes, is a solid help defender and blocks 1.4 shots a game. 
A former Bull, Chandler would be matched up against the defensively minded Joakim Noah (10.1 points, 9.7 rebounds). Noah is the catalyst for the Bulls, utilizing his immense energy to ignite Chicago every night. The Bulls are 26-7 when Noah gets 10 or more points. 
The Bulls not only have the advantage starter-wise, Chicago possesses the superior bench.
The Bulls Bench Mob consists of C.J. Watson, Ronnie Brewer, Kyle Korver, Omer Asik, Taj Gibson, Jimmy Butler and John Lucas III. They produce 45.1 points, 20.7 rebounds and 11.4 assists a game. 
Watson and Lucas subbed in for an oft-injured Rose, leading the Bulls to a 16-9 record without the NBA's MVP. Korver is one of the NBA's elite three-point shooters while Brewer, Gibson and Asik are defensive specialists who could also score. 
The Knicks bring J.R. Smith, Steve Novak, Toney Douglas, Jared Jeffries, Josh Harrellson and Bill Walker. New York pours in 41.1 points, 17.7 rebounds and 6.6 assists. 
Smith can explode for points, but he's a chucker and misses too many shots. Novak can shoot the three, but he can't defend. 
Douglas and Jeffries lack offensive firepower while Harrelson and Walker don't do much. 
Coaching isn't even close, as the Bulls' Tom Thibodeau is the reigning NBA Coach of the Year and could snag the award again. Mike Woodson has helped the Knicks remain competitive since D'Antoni's departure, but the former Atlanta Hawks coach lacks playoff success on his resume. 
As for chemistry, the Knicks are a supremely talented team who seem to not work well together. A 34-30 record with two established stars suggests dysfunction. 
Stoudemire's production is down since Anthony came to New York. Anthony struggled by his standards most of the season and basically ran his coach out of town. 
The Knicks lacked a true point guard until Lin emerged, yet their upstart Chinese-American sensation is out with a meniscus tear. 
Before Woodson took over, the Knicks sucked at defense. Now, New York is playing better defensively, giving up 91.73 points the last 22 games. 
The team's sole chance of beating the Bulls is if Anthony scores 40-plus points each night like on Easter (43 points with two clutch threes). However, not even Anthony could maintain that clip as the Bulls will constantly double-team Melo. 
The Bulls are the superior defensive (88.4 points to 94.8 points), rebounding (46.5 to 41.9) and passing team (23 to 20 assists) to the Knicks, while they average just 1.4 less points a game. With that said, the Knicks don't have what it takes to beat the Bulls in a playoff series. 
Bob Bajek is an NBA/Chicago Bulls featured columnist. He is also a freelance reporter and can be followed on Patch.com and Twitter.