2012 NFL Mock Draft: Full 7-Round Predictions, Final Edition
Jonathan Ferrey/Getty Images
The 2012 NFL draft is finally here. The first two picks are guaranteed. Andrew Luck will be the heir to Peyton Manning in Indianapolis. Robert Griffin III will be the savior in Washington. After that, it's a toss-up.
It's next to impossible to predict the draft. Team needs are well-known, but what exactly is going on in the minds of front office personnel around the league is hard to know.
Here is one final look at each pick in the upcoming draft based on team needs and player value. Enjoy.
Round 1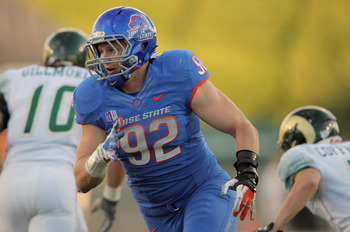 Doug Pensinger/Getty Images
1. Indianapolis Colts—Andrew Luck, QB, Stanford
This pick has been known for a long time. Luck is the best quarterback to enter the league in a decade or more. He'll accelerate the rebuilding process in Indy.
2. Washington Redskins (from St. Louis Rams)—Robert Griffin III, QB, Baylor
This is another pick that has been known for a while. The Redskins didn't give up a massive amount to move up this far to take anything other than a franchise quarterback. Griffin will instill a winning culture in Washington.
3. Minnesota Vikings—Matt Kalil, OT, USC
Kalil is easily the best tackle in the draft, and will likely be in Pro Bowl contention as a rookie. He's a smart move for a franchise that has a plethora of holes. He'll protect the blindside of Minnesota quarterbacks for over a decade.
4. Cleveland Browns—Trent Richardson, RB, Alabama
The Browns still believe Colt McCoy can be a franchise quarterback if he has elite talent around him. Taking the best running back to enter the draft since Adrian Peterson is a nice place to start.
5. Tampa Bay Buccaneers—Morris Claiborne, CB, LSU
Best player available here for the Rams, and fills a need with Ronde Barber on the wrong side of 30 and Aqib Talib running into trouble with the law. Claiborne has the potential to be a top-10 corner in the league.
6. St. Louis Rams (from Washington Redskins)—Michael Floyd, WR, Notre Dame
The Rams need a legitimate receiving threat for franchise quarterback Sam Bradford. Taking the best receiver in the draft would be a smart move here. Floyd is a nice combo of Dwayne Bowe and Brandon Marshall.
7. Jacksonville Jaguars—Justin Blackmon, WR, Oklahoma St.
Blackmon is the second best receiver in a top-heavy class. Rookie quarterback Blaine Gabbert struggled mightily last season without a true receiving threat. Blackmon makes Gabbert's development much easier.
8. Miami Dolphins—Ryan Tannehill, QB, Texas A&M
The Dolphins failed multiple times this offseason to land a franchise quarterback. They won't fail here. Tannehill is raw but has the potential to be a solid NFL quarterback down the road.
9. Carolina Panthers—Fletcher Cox, DT, Mississippi St.
The Panthers need a defensive tackle that excels in all areas of the game and find one here in Cox. He can do it all, and he automatically upgrades the entire defensive unit.
10. Buffalo Bills—Riley Reiff, OT, Iowa
Reiff is the second best tackle on the board and fits a need for the Bills nicely. Tackle was a weak point on the offense last year and Reiff provides an instant upgrade.
11. Kansas City Chiefs—Michael Brockers, DT, LSU
Brockers is a freak athlete that will fit in nicely with the Chiefs' defense. He needs some time to develop, but it's a smart pick for a team without a lot of glaring holes.
12. Seattle Seahawks—Nick Perry, DE, USC
It's hard to imagine the Seahawks passing on such a talented player that fits such a crucial need. Pass-rush from the end position is a need, and Chris Clemons is aging fast.
13. Arizona Cardinals—Melvin Ingram, OLB, South Carolina
Ingram's slide ends here, and the Cardinals get a massive steal. Ingram fits a big need and is easily the best all-around outside linebacker in the draft.
14. Dallas Cowboys—David DeCastro, OG, Stanford
The Cowboys aren't quite done revamping the offensive line yet. Here they grab the best guard in the draft, and one of the best to come out in recent memory. He'll be a mainstay on the offensive line for years.
15. Philadelphia Eagles—Luke Kuechly, ILB, Boston College
The Eagles had the worst linebacker unit in the NFL last season. It just so happens that the best inside linebacker in the draft falls to them here. Passing on Kuechly would be a horrible decision.
16. New York Jets—Quinton Coples, OLB, North Carolina
The Jets struggled to effectively rush the passer last season. Coples' free-fall ends here, thanks to Rex Ryan. He upgrades the group significantly.
17. Cincinnati Bengals (from Oakland Raiders)—Courtney Upshaw, DE, Alabama
The Bengals need a better pass-rusher across from Carlos Dunlap. Upshaw is a talent that can play multiple positions and provide a spark to an already elite unit.
18. San Diego Chargers—Stephon Gilmore, CB, South Carolina
The Chargers need to realize that Quentin Jammer is aging fast and now would be a good time to replace him. Gilmore is the best corner left and fills a big need defensively.
19. Chicago Bears—Kendall Wright, WR, Baylor
The Bears need another receiving threat across from the newly acquired Brandon Marshall. Wright plays much bigger than he is and will benefit greatly from playing across from Marshall.
20. Tennessee Titans—Cordy Glenn, OG, Georgia
The Titans' interior offensive line is an absolute mess and signing a washed up Steve Hutchinson doesn't fix things. Glenn is an immediate upgrade that will open up massive running lanes for Chris Johnson.
21. Cincinnati Bengals—Dre Kirkpatrick, CB, Alabama
The Bengals need to take a corner high to look toward the future as Leon Hall and Jason Allen are the only corners under contract after next season. Kirkpatrick can play both corner and safety, so Marvin Lewis will love him.
22. Cleveland Browns (from Atlanta Falcons)—Jonathan Marin, OT, Stanford
Cleveland has to do a better job of protecting Colt McCoy before they simply start over at the position. The right tackle spot gave up seven sacks last year. That won't happen again with Martin starting there.
23. Detroit Lions—Mark Barron, SS, Alabama
Strong safety was an absolute joke for the Lions last year. Barron is falling because of injuries, but he won't get past the Lions here. He's a huge upgrade to an average secondary.
24. Pittsburgh Steelers—Dontari Poe, DT, Memphis
The Steelers need to find a replacement for Casey Hampton, and Poe is a natural fit. Poe is a freak athlete that should excel in the Steelers' defense.
25. Denver Broncos—Jerel Worthy, DT, Michigan St.
The Broncos need to replace Brodrick Bunkley's presence quickly, and Worthy is a good way to do that. He's efficient against the run and has the ability to get to the quarterback.
26. Houston Texans—Stephen Hill, WR, Georgia Tech
The Texans are going to take a receiver here and the best one left on the board is Hill. Hill is a freak that will give the Texans yet another impressive piece to their already dominant offense.
27. New England Patriots (from New Orleans Saints)—Whitney Mercilus, OLB, Illinois
The Patriots have a plethora of needs on the defensive side of the ball and Mercilus is a good way to start. He's a versatile pass-rusher that will add a spark to the mediocre unit.
28. Green Bay Packers—Shea McClellin, OLB, Boise St.
Green Bay needs a solid pass-rushing presence opposite of Clay Matthews, who had a down year last season. McClellin changes the dynamic of the entire defense by being able to generate an effective rush as well.
29. Baltimore Ravens—Dont'a Hightower, ILB, Alabama
The Ravens have hinted they would like to find Ray Lewis's successor here. Hightower is a good candidate for the job and will have time to learn from the Hall-of-Famer.
30. San Francisco 49ers—Kevin Zeitler, OG, Wisconsin
The 49ers need to upgrade the right guard spot, and Zeitler is a great option here. He'll start from day one and give the receivers more time to get open downfield.
31. New England Patriots—Kendall Reyes, DE/DT, Connecticut
New England needs to find talented youth at the defensive end position to fill out their 3-4 scheme. Reyes has all the traits the Pats are looking for, and he seems like the obvious pick here.
32. New York Giants—Coby Fleener, TE, Stanford
With the Giants losing their starting tight ends to injury, it's without a question the reigning champs will address the position in the draft. Here the champs get the best tight end in the draft.
Round 2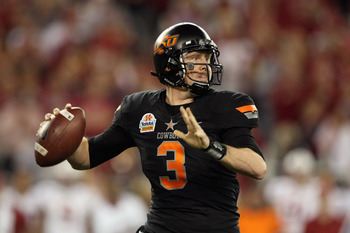 Donald Miralle/Getty Images
33. St. Louis Rams—Devon Still, DT, Penn State
The Rams need to find another starting defensive tackle to upgrade the defensive unit. Still happens to be available and a natural fit.
34. Indianapolis Colts—Doug Martin, RB, Boise Start
Indy needs a solid run game to protect Andrew Luck. Martin is the best back outside of Trent Richardson and will be in blue and white for a long time.
35. Minnesota Vikings—Harrison Smith, SS, Notre Dame
Minnesota's secondary is laughably bad. Smith is an upgrade to a unit that still has a ways to go.
36. Tampa Bay Buccaneers—Zach Brown, OLB, North Carolina
Brown fills a need here as the Buccaneers look to continue to upgrade the defense. The linebacking unit was rough around the edges last season.
37. Cleveland Browns—Alshon Jeffery, WR, South Carolina
The Browns lack a true No. 1 receiver. Greg Little isn't the answer. However, Jeffery and Little could be exactly what the Browns need.
38. Jacksonville Jaguars—Chandler Jones, DE, Syracuse
The Jags struggled to get production out of the majority of their ends last year. Jones is a steal here and will upgrade the defensive line quickly.
39. St. Louis Rams (from Washington Redskins)—David Wilson, RB, Virginia Tech
Steven Jackson isn't getting any younger, so picking up a nice spell back that can take the reins in a few years is a smart move with the extra pick.
40. Carolina Panthers—Josh Robinson, CB, UCF
The Panthers were dreadful against the pass last season. Robinson will start across from Chris Gamble and give a boost to the secondary.
41. Buffalo Bills—Rueben Randle, WR, LSU
Buffalo could use another receiving threat besides Stevie Johnson. Randle is a skilled player that will only improve with time.
42. Miami Dolphins—Andre Branch, DE, Clemson
The Dolphins need someone across from Cameron Wake who can create pressure. Branch can do that form a variety of positions, which is what the Dolphins prefer.
43. Seattle Seahawks—Vinny Curry, DE, Marhsall
Curry is an absolute steal here, and the Seahawks could still use an infusion of youth and production. Teaming Perry and Curry at multiple positions will create an elite defensive unit in Seattle.
44. Kansas City Chiefs—Brandon Weeden, QB, Oklahoma St.
The Chiefs take the best player at a position of need here and create some competition for Matt Cassell. One of the two won't be on the opening day roster.
45. Dallas Cowboys—Peter Konz, C, Wisconsin
The Cowboys are serious about beefing up the problematic offensive line and land a center in Konz who probably should have been drafted in the first round.
46. Philadelphia Eagles—Kirk Cousins, QB, Michigan St.
Like it or not, it's time to start thinking about life after Michael Vick. Cousins is a great prospect who will have time to learn the game before taking the reins.
47. New York Jets—Mike Adams, OT, Ohio St.
The Jets need a starting right tackle and find one here in the form of Adams. He'll be the starter right away.
48. New England Patriots (from Oakland Raiders)—Janoris Jenkins, CB, North Alabama
The Pats get a top-15 talent here at the cost of a major risk. Jenkins will drastically improve the Pats' defense if he can stay on the field.
49. San Diego Chargers—Amini Silatolu, OG, Midwestern St
The Chargers need to find some starters on the interior of the offensive line. Silatolu is a small school talent that can start immediately.
50. Chicago Bears—Bobby Massie, OT, Mississippi
Chicago needs help on the offensive line. Massie's stock has risen as of late, and he's a great value here.
51. Philadelphia Eagles (from Arizona Cardinals)—Brandon Thomson, DT, Clemson
Philly need some depth at tackle, but they get more than that with Thompson. He'll make the mediocre linebacker behind him look better as well.
52. Tennessee Titans—Lavonte David, OLB, Nebraska
It looks as if the Titans will be down a weak-side linebacker. David is a nice fit here and will start immediately.
53. Cincinnati Bengals—Lamar Miller, RB, Miami
The Bengals need to find a running back to head the committee and fit into the West Coast offense. Miller is a perfect fit.
54. Detroit Lions—Jayron Hosley, CB, Virginia Tech
Detroit needs to continue to upgrade its woeful secondary. Hosley will see playing time as a rookie as he continues to develop.
55. Atlanta Falcons—Chris Polk, RB, Washington
The Falcons could be looking for a new starting running back with Michael Turner looking like he doesn't have much left in the tank. Polk is a great fit here.
56. Pittsburgh Steelers—Brandon Brooks, OG, Miami
Pittsburgh has to do a better job of protecting Ben Roethlisberger. That starts now with the selection of Brooks.
57. Denver Broncos—Mohamed Sanu, WR, Rutgers
Now is as good a time as any to give new quarterback Peyton Manning some new toys to play with. He'll need them.
58. Houston Texans—Kelechi Osemele, OT, Iowa State
Houston has to upgrade its offensive line to keep Matt Schaub healthy this year. Osemele can play a variety of positions.
New Orleans forfeited pick for bounty scandal
59. Green Bay Packers—Trumaine Johnson, CB, Montana
The Packers could use some depth at corner. Johnson fits two needs as he can play safety as well.
60. Baltimore Ravens—Bruce Irvin, OLB, West Virginia
Baltimore needs another pass-rusher across from Terrell Suggs. Irvin is a great talent that fills the need nicely.
61. San Francisco 49ers—Juron Criner, WR, Arizona
Alex Smith needs better options down the field. The 49ers aren't done upgrading the receiving core just yet.
62. New England Patriots—Ronnell Lewis, OLB, Oklahoma
The Pats add yet another pass-rusher here who upgrades the miserable defense quickly.
63. New York Giants—Robert Turbin, RB, Utah St.
The Giants let Brandon Jacobs go and find his replacement quickly in Turbin.
Round 3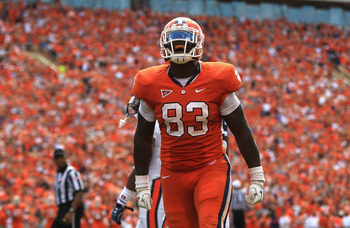 Streeter Lecka/Getty Images
64. Indianapolis Colts—Dwayne Allen, TE, Clemson
The Colts need another weapon for Andrew Luck with Dallas Clark gone. Allen is a perfect fit.
65. St. Louis Rams—Jeff Allen, OT, Illinois
The Rams need any help they can get on the offensive line to protect Bradford.
66. Minnesota Vikings—Alfonzo Dennard, CB, Nebraska
The Vikings have to continue to upgrade the secondary. Dennard falls because of legal woes.
67. Cleveland Browns—Isaiah Pead, RB, Cincinnati
Peyton Hillis is gone, and now is the last chance the Browns will get to find a starting back.
68. Tampa Bay Buccaneers—LaMichael James, RB, Oregon
The Buccaneers need to add some explosion to the running game. James has just what they need.
69. Washington Redskins—James Brown, OG, Troy
The Redskins have to protect RGIII. There are injury concerns along the line already.
70. Jacksonville Jaguars—Bobby Wagner, OLB, Utah State
Wagner is a steal here, and Jacksonville happens to be pretty thin at linebacker.
71. Buffalo Bills—Jamell Fleming, CB, Oklahoma
The Bills need some depth at corner as the play there was inconsistent at best last season.
72. Miami Dolphins—Orson Charles, TE, Georgia
Tight ends are safety nets for rookie QBs. Charles is a great pick here.
73. Miami Dolphins (from Carolina Panthers, through Chicago Bears)—Mitchell Schwartz, OT, California
Protecting the new franchise QB also happens to be very important. Safe pick here.
74. Kansas City Chiefs—Ben Jones, C, Georgia
The Chiefs need help on the interior now and into the visible future. Jones is a nice fit.
75. Seattle Seahawks—Brandon Boykin, CB, Georgia
The 'Hawks are going to need some more depth with Marcus Trufant getting old. Boykin could start sooner rather than later.
76. Houston Texans (from Philadelphia Eagles)—Josh Chapman, DT, Alabama
Houston has a weakness in the middle of the defense. Not anymore with this pick.
77. New York Jets—Chris Givens, WR , Wake Forest
The Jets are going to need better receiving options. Givens is a dynamic receiver that could thrive in New York.
Oakland exercised pick in Supplemental Draft to select Terrelle Pryor
78. San Diego Chargers—Jared Crick, DE, Nebraska
San Diego needs more consistency from its pass-rush and defensive line. Crick provides both.
79. Chicago Bears—Sean Spence, OLB, Miami
The Bears need to get younger at outside linebacker. More talent would help as well. Spence has a plethora of both.
80. Arizona Cardinals—Donald Stephenson, OT, Oklahoma
Arizona needs help in the offensive trenches now. Stephenson has what the Cards need.
81. Dallas Cowboys—Brandon Taylor, SS, LSU
The Cowboys' secondary is receiving a major overhaul this offseason. Taylor is a vastly underrated prospect that will start next season.
82. Tennessee Titans—Billy Winn, DE, Boise State
Tennessee needs some depth at defensive end. Winn is a great pickup here.
83. Cincinnati Bengals—Brandon Washington, OG, Miami (Fl.)
Cincinnati finds a massive starting right guard here in Washington.
84. Atlanta Falcons—Ladarius Green, TE, Louisiana-Lafayette
It's Tony Gonzalez's last season in Atlanta, so finding a tight end he can coach up makes sense here.
85. Detroit Lions—Michael Brewster, C, Ohio State
The Lions are going to need a new signal-caller sooner rather than later. Better get one now.
86. Pittsburgh Steelers—Ron Brooks, CB, LSU
Pittsburgh is going to need some depth in the secondary. Brooks is a criminally underrated prospect that upgrades the Steelers right away.
87. Denver Broncos—Brock Osweiler, QB, Arizona St.
The Broncos will have to find a successor to Peyton Manning. The 6'7" Osweiler will excel after being Manning's understudy.
88. Philadelphia Eagles (from Houston Texans)—Casey Hayward, CB, Vanderbilt
Asante Samuel is as good as gone, so finding someone to replace him here is the best move.
89. New Orleans Saints—Mychal Kendricks, OLB, California
Kendricks can play any position in the linebacking corps. He'll be a valuable asset to the depleted unit.
90. Green Bay Packers—Bernard Pierce, RB, Temple
With Ryan Grant gone, the Packers are going to need someone to fill his void. Pierce is a perfect fit.
91. Baltimore Ravens—Zerbie Sanders, OT, Florida St.
The Ravens aren't getting any younger on the offensive line. Sanders is a nice option for the future.
92. San Francisco 49ers—Cam Johnson, DE, Virginia
The 49ers get the best defensive end available here. They are thin at the spot, and Johnson solves that issue quickly.
93. New England Patriots—Markelle Martin, FS, Oklahoma St.
The revamp of the defense isn't done yet. Martin is a great safety prospect, and New England is lucky to have him fall this far.
94. New York Giants—Josh LeRibeus, OG, Southern Methodist
The Giants need youth at the guard position, so LeRibeus makes sense here.
95. Oakland Raiders (compensatory selection)—Alameda Ta'amu, DT, Washington
The Raiders need a nose tackle. Ta'amu is the best possible pick here for the Raiders.
Round 4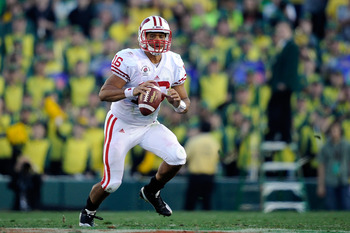 Kevork Djansezian/Getty Images
96. St. Louis Rams—Mike Martin, DT, Michigan
97. Indianapolis Colts—George Iloka, FS, Boise St.
98. Minnesota Vikings—Tyrone Crawford, DE, Boise St.
99. Houston Texans (from Tampa Bay Buccaneers, through Philadelphia Eagles)—Rishard Matthews, WR, Nevada
100. Cleveland Browns—Nigel Bradham, OLB, Florida St.
101. Jacksonville Jaguars—Trevin Wade, CB, Arizona
102. Washington Redskins—Chase Minnifield, CB, Virginia
103. Miami Dolphins—A.J. Jenkins, WR, Illinois
104. Carolina Panthers—Josh Kaddu, OLB, Oregon
105. Buffalo Bills—Trevor Guyton, DE, California
106. Seattle Seahawks—Cyrus Gray, RB, Texas A&M
107. Kansas City Chiefs—Brian Quick, WR, Appalachian St.
108. Denver Broncos (from New York Jets)—Taylor Thompson, TE, Southern Methodist
109. Washington Redskins (from Oakland Raiders)—Malik Jackson, DE, Tennessee
110. San Diego Chargers—Nick Toon, WR, Wisconsin
111. Chicago Bears—Trenton Robinson, FS, Michigan St.
112. Arizona Cardinals—Dwight Bentley, CB, Louisiana-Lafayette
113. Dallas Cowboys—Omar Bolden, CB, Arizona St.
114. Philadelphia Eagles—Demario Davis, OLB, Arkansas St.
115. Tennessee Titans—Greg Childs, WR, Arkansas
116. Cincinnati Bengals—Marvin McNutt, WR, Iowa
117. Detroit Lions—Chris Rainey, RB, Florida
118. Cleveland Browns (from Atlanta Falcons)—Ryan Broyles, WR, Oklahoma
119. Pittsburgh Steelers—Kyle Wilber, OLB, Wake Forest
120. Denver Broncos—Marcus Forston, DT, Miami(Fl.)
121. Houston Texans—Winston Guy, SS, Kentucky
122. New Orleans Saints—Kheeston Randall, DT, Texas
123. Green Bay Packers—Antonio Allen, SS, South Carolina
124. Buffalo Bills (from Baltimore Ravens)—Jonathan Massaquoi, OLB, Troy
125. San Francisco 49ers—Emmanuel Acho, OLB, Texas
126. New England Patriots—James-Michael-Johnson, ILB, Nevada
127. New York Giants—Tony Bergstorm, OG, Utah
128. Minnesota Vikings (compensatory selection)—Russell Wilson, QB, Wisconsin
129. Oakland Raiders (compensatory selection)—Terrell Manning, OLB, North Carolina St.
130. Baltimore Ravens (compensatory selection)—Michael Egnew, TE, Missouri
131. New York Giants (compensatory selection)—Tom Compton, OT, South Dakota
132. Green Bay Packers (compensatory selection)—Jack Crawford, DE, Penn St.
133. Green Bay Packers (compensatory selection)—Senio Kelemete, OG, Washington
134. Minnesota Vikings (compensatory selection)—Marvin Jones, WR, California
135. Dallas Cowboys (compensatory selection)—Derek Wolfe, DE/DT, Cincinnati
Round 5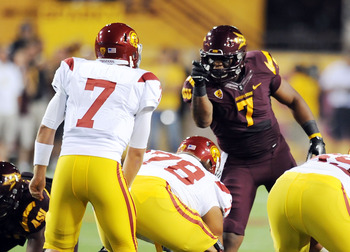 Norm Hall/Getty Images
136. Indianapolis Colts—Joe Adams, WR, Arkansas
137. Denver Broncos (from St. Louis Rams)—Vick Ballard, RB, Mississippi St.
138. Minnesota Vikings—Alex Hoffman-Ellis, OLB, Washington St.
139. Cleveland Browns—DeQuan Menzie, CB, Alabama
140. Tampa Bay Buccaneers—T.Y. Hilton, WR, FIU
141. Washington Redskins—Matt Reynolds. OT, BYU
142. Jacksonville Jaguars—Aaron Henry, FS, Wisconsin
143. Carolina Panthers—Keenan Robins, ILB, Texas
144. Buffalo Bills—Ryan Lindley, QB, San Diego St.
145. Miami Dolphins—Brandon Hardin, FS, Oregon St.
146. Kansas City Chiefs—Keith Tandy, CB, West Virginia
147. Buffalo Bills (from Seattle Seahawks)—Deangelo Peterson, TE, LSU
148. Oakland Raiders—Ronnie Hillman, RB, San Diego St.
149. San Diego Chargers—Terrance Ganaway, RB, Baylor
150. Chicago Bears—Jaye Howard, DT, Florida
151. Arizona Cardinals—Nick Foles, QB, Arizona
152. Dallas Cowboys—Rhett Ellison, TE, USC
153. Philadelphia Eagles—Philip Black, C, Baylor
154. New York Jets—Vontaze Burfict, ILB, Arizona St.
155. Tennessee Titans—Leonard Johnson, CB, Iowa State
156. Cincinnati Bengals—Duke Ihenacho, SS, San Jose St.
157. Atlanta Falcons—Jake Bequette, DE, Arkansas
158. Detroit Lions—Junior Hemingway, WR, Michigan
159. Pittsburgh Steelers—Tank Carder, ILB, TCU
160. Cleveland Browns (from Denver Broncos)— Johnny Thomas, SS, Oklahoma St.

161. Houston Texans—Travis Lewis, OLB, Oklahoma
162. New Orleans Saints—Chris Greenwood, CB, Albion
163. Green Bay Packers—Christian Thompson, FS, South Carolina St.
164. Baltimore Ravens—Asa Jackson, CB, Cal Poly
165. San Francisco 49ers—Ryan Steed, CB, Furman
166. Cincinnati Bengals (from New England Patriots)—Audie Cole, ILB, North Carolina St.
167. Cincinnati Bengals—Tommy Streeter, WR, Miami
168. Oakland Raiders (compensatory selection)—Lucas Nix, OG, Pittsburgh
169. Baltimore Ravens (compensatory selection)—Edwin Baker, RB, Michigan St.
170. Indianapolis Colts (compensatory selection)—Jacquies Smith, DE, Missouri
Round 6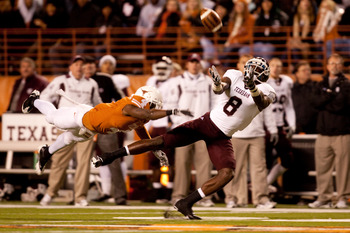 Darren Carroll/Getty Images
171. St. Louis Rams—Shaun Prater, CB, Iowa
172. Philadelphia Eagles (from Indianapolis Colts)—David Molk, C, Michigan
173. Washington Redskins (from Minnesota Vikings)—Brett Roy, DT, Nevada
174. Tampa Bay Buccaneers—Najee Goode, ILB, West Virginia
175. Minnesota Vikings (from Cleveland Browns)—Ronald Leary, OG, Memphis
176. Jacksonville Jaguars—Hebron Fangupo, DT, BYU
177. Arizona Cardinals (from Washington Redskins)—Matt McCants, OT, UAB
178. Buffalo Bills—Jarius Wright, WR, Arkansas
179. New Orleans Saints (from Miami Dolphins)—Jeff Fuller, WR, Texas A&M
180. Carolina Panthers—Dwight Jones, WR, North Carolina
181. Seattle Seahawks—Nate Potter, OT, Boise St.
182. Kansas City Chiefs—Tim Fugger, DE, Vanderbilt
183. San Diego Chargers—Evan Rodriguez, FB, Temple
184. Chicago Bears—Justin Bethel, FS, Presbyterian
185. Arizona Cardinals—DeVier Posey, WR, Ohio St.
186. Dallas Cowboys—Miles Burris, OLB, San Diego St.
187. New York Jets (from Philadelphia Eagles, through Indianapolis Colts)—Dan Herron, RB, Ohio St.
188. Denver Broncos (from New York Jets)—Mike Harris, CB, Florida St.
189. Oakland Raiders—DeAngelo Tyson, DT, Georgia
190. Tennessee Titans—D.J. Campbell, FS, California
191. Cincinnati Bengals—Garrett Celek, TE, Michigan St.
Detroit Lions forfeited pick for tampering
192. Atlanta Falcons—Coryell Judie, CB, Texas A&M
193. Pittsburgh Steelers—Davin Meggett, RB, Maryland
194. Philadelphia Eagles (from Denver Broncos)—Chase Ford, TE, Miami (Fl.)
195. Houston Texans—Matt Veldman, TE, North Dakota St.
196. Miami Dolphins (from New Orleans)—Joe Looney, OG, Wake Forest
197. Green Bay Packers—Austin Davis, QB, Southern Mississippi
198. Baltimore Ravens—Eddie Pleasant, SS, Oregon
199. San Francisco 49ers—Tydreke Powell, DT, North Carolina
200. Philadelphia Eagles (from New England)—Brad Smelley, FB, Alabama
201. New York Giants—Marcus Kuhn, DT, North Carolina St.
202. New York Jets (compensatory selection)—Akiem Hicks, DT, Regina
203. New York Jets (compensatory selection)—Devon Wylie, WR, Fresno St.
204. Cleveland Browns (compensatory selection)—Coty Sensabaugh, CB, Clemson
205. Cleveland Browns (compensatory selection)—Jeff Adams, OT, Columbia
206. Indianapolis Colts (compensatory selection)—Desmond Wynn, OG, Rutgers
207. Carolina Panthers (compensatory selection)—Olivier Vernon, DE, Miami (Fl.)
Round 7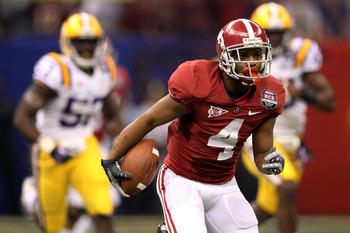 Andy Lyons/Getty Images
208. Indianapolis Colts—Andrew Datko, OT, Florida St.
209. St. Louis Rams—Tavon Wilson, FS, Illinois
210. Minnesota Vikings—Michael Smith, RB, Utah St.
211. Cleveland Browns—James Hanna, TE, Oklahoma
212. Tampa Bay Buccaneers—Kelcie McCray, SS, Arkansas St.
213. Washington Redskins—Tyler Nielsen, OLB, Iowa
214. Indianapolis Colts (from Jacksonville Jaguars, through New York Jets)—Quentin Saulsberry, C, Mississippi
215. Miami Dolphins—Josh Norman, CB, Costal Carolina
216. Carolina Panthers—Adam Gettis, Iowa
217. Buffalo Bills—Bradie Ewing, FB, Wisconsin
218. Kansas City Chiefs—Jerry Franklin, ILB, Arkansas
219. Detroit Lions (from Seattle Seahawks)—Kourtnei Brown, DE, Clemson
220. Chicago Bears—Garth Gehart, C, Arizona St.
221. Arizona Cardinals—Gino Gradkowski, OG, Deleware
222. Dallas Cowboys—Danny Coale, WR, Virginia Tech
223. Minnesota Vikings (from Philadelphia Eagles, through New England Patriots)—Micah Pellerin, CB, Hampton
224. Green Bay Packers (from New York Jets)—Jordan White, WR, Western Michigan
225. Seattle Seahawks (from Oakland Raiders)—Tahir Whitehead, OLB, Temple
226. San Diego Chargers—Cory Harkey, TE, UCLA
227. Tennessee Titans—Sean Richardson, SS, Vanderbilt
228. Jacksonville Jaguars (from Cincinnati Bengals)—Ryan Miller, OG, Colorado
229. Atlanta Falcons—Julian Talley, WR, Massachusetts
230. Detroit Lions—Donavan Robinson, OLB, Jackson St.
231. Pittsburgh Steelers—Dustin Waldron, OT, Portland St.
232. New York Jets (from Denver Broncos)—Robert Blanton, CB, Notre Dame
233. Houston Texans—J.K. Schaffer, ILB, Cincinnati
234. New Orleans Saints—Frank Alexander, DE, Oklahoma
235. Green Bay Packers—Janzen Jackson, FS, McNeese St.
236. Baltimore Ravens—B.J. Cunningham, WR, Michigan St.
237. San Francisco 49ers—Josh Bush, FS, Wake Forest
238. Kansas City Chiefs (from New England Patriots)—Chris Owusu, WR, Stanford
239. New York Giants—Brandon Lindsey, OLB, Pittsburgh
240. Pittsburgh Steelers (compensatory selection)—Adrien Robinson, TE, Cincinnati
241. Green Bay Packers (compensatory selection)—Derrick Shelby, DE, Utah
242. New York Jets (compensatory selection)—Derrick Dennis, OG, Temple
243. Green Bay Packers (compensatory selection)—George Bryan, TE, North Carolina St.
244. New York Jets (compensatory selection)—James Carmon, OT, Mississippi St.
245. Cleveland Browns (compensatory selection)—Grant Garner, C, Oklahoma St.
246. Pittsburgh Steelers (compensatory selection)—Matthew Masifilo, DE, Stanford
247. Cleveland Browns (compensatory selection)—Blair Walsh, K, Georgia
248. Pittsburgh Steelers (compensatory selection)—Matt Daniels, SS, Duke
249. Atlanta Falcons (compensatory selection)—Brandon Marshall, OLB, Nevada
250. San Diego Chargers (compensatory selection)—Chris Galippo, ILB, USC
251. Buffalo Bills (compensatory selection)—Jacob Lattimer, DE, Iowa St.
252. St. Louis Rams (compensatory selection)—Danny Trevathan, OLB, Kentucky
253. Indianapolis Colts (compensatory selection)—Marquis Maze, WR, Alabama
Keep Reading