9 Photos of Hot NBA Fans Wearing Basketball Jerseys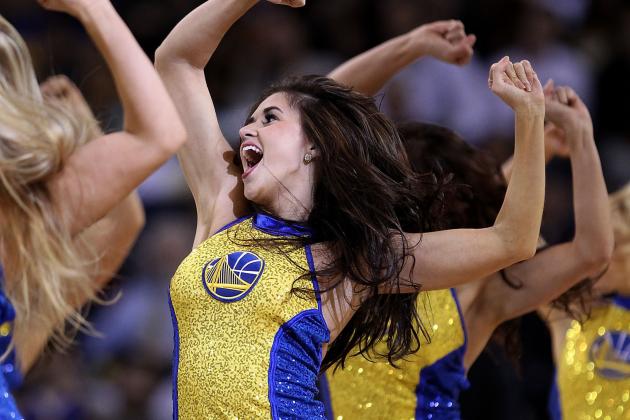 Ezra Shaw/Getty Images

There's something about your favorite team's colors gracing the clothing of a beautiful lady. Suddenly, that good-looking girl is taken up another level and becomes an extremely good looking girl.
However, there's something that can send a girl above all the rest, and there must be some kind of science behind what it is that can really kick her up above and beyond.
If you take your best gal and throw a basketball jersey on her, for some reason that Stephen Hawking couldn't even explain, she becomes even better looking than before.
So, for everyone out there looking for a break from all the tough reading and thinking that has accompanied their day, here are nine of the hottest familiar faces to don a basketball jersey in recent years.
Begin Slideshow

»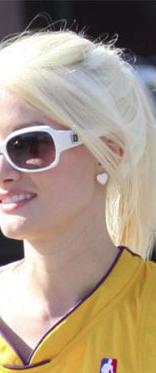 With the Playboy Mansion just down the road from Staples Center (or not, I don't know for sure, nor do I really care) and with a bunch of lovely ladies looking for attention, current and former Playboy models are always a good option to find a lady in a jersey.
This young bleach-blonde girl is Holly Madison, who got famous for taking her clothes off, and then starring in a reality show with a few other Playboy girls.
However, in this case, I'm here to talk about the clothes she's wearing. Who exactly wore that No. 76 jersey?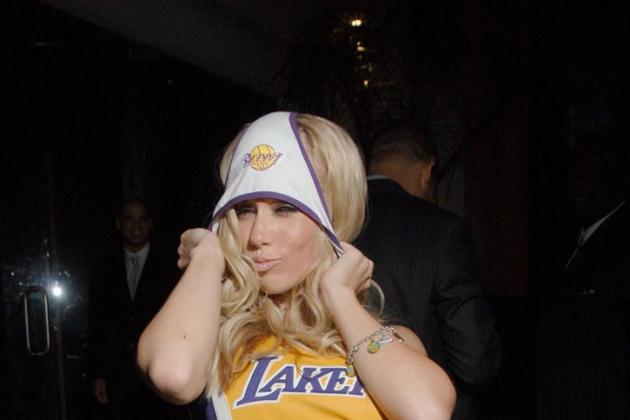 Speaking of Playboy girls, this is Kendra Wilkinson, a girl who starred on The Girls Next Door with Holly.
Instead of wearing some obscure jersey like Holly, she decided to go with a cool Lamar Odom look with a pair of Lakers panties thrown on her head.
I can't say it's a bad look.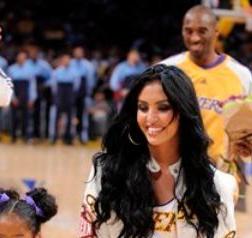 Here we have Kobe Bryant's ex-wife Vanessa Bryant rocking her ex-husband's jersey along with a purple skirt.
Vanessa wasn't always on the sidelines at Lakers games when she was with Kobe, but when she was, she usually came dressed to impress.
It seems like she let her two daughters dress her that morning with the purple skirt, the black leggings, and the high-heeled boots. But who am I to argue?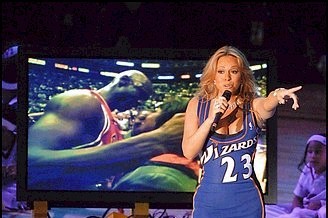 This is by far one of the most interesting variations of a basketball jerseys that I've ever seen. And it's a bit strange that the only one I've ever seen is a Michael Jordan Wizards jersey.
This jersey-dress was thrown together for Mariah Carey's singing tribute to Michael Jordan at the 2003 All-Star Game, and it's one that stayed in the annals of basketball history ever since.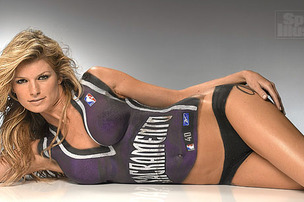 I'm not sure if I should have included this one since, technically, Marisa Miller isn't really wearing a jersey, but can I really keep this from you guys?
Here we have Marisa Miller, one of the most well-known models from Victoria Secret and Sports Illustrated's swimsuit editions painted up in a Sacramento Kings jersey.
My guess is if the Maloofs hired her as the mascot for the Kings, and had her come like this to every game, they wouldn't have a problem getting funding for a new arena.
While we're on the topic of body paint, why don't we take a quick look at Hope Dworaczyk, and then another, longer look, and maybe a few more quick looks.
Dworaczyk dated Jason Kidd for a bit, and it was even rumored that she was pregnant with Kidd's child.
The only concern I have here is that that may not be a regulation jersey if she's looking to play for real. Oh, and those high heels probably won't go over well with whoever owns that gym.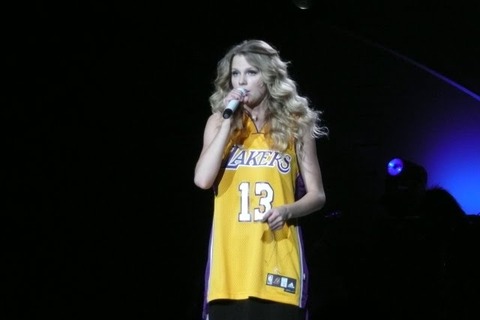 I've never been a fan of Taylor Swift. I mean, she seems like a nice young lady and everything, and she's certainly a pretty little thing, but those songs bother me to no end.
However, I might be changing my mind on her a bit, all depending on how she ended up wearing a Wilt Chamberlain jersey. Initially I was under the impression that this was a Wilt Chamberlain jersey. Alas, it isn't.
Apparently, Swift showed up at a show at the Staples Center wearing this jersey with "SWIFT" on the back and the 13 as the number, as it is her lucky number.
Oh well, it was an exciting thought while it lasted.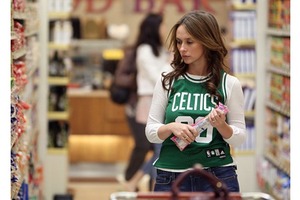 Many of the preceding photos were of women showing a bit of skin, but Jennifer Love Hewitt shows us that one needn't show off everything to look good.
Jennifer Love Hewitt gets a lot of love and a lot of hate, but when she's rocking a Celtics jersey, even Lakers fans have to look on and grin just a bit.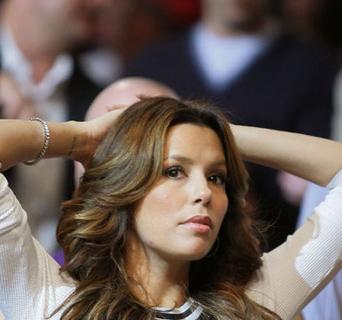 This year, Tony Parker has been the biggest reason for the San Antonio Spurs grabbing the top seed in the Western Conference yet again. Beyond that, he's even inserted himself into the NBA MVP award race.
However, whenever someone talks about him as the most valuable player of the Spurs, I have to think about how dumb he was to ever cheat on, and subsequently split up with Eva Longoria.
When you weigh the value of a player, you have to look at what they bring to the team and what they take away from the team. And Tony Parker took Eva Longoria away from the sidelines. How is that valuable to the team?
If you are one of those Twitterers, you can follow me @JDorsey33.