Metta World Peace: Fit for a Strait Jacket
April 24, 2012

Christian Petersen/Getty Images
A man who legally changes his name to that probably has a few deep-seeded issues.  To be clear, anybody who legally changes his or her name to some strange phrase or something completely different should generally be taken with a grain of salt. 
Chad Johnson changed his name to Chad Ochocinco.  The New England Patriots wide receiver also participated in bull riding tournaments, developed his own television show with Terrell Owens and has been known for his outlandish behavior and controversial touchdown dances.
Mixed martial arts fighter Jon Koppenhaver legally changed his name to War Machine.  He eventually went into porn and wound up in prison for assault charges.
Carlos Estevez changed his name to Charlie Sheen and has had an assortment of problems ranging from illegal drug possession, alcohol problems, domestic issues and porn star addictions.  All crucial components to Charlie's "winning" lifestyle.
But who can top the player formerly known as Ron Artest?  Metta World Peace has been known throughout his career as an overly aggressive, eccentric and, at times, frightening athlete.  
His talent is obvious.  The guy was drafted 16th overall in the 1999 NBA draft after a stellar two years at St. John's.  He was named the NBA Defensive Player of the Year in 2004, has been nominated to four NBA All-Defensive teams and was a national champion in 2010 with the Los Angeles Lakers.  Peace has averaged 14.8 points, 3.8 rebounds and 3.0 assists per game over an 11-year span.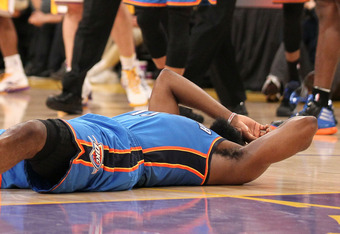 Stephen Dunn/Getty Images
But Metta's on-court antics and erratic behavior seem to always outweigh his professional accomplishments.  When the game gets close or play becomes physical, "Peace" takes it to a rather violent level.  
His dazed glare is just plain scary; reminiscent of Jack Nicholson from "The Shining" or Judge Doom from "Who Framed Roger Rabbit."
His list of insane antics fill an entire Wikipedia page.  
Peace admitted to drinking cognac during halftime as a member of the Chicago Bulls—a season in which he also applied for a part-time job at Circuit City for the employee discount.
Metta was suspended in 2003 for destroying camera equipment at Madison Square Garden.  He was suspended again that same year for an altercation with Miami Heat coach Pat Riley. Also, he was cut for two games in 2004 for asking Pacers coach Rick Carlisle for a month off to record a rap CD with Mike Jones. 
Who?!!  Yes.  Mike Jones.
Peace was also front-and-center of one of the ugliest brawls in the history of sports during the infamous "Malice at the Palace."  After an unnecessarily hard foul against Pistons center Ben Wallace, Metta brought an on-court scuffle into the stands, yelling at the crowd and punching a fan squarely in the face. 
The guy even tried to develop a reality television show named They Call Me Crazy and once showed up to a Pacers practice in his bathrobe. 
How much more evidence do we need?  Metta World Peace is a complete nut job.
And now we arrive at Peace's most recent outburst:  The elbow to James Harden's head.  A troubling image.  It's violent, unfair and just plain disturbing. 
What's even more disturbing was the team's reaction after the game.  Peace said he was in the heat of the moment.  Guess Harden's head was just in the hard of his elbow.  Coach Mike Brown said he didn't see anything.  Kobe Bryant called Peace a "sweet man" and believed the incident to be unintentional.  Given Peace's track record...Kobe should really look at Peace's track record.
How about an apology, guys? 
How about admitting something went wrong and owning up to it? 
Harden, one of Oklahoma City's key players off the bench and essential to a strong playoff run, is out indefinitely with a severe concussion.  Metta World Peace, a term that means "loving and kindness towards all," should be suspended for the season, out for the playoffs and sent packing to Cedar Sinai Hospital.