Dallas Cowboys Mock Draft: Best- and Worst-Case Scenarios for Every Pick
April 24, 2012

Kevin C. Cox/Getty Images
The Dallas Cowboys look ahead to the 2012 NFL draft taking place tomorrow with plenty of spots to fill after a disappointing 8-8 finish last season.
Crippled by inadequacies on both sides of the football, Jerry Jones and company have their work cut out for them, but a top-notch draft class gives them plenty to work with. While their first-round selection appears to be a lock, it will be interesting to see how the Cowboys plan to address their most vital needs in the ensuing rounds.
With that said, here is a look at my full, seven-round best- and worst-case mock draft for the Cowboys.
Round 1, Pick No. 14
Best-Case Scenario: Mark Barron, S, Alabama
Worst-Case Scenario: Quinton Coples, DE, North Carolina
There is no question that the defensive backfield is one of the Cowboys' greatest concerns and not even Jerry Jones is stubborn enough to overlook it. Taking that into account, it is unimaginable that America's Team would pass up on top safety prospect Mark Barron.
Barron is a tough, intelligent prospect who excels in all facets of his game. He would deliver the Cowboys with an instant improvement to their secondary and can contribute from game one for the defense.
It is hard to see Barron being off the board before the Cowboys pick, thus making it difficult to pinpoint a worst-case scenario existing, but should someone make a surprising move to pick up the former Crimson Tide stud, Dallas does have some options to fall back on.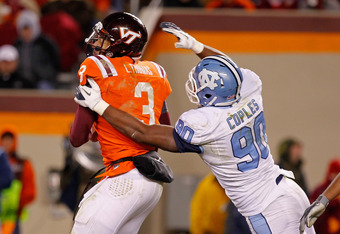 Geoff Burke/Getty Images
North Carolina's Quinton Coples would likely be the guy should the Cowboys be unable to acquire Barron, which is not necessarily all bad.
Coples is one of the more talented defensive linemen in this year's draft class, but his stock has been marred by question marks surrounding his commitment. He has the size and athleticism to be a contributor along the Cowboys defensive front, but he simply would not make the type of impact adding Barron would.
Round 2, Pick No. 45
Best-Case Scenario: Shea McClellin, ILB, Boise State
Worst-Case Scenario: Amini Silatolu, OG, Midwestern State
The Cowboys have an elite pass-rusher in DeMarcus Ware, but they crave more. At this point in the draft, there would be no better addition than the "1.5 concussion" man himself, Shea McClellin.
McClellin knows how to get after the quarterback and salivates at every opportunity to do so. According to DraftTek.com, the Cowboys love this guy and would love to replace sputtering Anthony Spencer with the former Bronco as soon as possible.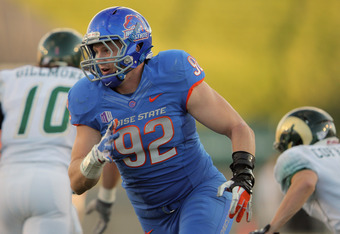 Doug Pensinger/Getty Images
With the game evolving, though, there may be a large demand on pass-rushers in this year's draft and though it would be unfortunate, McClellin could be off the board by the time Dallas picks.
Should that be the case, highly touted offensive guard Amini Silatolu could be the guy.
Coming from small-school Midwestern State, Silatolu has seen a meteoric rise in his stock throughout the entire process. Silatolu looks like an animal on tape, but the competition he played against is a major concern.
At his size, it was easy for Silatolu to push around opposing defenders from subpar competition, but it is unknown whether he will have the same success against NFL defenders more his size.
Round 3, Pick No. 81
Best-Case Scenario: Michael Brewster, C, Ohio State
Worst-Case Scenario: Casey Hayward, CB, Vanderbilt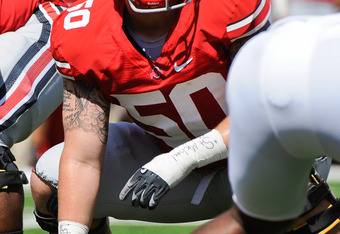 Jamie Sabau/Getty Images
Assuming the Cowboys did not go with Silatolu in the second round, this pick would be a good time to address their offensive line.
As evident communication troubles between Tony Romo and center Phil Costa hurt the Cowboys last season, center should be a position of need heading into the draft.
Ohio State's Michael Brewster is one of the top centers available in this year's draft class. At 6'4" and 312 pounds, Brewster has the size, strength and athleticism to excel at the next level and would be an obvious improvement from Dallas' current situation from the moment he steps foot on the gridiron.
If the Cowboys went the worst-case route in the second round, though, selecting Amini Silatolu, they should turn their focus back to the defense with this pick.
Casey Hayward is a prime candidate, boasting impressive cover skills despite his relatively average stature—standing 5'11" and weighing just 192 pounds.
He is a ball hawk with 15 career interceptions at Vanderbilt and reads and reacts with the best of the bunch. With the cornerback position always being a question mark for the Cowboys, it could not hurt to add some depth with Hayward while opening the possibility for the Vanderbilt standout to evolve into one of the league's better cover guys.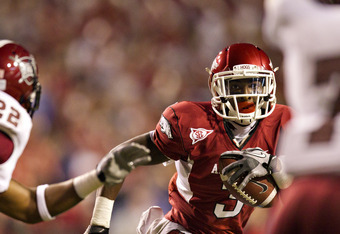 Wesley Hitt/Getty Images
Round 4, Pick No. 113
Best-Case Scenario: Casey Hayward, CB, Vanderbilt
Worst-Case Scenario: Joe Adams, WR, Arkansas
The worst-case scenario in Round 3 would be the best for Dallas' first fourth-round selection.
The Cowboys need cornerback depth and Hayward is a value pick if he is still on the board. Hayward was visited by the Cowboys earlier this month and is clearly on their radar.
Should Hayward be off the board, though, the Cowboys may move forward with the intent of adding a slot receiver to fill the void left by free agent Laurent Robinson. Robinson broke out in 2011 with 858 yards receiving and 11 touchdowns for Dallas.
It will be tough to reproduce the output Robinson gave them, but the Cowboys could find a diamond in the rough with Arkansas' Joe Adams.
Adams is a phenomenal athlete with favorable speed and a quick first step that enables him to blow by defenders off the line. He is not big by any means—at 5'11" and only 179 pounds—but has the tools to excel in the NFL as a second or third receiver within the right offensive system.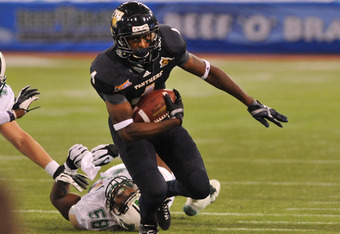 Al Messerschmidt/Getty Images
Round 4, Pick No. 135
Best-Case Scenario: T.Y. Hilton, WR, Florida International
Worst-Case Scenario: Bernard Pierce, RB, Temple
The Cowboys should certainly look to add a slot receiver here if they did not with their previous pick.
T.Y. Hilton is an intriguing prospect, capable of contributing in the passing game, but much more dangerous as a returner. Coming from a smaller conference, Hilton has not garnered all the attention he deserves.
Hilton is similar to previous option Joe Adams, boasting blitzing speed and good explosiveness off the line of scrimmage. He is shifty and comparable to the most athletic players in the NFL today.
There are few knocks on Hilton's game, but concerns have been raised about his ability against stiffer competition. He saw little press coverage at FIU and will need to prove he has the ability to get free when jammed at the line of scrimmage.
If Hilton is gone, or the Cowboys took Adams earlier in the round, running back might get some attention.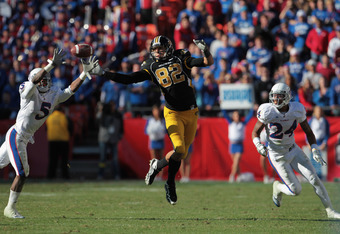 Jamie Squire/Getty Images
Dallas' backs took some punishing blows in 2011 and both DeMarco Murray and Felix Jones saw time on the injured list because of it. The Cowboys usually enjoy having depth at the running back position and should give a need to add some security behind their top two players.
The elusive Bernard Pierce is one of the better options at this point in the draft. Pierce is a powerful inside runner with good vision and quickness to turn any play into a score.
Round 5, Pick No.  152
Best-Case Scenario: Michael Egnew, TE, Missouri
Worst-Case Scenario: Brian Linthicum, TE, Michigan State
It would be a wonderful thing for the Cowboys should Missouri's Michael Egnew fall into the fifth round. He is easily one of the top tight end prospects and fits the mold of athletic tight ends taking the league by storm.
Egnew would add a vital red-zone threat to the Cowboys offense while alleviating some of the coverage Jason Witten is faced with over the middle.
Unfortunately, Egnew is likely gone by the time the Cowboys pick in the fifth round and will force them to seek help elsewhere.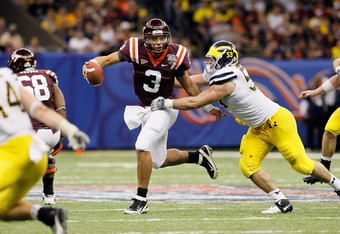 Kevin C. Cox/Getty Images
Michigan State's Brian Linthicum might not be a terrible alternate to Egnew.
Linthicum is not quite as athletic as Egnew, but is still a quality receiving tight end with better blocking skills than Egnew has shown. He is strong, though he could use some mass, but shows the willingness to improve his game.
Round 6, Pick No. 186
Best-Case Scenario: Ryan Van Bergen, DE, Michigan
Worst-Case Scenario: Akiem Hicks, DE, Regina
With defensive end not being the best of spots along the Cowboys defensive front, now is a better time than ever to address the position.
Michigan's Ryan Van Bergen is a perfect fit in the Cowboys defensive scheme with great size for a 3-4 end. Van Bergen is a productive pass-rusher, leading the Wolverines in 2011 with 9.5 sacks. He shows great potential at the next level and should be able to help in Dallas from day one.
If Van Bergen is gone, little-known Akiem Hicks could be a quality pickup at this point in the draft. DraftTek.com actually ranks Hicks as a better 3-4 end prospect than Van Bergen despite being from smaller Regina.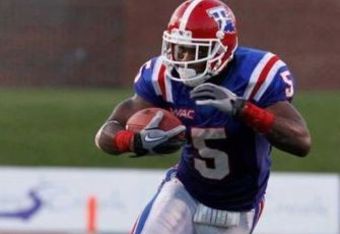 At 6'4" and 318 pounds, Hicks is an imposing defensive prospect with long arms and surprising athletic ability for his size. He is a force against the run, clobbering opposing ball-carriers at will.
Round 7, Pick No. 222
Best-Case Scenario: Lennon Creer, RB, Louisiana Tech
Worst-Case Scenario: Jacquies Smith, OLB, Missouri
The Cowboys will hopefully have not addressed the running back position, but now it is time to try to find a late-round gem.
Louisiana Tech's Lennon Creer is unlikely to be an every-down back, but can certainly contribute as a serviceable change-of-pace for DeMarcus Murray or Felix Jones.
Creer rushed for 4.2 yards per carry and eight touchdowns in 2011. He impressed scouts and coaches during the week of the East-West Shrine Game with great work ethic.
If the Cowboys did happen to pick up Bernard Pierce earlier in the draft, outside linebacker should be the focus with their final pick. With few quality 3-4 outside linebackers left on the board, Missouri's Jacquies Smith is the best player remaining at the position.
Smith is a Second Team All-Big 12 linebacker with good size—at 6'3" and 253 pounds—and a strong work drive to succeed. The former Bearcat is considered short for a 3-4 outside linebacker, but displays the speed and athleticism to be a productive pass-rusher at the next level with some time to develop.
Louis Musto is a featured columnist for Bleacher Report. Follow him on Twitter here.