Greg Schiano Shows NFL Toughness to Solid Tampa Bay Buccaneers Roster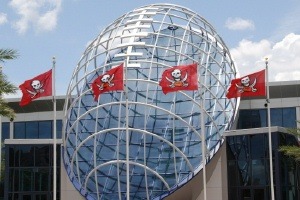 The entrance to headquarters for the Tampa Bay Buccaneers. Credit: Dwight Drum at Racetake.com.

When the Tampa Bay Buccaneers organization fired head coach Raheem Morris for a dismal 2011 season, it needed to find and hire the next talented coach swiftly so it could get on with the business of NFL spring and summer—draft time, training and preseason. The fall season that counts in many big ways was looming as well.
The NFL draft requires a coaching staff for preparation and execution, even before minicamps and training begin prior to the preseason and regular season.
It's a tall job with a big order, but the Bucs settled on Rutgers coach Greg Schiano after a 24-day search on January 27 of this year.
Schiano's five-year contract gives him the opportunity to take a young team—built through the draft and practice squad and pillaged by the league over the past three years—to better results.
New moves have been swift.
The Bucs and Schiano moved fast to sign free agents Vincent Jackson, Carl Nicks and Eric Wright. Their experience will help a young team that needs veteran guidance beyond the many coaching moments players know.
Schiano also moved quickly to hire his staff, about half of whom held college jobs, not NFL roles. Those coaches new to the NFL will get a speedy baptism, but they bring knowledge right now of college player talents that will be helpful in this draft and a few more beyond.
The Bucs and Schiano announced, too, that no player on the roster has a starting job—yet. That means it's a clean slate, an opportunity for some marginal players and also a notice to young or aging veterans to step it up.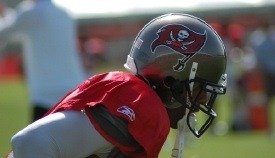 Ronde Barber is back again in 2012
The first volunteer minicamp recently was intense, even college-like in its regimen. Attendance was high-percentage and participation was substantial. After all, jobs are on the line, and NFL jobs are lucrative and life-changing—so few achieve.
More activity is sure to come.
Erasing the last 10 games of 2011 will take some time. The Buccaneers lost them by a total of 175 points. (Easy math—17.5 point average loss.) During the last five games, the average loss was by 23 points per game. Ouch.
But with a new coach and staff and a young team with talent, the future can be bright.
Schiano brings NFL experience from his three years with the Bears ending in 1998, and he brings a proven win record at Rutgers that started slow but improved dramatically over time at a college not known for football excellence.
Schiano has a large asset on his side—tall and big Josh Freeman is a franchise quarterback. Surrounding Freeman with top picks and veterans is a goal that can turn the 2011 Buccaneer record into forgotten numbers. He spoke to buccaneers.com about Freeman's ability in the recent minicamp.
"What I see now is a guy that is incredibly hungry and incredibly focused to do what we're asking him to do," Schiano said. "He wants to be great."
"He's learning a new vocabulary, he's learning new plays, yet he's being asked to be the leader. I think he's doing a good job."
The next big step for the new Buccaneers is draft day when their fifth pick and others may play out huge.
General manager Mark Dominik had thoughts to share with buccaneers.com on those big moments.
"A lot of work that goes into it to make sure you make the right pick," Dominik said. "We as an organization will take the player that we think fits, whether that's in that top five or not. If we don't think so, I have no problem making that selection."
"I do like where we're at—at number five."
On the way to being No. 1, as all NFL teams work and dream for, every move and every effort along the way counts.
The next move, draft day, is up soon.
Unless otherwise noted, information and quotes were obtained from www.Buccaneers.com
Photo credit: Dwight Drum at Racetake.com

This article is
What is the duplicate article?
Why is this article offensive?
Where is this article plagiarized from?
Why is this article poorly edited?

Tampa Bay Buccaneers: Like this team?