2012 NFL Draft: 6 Reasons Why Andrew Luck Will Be a Flop for Indianapolis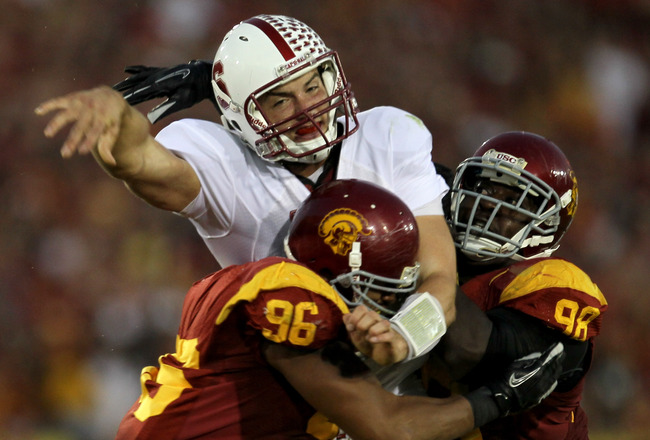 Andrew Luck did enough to impress on the college level, but his introduction to an NFL defense will yield different results.
Stephen Dunn/Getty Images
NFL draft day is approaching, and Indianapolis' prospective first pick Andrew Luck already has an enormous amount of expectation that's about to rattle him as he learns to adapt to the pro game. Although he was able to dominate the college ranks, we examine six reasons why he'll be a flop.
I realize that this article may draw much ire from Stanford, Pac-12, Indianapolis Colts and general football fans alike. But don't shoot the messenger; I'm just relaying these items of interest to you.
While all the Kipers and McShays of the world drool over Andrew Luck, a player some have even said is the best prospect in 25 years, we'll pass on the Kool-Aid the popular kids are drinking and take a few sips of cold, hard truth about the draft's biggest hype since Ricky Williams.
Colts Won't Be Able to Establish the Run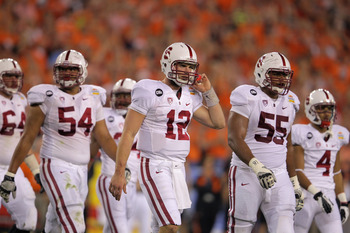 Say goodbye to the days of the established running game to help keep those receivers open.
Doug Pensinger/Getty Images
Keeping a defense guessing sometimes makes you feel like you have an extra man out on the field.
Stanford did that and were very good at it. Bringing a balanced attack to the table and making a defense stay honest the whole game really opens up the receivers and allows a skilled quarterback to thrive.
This level of—for lack of a better term—assistance from his teammates will not be available in Indianapolis. Gone is the familiar name of Joseph Addai. Returning are last year's top rusher Donald Brown, with an unimpressive 645 yards, and Delone Carter, who lost three fumbles last season.
To say that this combo will take heat off of Luck is laughable at best.
Luck's best chance at keeping the opposing defenses honest is perhaps to just find lanes and take off himself. Even if he doesn't romp down field for 25 yards, he'll still keep players mindful that the run is an option.
2011 Stats Are Misleading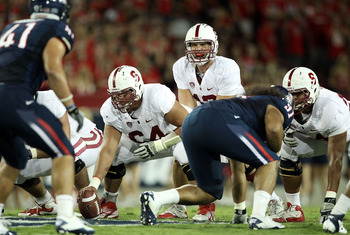 Andrew Luck torched Arizona for 325 passing yards in 2011; the nations second worst defensive passing unit.
Christian Petersen/Getty Images
Andrew Luck carved up top-division college football defenses to make his case for a 2011 Heisman. The only problem is that those teams he played were among the worst FBS teams as far as passing defense.
Here is a list of Stanford's 2011 opponents, as well as their final defensive rank in passing yards allowed, according to USA Today:
| | |
| --- | --- |
| Opponent | Defensive Passing Rank (of 120 teams) |
| San Jose State | 57 |
| Duke | 85 |
| Arizona | 119 |
| UCLA | 69 |
| Colorado | 97 |
| Washington State | 95 |
| Washington | 116 |
| USC | 101 |
| Oregon State | 49 |
| Oregon | 82 |
| Cal | 43 |
| Notre Dame | 34 |
| Oklahoma State | 102 |
This list speaks for itself. The teams Luck dominated were terrible against the pass. Even USC and Oklahoma State, two of Stanford's bigger tests this year, aren't even in the top 100.
Pac-12 Pedigree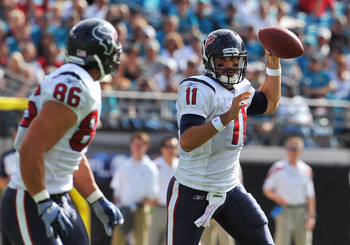 Matt Leinart comes from a mostly unimpressive group of Pac-12 quarterbacks who have made it to the NFL.
Al Messerschmidt/Getty Images
Okay, I know what most of you Pac-12 people are saying. Aaron Rodgers.
And you should, because he's good. But that's where the credibility for Pac-12 quarterbacks in the NFL starts and ends.
With names like Ryan Leaf, Cade McNown, Kyle Boller and so on, it's going to be hard for Luck to simply shake the stigma that his predecessors have laid out for him.
Akili Smith, Joey Harrington and Kellen Clemens are other names that didn't really shape out so well.
Luckily for Luck, his frame won't even make it an option to be moved to wide receiver...but he will have to be able to perform at quarterback. There is no throwing him in the slot or free safety to keep him on the roster. It's either produce or have a seat.
Mediocre Arm Strength
Luck's accuracy is what has carried him so far as a quarterback. His lack of arm strength will become a problem in the NFL.
Joe Robbins/Getty Images
If you take a look at a list of Super Bowl-winning quarterbacks, there aren't many on there that you can say had average arm strength. Even Drew Brees, for as small as he is height-wise, is able to rocket the ball through an imposing D-line and use his overall quickness to his advantage.
This is something Luck does not possess at all.
If the open receiver is 40 yards down field, it will be entertaining to see Luck try to capitalize. You may see more lame duck interceptions his first four weeks than Zsa-Zsa Gabor has divorces.
Phil Simms, although not decorated with acclaim by this author, did hit the nail on the head by calling out Luck's inferior arm ability in November.
I know there's about a million people who will say what a great arm Luck has. But a former NFL quarterback who completely calls out inability that is glaring at him should speak volumes. Much of Simms' criticism has fallen on deaf ears and has created attacks on his credibility in return.
Peyton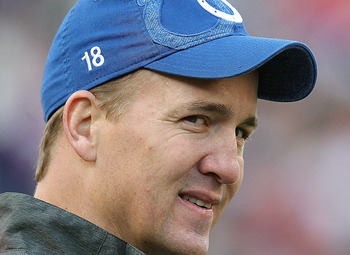 Peyton Manning established himself as a Hall-of-Fame caliber player for the Colts, and wore shoes too big for Luck to fill.
Jim Rogash/Getty Images
You know it, I know it. A 12-year-old kid who has minimal knowledge about sports knows it.
All year long Andrew Luck is going to be compared to Peyton Manning, in every way possible.
At every waking turn of the 2012 season, from beginning to end, everything that Luck does will be examined under the microscope of scrutiny that will be built up by CBS, FOX and ESPN.
If Luck is lacking against Peyton in any categories, then God help him. I realize that the Indianapolis sports media isn't New York, but the loads of national attention and pressure will put the comparisons right in everyone's face, and fans will have no choice but to know the raw truth and judge Luck accordingly.
For Luck to try to stay focused through the midpoint of the season, while national media is drilling him about the success Peyton was having at the midpoint of his first season, will be enough to drive anyone crazy, and certainly Luck is no exception.
Unless, of course, Luck is doing better. Winning games will also help, too. But the likelihood of this is not high. Overall, Luck's confidence will be damaged, and we could even see a flop as big as JaMarcus Russell.
Ownership Circus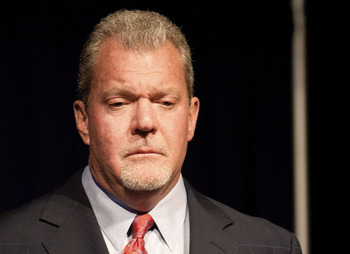 Indianapolis Colts owner Jim Irsay has shown how he can just act on his feelings, not on football or business logic.
Joey Foley/Getty Images
Before the 2011 season started, Colts owner Jim Irsay began tweeting about his desire to have Brett Favre. At this point, Irsay had pretty much already decided in his mind that he wasn't going to listen to the prognosis of the future, or the response from his fanbase.
No, he decided to make a name for himself as a Jerry Jones type, another Daniel Snyder who is going to try and be the big decision-maker in regards to on-field talent, only to see those decisions land his team squarely in the cellar of the AFC.
After having a nightmare P.R. event when he and Manning were making openly conflicting public statements regarding Manning's future with the team, it became painfully obvious that Irsay doesn't feel the need to communicate his intentions to anyone, including the quarterback of your franchise's last Super Bowl winner.
Which means, in all likelihood, that Irsay is the kind of guy that feels like he doesn't have to answer to anyone about anything. Which is fine.
We'll look forward to maybe seeing Luck at the Pro Bowl, and talking about the 2013 season about late October.
Keep Reading