UPDATED POST NICK COLLINS Green Bay Packers Mock Draft: Seven Rounds with Trade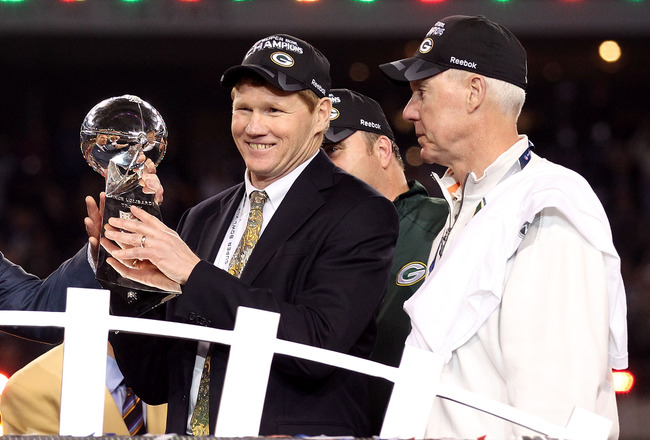 Al Bello/Getty Images
I said my previous mock draft was going to be the last one, but I am addicted to mock drafts. With only two days left before Christmas day, I am going to churn out one more, and this one has a trade involved.
Prospects are screaming up the boards or free falling down, which is why I have involved a few trades. The Packers need a pass-rushing linebacker and a five-technique defensive end equally bad. If the Packers get a linebacker in Round 1, that lessens the load on the defensive end, and vice versa.
There seems to be a good crop of outside linebackers in this year's draft who are capable of getting to the quarterback, some better than others.
The defensive end position is where it gets tricky. There doesn't seem to be any middle ground between top-tier and project players. There is one intriguing defensive end who is tumbling down the boards, which is why I worked in a trade.
Here we go, with only two days left. Enjoy
Round Two Pick No. 33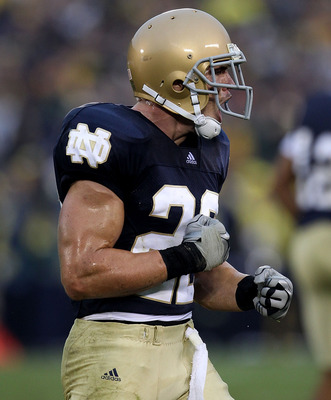 Jonathan Daniel/Getty Images
**TRADE: THE PACKERS TRADE THEIR FIRST-ROUND SELECTION (NO.28) TO THE INDIANAPOLIS COLTS FOR THEIR SECOND ROUND SELECTION (NO.33) AND FOURTH ROUND SELECTION (NO. 97) -draft values courtesy drafttek-
PACKERS VALUE (NO. 28)= 660
COLTS VALUE (NO. 33, NO. 97)= 692
Packers Select Harrison Smith (Notre Dame)
The Packers have decided on Nick Collins future, they released him. Obviously they weren't satisfied with his doctor consultations and decided against having him play. Football is just a game and while I am saddened by the news, there is no sense to ruin his life by putting him in danger.
Therefore, safety jumps up to the top need and the Packers have only one starter in Morgan Burnett. The Packers trade out of the first round and pick Harrison Smith at pick 33.
Smith is a ballplayer, that is for sure. But with his tight hips he seems better suited at strong safety so Burnett bumps to free safety and Smith starts from day one.
Round Two Pick No. 59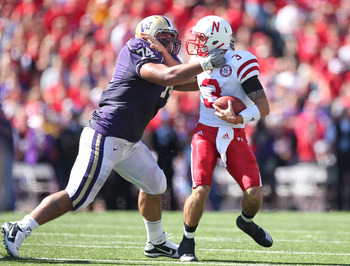 Otto Greule Jr/Getty Images
Packers Select DT/DE Alameda Ta'amu (Washington)

The Packers see more value in the defensive end than linebacker here in round two and they get good value with Ta'amu here at pick 59.
Ta'amu is a mammoth of a man at 6'3" 348 pounds. He has surprising quickness for a defensive tackle/end and should be fine playing the 5 tech. He is a bulldozer against the offensive line and a decent run stopper. With a defensive line of Ryan Pickett (340 pounds), B.J. Raji (337 pounds) and Alameda Ta'amu (348 pounds) good luck running the rock.
These three can also be interchangeable along the defensive front.
Round Three Pick No. 90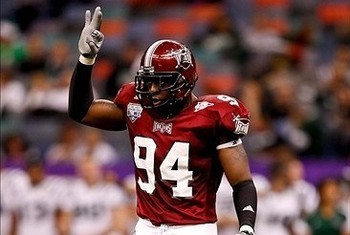 Packers Select OLB Johnathan Massaquoi (Troy)
The Packers go safety then defensive end in the first two round so they'll be in position to look hard for an outside linebacker.
Massquoi from Troy is one of the sleepers in this draft and I think that Kevin Greene will mold him into the productive complement that the Packers need.
Round Four Pick No. 97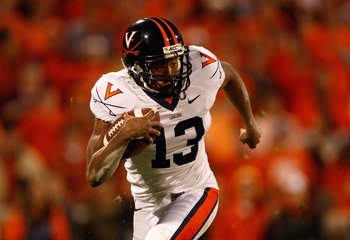 Streeter Lecka/Getty Images
Packers Select CB Chase Minnifield (Virginia)
I've seen multiple mock drafts from "draftniks" saying that Minnifield could fall to the early part of the fourth round. With the trade with Indianapolis, the Packers get the second pick in round four and swoop up Minnifield.
Learning behind Charles Woodson should make Minnifield a solid starter in a year or sooner.
Round Four Pick No. 123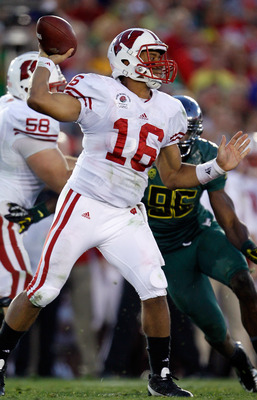 Jeff Gross/Getty Images
Packers Select QB Russell Wilson (Wisconsin)
The Packers lost Matt Flynn to the Seahawks, and he was arguably one of the best backup quarterbacks in the league. The Packers are going to be looking for one in this year's draft to compete with Graham Harrell.
Russell Wilson is an intriguing prospect due to his height (5'11"), but he has unquestioned leadership and natural athletic ability, along with playing in a pro-style offense. He led the Wisconsin Badgers to the Rose Bowl this last season and had one of the best seasons the Badgers have ever seen from the QB position.
With his natural talent and Mike McCarthy's quarterback school, this seems to be a perfect fit.
Round Four Pick No. 132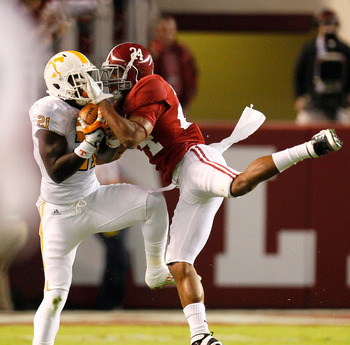 Kevin C. Cox/Getty Images
Packers Select CB/S DeQuan Menzie (Boise State)
The Packers need some quality players at the safety and corner position behind Smith and Morgan Burnett.
Menzie may be suited better for safety in the NFL but his versatility intrigues Dom Capers and his complex defensive schemes.
Round Four Pick No. 133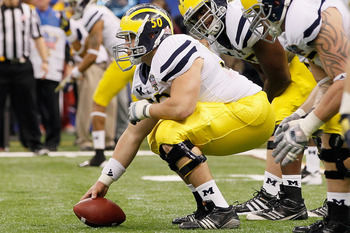 Kevin C. Cox/Getty Images
Packers Select C David Molk (Michigan)
The Packers signed Jeff Saturday to replace the departed Scott Wells, and it seems like a solid signing. The problem is that Saturday is 36 years old and can only play for so much longer. Molk is an underrated center in my mind, and should be an excellent center after learning from Saturday.
Round Five Pick No. 163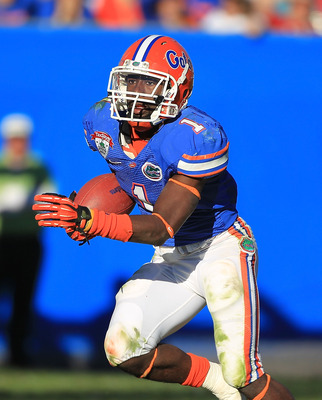 Scott Halleran/Getty Images
Pick Acquired Via Browns Trade
Packers Select WR/RB/PR/KR Chris Rainey (Florida)
The Packers are in full-on best player available mode here in Round 5. Rainey may have some character issues, but so did Anthony Hargrove.
Rainey is the special type of weapon that Aaron Rodgers would jump off his couch for. You can line him up in the backfield, in the slot or have him return kicks and punts.
Rainey is one of the fastest players in this year's draft and would make the Packers offense more untouchable than it already is.
Round Six Pick No. 197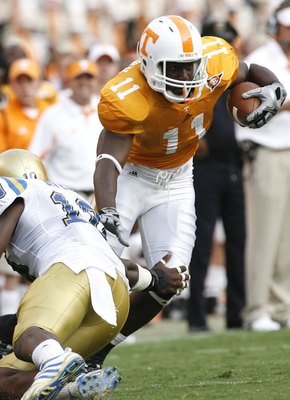 Joe Murphy/Getty Images
Packers Select RB Bryce Brown (Kansas State)
Yes, another running back for the Packers because competition never hurts. Bryce Brown was the No. 2 high-school prospect coming out of high school behind Trent Richardson.
Brown is a big, mostly complete back capable of carrying the load. At 6'2", 220 pounds, he has the size needed for a three-down back.
Brown's college attributes have been compared to Adrian Peterson's, although that is a huge stretch in most people's minds.
He falls to Round 6 because of lack of production and some character concerns.
Round Seven Pick No. 224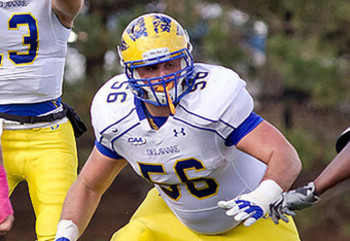 Packers Select G/C Gino Gradkowski (Delaware)
The Packers add the versatile younger brother of Bengals quarterback Bruce Gradkowski.
Being a small-school prospect, Gradkowski has flown under the radar somewhat. With him being able to play guard and center, the Packers get a good piece here in Round 7.
Round Seven Pick No. 235
Packers Select LT Jeff Adams (Columbia)
The Packers cut veteran tackle Chad Clifton and will be looking for a developmental tackle. Jeff Adams is an intriguing small-school prospect who has rare feet quickness needed to play left tackle in the NFL. The Packers have Marshall Newhouse ready to take over at left tackle so Adams waits in the wings.
Round Seven Pick No. 241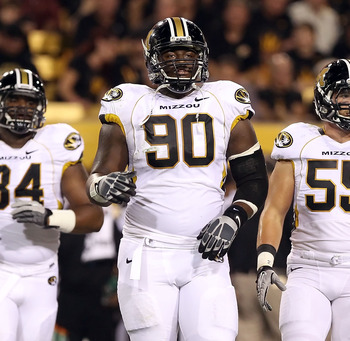 Christian Petersen/Getty Images
Packers Select DT/DE Dominique Hamilton (Missouri)
The Packers add some more beef to the defensive line with the 315-pound defensive tackle/end from Missouri. The more camp bodies the Packers have, the better chance they may find a diamond in the rough.
Round Seven Pick No. 243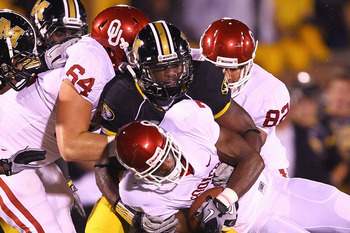 Dilip Vishwanat/Getty Images
Packers Select OLB Jacquies Smith (Missouri)
The Packers have only come away with one outside linebacker so far this draft. They can go with "need" help here with their final pick of the draft.
Jacquies Smith screams sleeper to me, and the Packers get great value here in Round 7.
Keep Reading

Green Bay Packers: Like this team?