2012 NFL Mock Draft: Hyped Prospects Who Will Be Overvalued
November 5, 2016
Sarah Glenn/Getty Images
There will always be those prospects who are hyped beyond their value in the NFL draft, whether it be a dramatic combine performance or demand for a specific position.
But when a team doesn't look at the whole picture or reaches for need, they are setting themselves up for disappointment. 
Here's my latest 2012 NFL mock draft, complete with prospects who are overvalued this year (in Italics).
1. Indianapolis Colts: Andrew Luck, QB (Stanford)
The Colts have already made it clear Andrew Luck will be the No. 1 overall pick in the 2012 NFL Draft. He has the arm strength, accuracy, pocket poise and leadership to be a superstar for years to come.
2. Washington Redskins (via St. Louis): Robert Griffin III, QB (Baylor)
Robert Griffin III's arm strength, accuracy, pocket poise and legs project him as a future star in the pros.
Oh yeah, and he has tremendous character.
3. Minnesota Vikings: Morris Claiborne, CB (LSU)
The Vikings appear to be veering from Matt Kalil. Morris Claiborne is the do-it-all cornerback the Vikings could use against quarterbacks like Aaron Rodgers, Matthew Stafford and Jay Cutler.
4. Cleveland Browns: Trent Richardson, RB (Alabama)
The Browns would be foolish to pass up a running back of Trent Richardson's caliber. Richardson has the power, speed, agility, vision, patience and big-play ability to be a superstar in the NFL.
5. Tampa Bay Buccaneers: Matt Kalil, OT (USC)
With Claiborne and Richardson off the board, the Buccaneers will likely go with OT Matt Kalil to add more time in the pocket for Josh Freeman, who struggled last season. Kalil is a fantastic prospect.
6. St. Louis Rams (via Washington): Justin Blackmon, WR (Oklahoma State)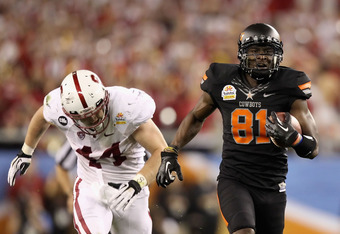 Christian Petersen/Getty Images
The Rams desperately need to add a playmaker for Sam Bradford, and Justin Blackmon has the strength, leaping and ability after the catch to be a difference-maker in the pros.
A Top-10 pick, though?
That may be going too far.
7. Jacksonville Jaguars: Melvin Ingram, DE/OLB (South Carolina)
Melvin Ingram is not only one of the premier pass-rushers in the draft, he's a safe pick with no character concerns to speak of. The Jaguars need to upgrade a unit that had just 31 sacks last season.
8. Miami Dolphins: Ryan Tannehill, QB (Texas A&M)
Ryan Tannehill is a fringe first-round pick, but he'll jump into the Top 10 because, frankly, teams are desperate.  
Tannehill is a project, but he has the arm strength and ability to make all the throws in the NFL.
9. Carolina Panthers: Fletcher Cox, DT (Mississippi State)
Fletcher Cox has jumped Dontari Poe as the top defensive tackle in the draft. He's a strong, quick and intelligent football player who will move all over the line to gain any slight advantage.
The Panthers need to address the interior of the line, too.
10. Buffalo Bills: Riley Reiff, OT (Iowa)
After signing Mario Williams, the Bills will look to the offensive line to add much-needed protection for quarterback Ryan Fitzpatrick. Riley Reiff is the second-best offensive tackle in the draft.
11. Kansas City Chiefs: Luke Kuechly, ILB (Boston College)
Luke Kuechly displayed the instincts, range and tackling ability at Boston College to be a star in the NFL. And after an impressive combine performance, he's answered a lot of questions about his strength at the next level.
Kuechly would look great paired up with Derrick Williams in the Chiefs' 3-4 defense.
12. Seattle Seahawks: Quinton Coples, DE (North Carolina)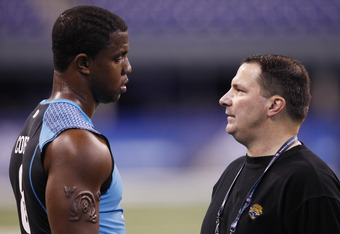 Joe Robbins/Getty Images
The Seahawks need to upgrade their pass-rush, and they'll find it difficult to pass up Quinton Coples based on his speed and strength.
However, Coples didn't play up to his potential in his last season at UNC, and that makes it hard for me to call him a Top 15 prospect.
13. Arizona Cardinals: Michael Floyd, WR (Notre Dame)
Michael Floyd is a strong, athletic player with great hands, and pairing him up with Larry Fitzgerald in Arizona would give Kevin Kolb another weapon in the passing game.
14. Dallas Cowboys: Mark Barron, SS (Alabama)
Mark Barron is the do-it-all safety the Cowboys have been searching for, with the ability to attack through the air and on the ground.
I find it hard to believe the Cowboys would pass him up here.
15. Philadelphia Eagles: Dontari Poe, DT (Memphis)
Dontari Poe's combination of speed and strength was highlighted at the combine, and he could be the run-stopper the Eagles so desperately need.
16. New York Jets: Courtney Upshaw, OLB (Alabama)
Rex Ryan needs a legit pass-rusher to take pressure off the secondary, and Courtney Upshaw is one of the premier pass-rushers in the draft. He has an impressive combination of athleticism, strength and competitiveness. 
17. Cincinnati Bengals (via Oakland): David DeCastro, OG (Stanford)
Adding a guard of David DeCastro's caliber would work wonders for Andy Dalton's development. DeCastro is a powerful, jarring blocker with impressive lateral ability and footwork.
18. San Diego Chargers: Whitney Mercilus, DE/OLB (Illinois)
Whitney Mercilus has the explosiveness and never-ending motor to be the impact pass-rusher at outside linebacker the Chargers have been searching for since Shawne Merriman left town.
19. Chicago Bears: Jonathan Martin, OT (Stanford)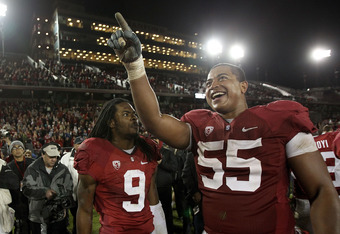 Ezra Shaw/Getty Images
Jonathan Martin has slid down draft boards after a disappointing combine performance, but if he can add strength, he has the athleticism, lateral agility and intelligence on the line to be a solid starter in the NFL.
The Bears, as always, have to add protection for Jay Cutler.
20. Tennessee Titans: Stephon Gilmore, CB (South Carolina)
Stephon Gilmore not only showed the quickness, leaping ability and skills against the run to be a first-rounder this year, he blew scouts away with his combine performance. His measurables are outstanding, he produced in college and he doesn't have character concerns.
21. Cincinnati Bengals: Dre Kirkpatrick, CB (Alabama)
The Bengals have been searching for someone to plug in opposite Leon Hall since Johnathan Joseph left town. Dre Kirkpatrick is a strong, physical player who flies to the ball. He should be a solid player in the NFL.
22. Cleveland Browns (via Atlanta): Kendall Wright, WR (Baylor)
Adding Richardson and Kendall Wright would tremendously boost the Browns offense and would take some pressure off Colt McCoy. Wright displayed electric speed and athleticism as Griffin's go-to guy at Baylor.
23. Detroit Lions: Nick Perry, DE/OLB (USC)
The Lions could stand to add to their pass-rush, and Nick Perry has the potential to be a steal with his explosiveness, quickness and speed. He's a dynamic athlete.
24. Pittsburgh Steelers: Dont'a Hightower, ILB (Alabama)
With James Farrior gone, the Steelers must be thinking inside linebacker here.
Dont'a Hightower has a good chance to fall to the Steelers. He has great strength and explosiveness, with the ability to fight through blocks in the interior.
25. Denver Broncos: Michael Brockers, DT (LSU)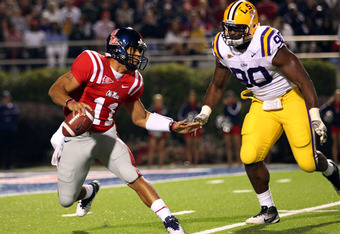 Joe Murphy/Getty Images
Michael Brockers didn't do himself any favors at the combine, scoring poorly and showing up overweight, but his combination of athleticism, size and strength could make him a solid player in the NFL. He would help shore up the Broncos rush defense.
26. Houston Texans: Rueben Randle, WR (LSU)
Some draft experts have Georgia Tech's Stephen Hill ranked higher than Rueben Randle, but I haven't seen enough from Hill on the field to see him warranting that distinction.
Yes, Hill's blazing fast, but Randle was productive at LSU and has the length, quickness and fluidity to be scary opposite Andre Johnson in Houston.
27. New England Patriots (via New Orleans): Peter Konz, C (Wisconsin)
The Patriots will want to find their starting center of the future, and Peter Konz has the chance to be a star at the next level. He has the strength and size to translate well to the NFL, and his football IQ and focus should allow him to learn the pro game quickly.
28. Green Bay Packers: Chandler Jones, DE (Syracuse)
Chandler Jones is a long, rangy athlete with eye-opening instincts and a competitive nature. He also comes from an impressive family tree.
Jones would give the Packers a legit pass-rusher who could push them over the top next season.
29. Baltimore Ravens: Cordy Glenn, OG/OT (Georgia)
Adding a guard to better protect Joe Flacco would be a wise move for the Ravens.
Cordy Glenn is a legit first-rounder with the powerful blocking and footwork to be a starter in no time.
30. San Francisco 49ers: Amini Silatolu, OG (Midwestern State)
After letting two guards go via free agency, the 49ers need to plug the holes.
Amini Silatolu is powerful blocker who loves to finish at the second level and has the temperament to match. Providing protection for Alex Smith, who's coming off a career year, would be wise.
31. New England Patriots: Andre Branch, DE (Clemson)
Andre Branch has solid size, burst, athleticism and length. The Patriots need to add to their pass-rush, and Branch has the ability to make a difference for them.
32. New York Giants: Coby Fleener, TE (Stanford)
With Travis Beckum and Jake Ballard out for the upcoming season with torn ACLs, the Giants need to find a weapon for Eli Manning.
Fleener has great playing speed, strength, hands and leaping ability to be a star at the next level.
Follow me on Twitter. We can talk about the 2012 NFL Draft together.