Toronto Maple Leafs: Offseason Acquisitions That Make Sense
April 24, 2012

Christian Petersen/Getty Images
 Since the Toronto Maple Leafs season ended early—once again—there's been a fair amount of speculation concerning the Toronto Maple Leafs offseason choices by analysts and fans alike. From rumours surrounding potential trades, to the Leafs' draft pick for this year, here's a look at what the Maple Leafs really need to do in this offseason.
The rumours that surround possible trades have been big news in Leaf-land since the Carolina Hurricanes ended the Buds season on March 27th. Deals might include Toronto trading away a number of players for one big name.
The biggest name that has been circulating in Toronto trade rumours since February is that of Columbus Blue Jackets star centre, Rick Nash. Even if Nash wants to come to the Leafs—a big issue as he has a no-trade clause—he isn't what the Leafs need right now.
The potential cost to land one of the more underrated stars currently in the NHL would undoubtedly be high. Toronto would have to give up players who are ready to play now, not future prospects. Players such as Nazem Kadri, Mikhail Grabovski, Luke Schenn, Joe Colborne, and Cody Franson are just some that have been attached to the possible trade. If this trade goes through, we would have a $7 million contract for six more years.
The same can be said for upcoming free agent Zach Parise. New Jersey will do all they can to keep him, yet it is undoubtedly possible that he will leave. Again, it will cost a lot to bring Parise to Toronto, and it may not be worth it. With Grabovski's recent $5.5 million deal, it can only be expected that Parise will seek more.
Zach Parise is smaller than Phil Kessel. While he may have more grit to him, he still can be knocked off the puck. Parise also has decent playmaking skills, but they need work.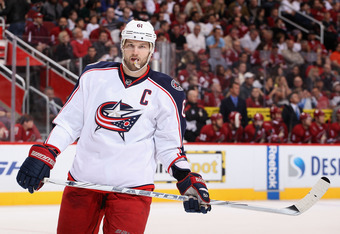 Christian Petersen/Getty Images
Toronto requires a big defensive centreman who is adept at playmaking. With few top centres hitting the free agent market, the Leafs will most likely have to trade to acquire that. They would be better served going after a player they need to fill the holes rather than try to sign another big contract player.
Another big need is in net.
With Gustavsson a free agent—and Reimer not quite the No.1 goalie the Leafs need—management needs to look at aquiring starting goalies, either through trade or free agency.
Rumours started about Roberto Luongo after he was pulled during the first round series to the LA Kings. With teams like Florida, Tampa and even New Jersey circulating, it would probably be best to let one of them have him.
Luongo is no stranger to the media and to rabid fans in Vancouver, but going from one hockey-mad town to another would not be a wise move. Toronto fans are just as tough as Vancouver in regards to the expectations placed on the various players. If Luongo didn't like that in Vancouver, then why would he want to come to Toronto? He may be able to take the heat, but he may not want to do so.
While Vancouver has two of the top goalies included in various analysts' trade possibilities, there are a few others that Toronto would be better off spending their money on.
Washington's Tomas Vokoun becomes a free agent yet again this offseason. He may not have met the expectations placed on him in Washington but some of that can be attributed to the poor play that plagued the team as a whole.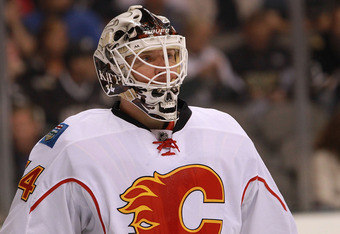 Ronald Martinez/Getty Images
Buffalo's Ryan Miller is rumoured to also be looking for a change. He is a proven goalie with postseason experience. Finishing the season behind Luongo with 31 wins and a .916 save percentage, he would be a great asset for Toronto to land.
Another goalie that could be moved this season is Calgary Flames' Miikka Kiprusoff. He will turn 36 at the beginning of next season—with two years left on his contract—giving the Leafs another few years to get Reimer or Scrivens ready to take over. Kiprusoff finished the season ranked seventh overall. With 35 wins and a .921 save percentage, he would be the best option for Toronto to pursue.
In order to trade for Miller or Kiprusoff, Toronto would have to give up either Reimer or Scrivens in the deal. Scrivens would be the more likely of the two involved, although Reimer's performance this season was mediocre at best. Either would still be an asset to any team struggling in net.
Any of these trades would be good for Toronto as they would not break up the core of their team. A trade may take one of the better players but—rather than Schenn, Grabovski or even Kessel—it may only require a player like MacArthur or Kulemin and maybe some of the players in development.
There has been a lot of debate as well about Toronto's draft pick for 2012. This year's entry class is not spectacular. With the exception of Yakupov, the others would need some time in the minors to be ready to make an impact.
That's not to say that Toronto should include their pick in a trade in the offseason. In fact, quite the opposite. More than ever, Toronto needs to keep this pick and hope that they can get Forsberg, a young tough centre that should be able to move up in a few years and play alongside Lupul and Kessel.
Should he be gone, there are a few other good names. For example, Mikhail Grigorenko or Alex Galchenyuk are both centres in the top of this year's draft class—though it is doubtful they will be ready to play by next season.
Trading their pick would only serve to upset Leaf fans, as they still ask, "What if," in regards to the deal that brought Kessel to Toronto for two first round picks, one of which became the very talented Tyler Seguin.
Bolstering the minors with more talent can't hurt the Leafs, and it would be a pleasant surprise, should the player picked fifth overall be ready to make an impact next season.
Toronto needs to keep in mind that they have a decent team. Yes, they collapsed near the end, but before that, they had been in playoff contention all year. A few minor changes and trades to make room for the players needed should be all it takes to get this team back on track.
Trading away too much young talent and prospects would only be detrimental to the Leafs club for years to come. So forget the biggest names in the rumours this offseason. Look at the players that will help plug the holes so this team can become playoff contenders again.