2012 NFL Mock Draft: Overrated Players Who Will Be Reached for
April 24, 2012

Kevin C. Cox/Getty Images
Several factors can play a part in the overrating of a prospect. The NFL Combine is one of the biggest culprits. A prospect will light it up in a t-shirt and shorts, but stink it up in a helmet and pads.
See JaMarcus Russell.
Another element that can cause a prospect to be overrated is inflated collegiate stats. System QBs like Andre Ware and David Klingler have had record-breaking collegiate careers in pass-happy offenses. 
After they were drafted, teams found out, they were not ready for some football—at least when it came to the NFL.
Then there is the prospect that begins to look much better than he is, because a team needs someone at his position so badly.
There are prospects in this draft that represent the latest examples of these categories. I'll spotlight those players within a full first-round mock draft.
1. Indianapolis Colts: Andrew Luck, QB, Stanford
The Colts have informed Luck he will be the pick here. Will No. 12 jerseys ever carry the same weight and clout as the No. 18 does in Indy?
2. Washington Redskins: Robert Griffin III, QB, Baylor (via trade with St. Louis)
RG3 is almost certainly going to be a member of the Washington Redskins. We will have to see if he can become the starter from day one.
3. Minnesota Vikings: Matt Kalil, OT, USC
The Vikings should take Kalil with this pick. They must improve their pass protection.
4. Cleveland Browns: Trent Richardson, HB, Alabama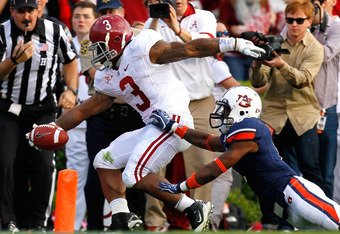 Kevin C. Cox/Getty Images
Trent Richardson is clearly the best RB in this draft, but this is still too high for him to be selected.
Therefore, I'd call him slightly overrated. I know that may illicit hate mail from Tuscaloosa, but he's a victim of his position in my opinion.
I am not a fan of drafting a RB this high, on a team with as many holes on offense as the Browns. A receiver would be much more impacting to the Browns' offense.
5. Tampa Bay Buccaneers: Morris Claiborne, CB, LSU
I love Morris Claiborne going to the Bucs. He will be a solid pro and the Bucs need help at several positions on their defense.
6. St. Louis Rams: Justin Blackmon, WR, Oklahoma State
If the Rams grab Sam Bradford a true No. 1 receiver, you'll see a spike in his production and in Rams' victories.
7. Jacksonville Jaguars: Melvin Ingram, DE/OLB, South Carolina 
Ingram is potentially a beast, but he has to find the right scheme to match his extraordinary combination of size and athleticism.
8. Miami Dolphins: Ryan Tannehill, QB, Texas A&M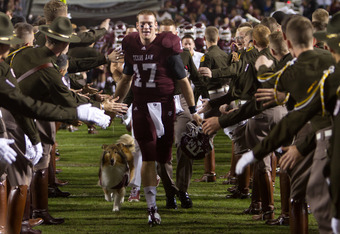 Darren Carroll/Getty Images
Tannehill is easily the most overrated prospect in the first round. The Dolphins would be reaching in a major way if they took him here.
He will not likely be ready to play immediately, and a player with that profile shouldn't be the eighth overall selection.
The Fins could get similar value in the second round.
9. Carolina Panthers: Michael Brockers, DT, LSU
The Panthers search for a disruptive force on the defensive line could end with Brockers. If he can realize his potential, he could be an impact player in Carolina.
10. Buffalo Bills: Riley Reiff, OT, Iowa
The Bills' biggest need is at LT. Selecting Reiff here should take all of five minutes.
11. Kansas City Chiefs: David DeCastro, G, Stanford
DeCastro has future Pro Bowler written all over him. In 10 years, I predict he'll be one of the standouts from this draft class.
12. Seattle Seahawks: Luke Kuechly, MLB, Boston College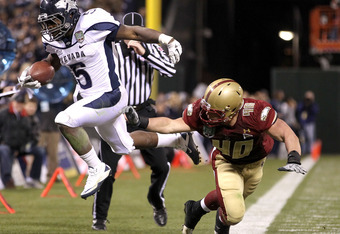 Ezra Shaw/Getty Images
Kuechly scares me a bit. When you first see his tackle numbers (191 in 2011, 102 solo), they are staggering. But we've seen tackling machines fail in the NFL before.
Players like Pat Fitzgerald from Northwestern and Hunter Hillenmeyer from Vanderbilt are similar examples.  
Will Kuechly be different?
We saw him display solid speed at the combine, yet on film, you notice a lot of his tackles are down field, or of the clean-up variety.
I'm not sure how well his game will translate to the NFL. I understand why the Seahawks would take him, but I'm not sure he's the best MLB in the draft.
13. Arizona Cardinals: Michael Floyd, WR, Notre Dame
Floyd and Fitzgerald could be a dynamic receiving corp. If this happens, free agent QBs may be lining up to get under center in Arizona in 2013.
14. Dallas Cowboys: Dontari Poe, NT, Memphis
Poe is massive at 6'4" 340 pounds and his athleticism is impressive. The Cowboys could have a true difference maker on the defensive line if they pick him—and he pans out.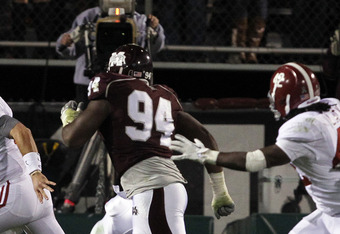 Butch Dill/Getty Images
15. Philadelphia Eagles: Fletcher Cox, DT Mississippi State
As one of the best athletes at DT in the draft, Cox has shown tremendous versatility. He could really help the Eagles run and pass defense.
16. New York Jets: Courtney Upshaw, OLB/DE Alabama
The Jets need a pass-rusher badly and Upshaw is one of the best in the draft.
17. Cincinnati Bengals: Dre Kirkpatrick, CB, Alabama
Cincinnati would do well to upgrade the CB position with youth. Kirkpatrick could push for major playing time right out of the gate.
18. San Diego Chargers: Nick Perry, DE/OLB, USC
Watching Perry's combine performance makes me remember how devastating Shawne Merriman was as a pass-rusher for the Chargers.
19. Chicago Bears: Whitney Mercilus, DE/OLB, Illinois
Mercilus could make a solid running mate for Julius Peppers. But ultimately, he could be his replacement.
20. Tennessee Titans: Cordy Glenn, G, Georgia
Kenny Britt's health and readiness in 2012 could push the Titans towards a WR. But if they wait for the later rounds to get a wide-out, Glenn would be a solid pick.
21. Cincinnati Bengals: Doug Martin, RB, Boise State
Martin has a chance to be very productive in his rookie season. He reminds me of Ray Rice and he could be a similar dual threat.
22. Cleveland Browns: Jonathan Martin, OT, Stanford
Drafting Martin could create a very impressive tandem of bookend tackles for the Browns. Joe Thomas is entrenched at LT, adding Martin at RT could be a great move.
23. Detroit Lions: Stephon Gilmore, CB, South Carolina
The Lions lost Eric Wright, but drafting Gilmore could make them forget the departure quickly. Gilmore is a solid prospect whose stock could be rising.
24. Pittsburgh Steelers: Dont'a Hightower, LB, Alabama
Hightower would be a solid addition to the Steelers' LB corp. He could replace Larry Foote and thrive in the 3-4 scheme.
25. Denver Broncos: Kendall Wright, WR, Baylor
Wright has a skill set that could be ultra effective in Denver. If Peyton Manning is right, Wright would be an invaluable weapon with his speed and abilities after the catch.
26. Houston Texans: Stephen Hill, WR, Georgia Tech
After what we saw at the NFL Combine, Hill looks like the second coming of Calvin Johnson. But it is hard to ignore the lack of production from him in college.
It's true, he played in a run-dominant offense, with poor QB play. But 28 receptions and a great combine doesn't warrant a first-round selection.
Hill should be a second or third-round pick. If he pans out then great, but he simply hasn't done enough to be selected in the top 32.
27. New England Patriots: Quinton Coples, DE, North Carolina
I'd love to see Coples realize his potential and the Patriots could offer him the perfect environment to do that. The team needs a pass-rusher, and he needs structure and winning surroundings.
28. Green Bay Packers: Chase Minnifield, CB, Virginia
Minnifield is a decent pick here for the Packers. Charles Woodson can't play forever.
29. Baltimore Ravens: Peter Konz, C, Wisconsin
Matt Birk is 35 years old; Baltimore needs to get his successor on the roster. Konz is the best center in the draft and this makes a lot of sense.
30. San Francisco 49ers: Coby Fleener, TE, Stanford
Fleener just may be the next great pass-catching TE in the NFL. If that is so, the Niners could take him here. Pairing him with Vernon Davis could be explosive.
31. New England Patriots: Alshon Jeffery, WR, South Carolina
Jeffery had a great pro day. If that dispelled the myth of his poor work ethic and lack of speed, he won't be here for the Pats to draft. If it hasn't, they should snatch him up in seconds.
32. New York Giants: David Wilson, RB, Virginia Tech
The Giants' offense could be even more explosive with a home run threat out of the backfield. Wilson has that type of ability. This would be a solid pick for the defending champions.
Follow Brian Mazique