Duke Basketball: 5 Reasons the Blue Devils Will Exceed Expectations in 2012-13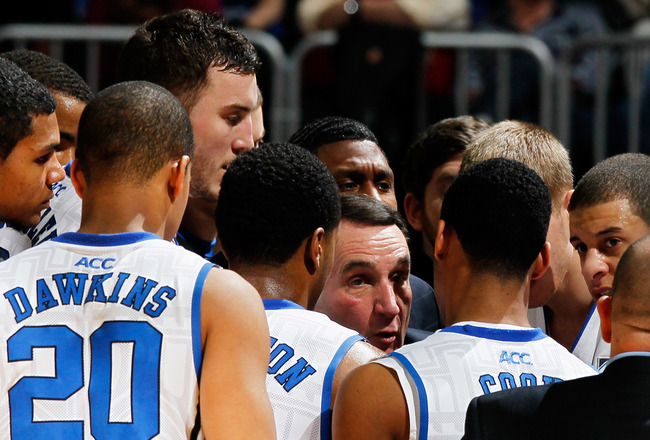 Kevin C. Cox/Getty Images
The expectations of Duke basketball during the 2012-13 season are low after losing Austin Rivers to the NBA and rumors that Andre Dawkins might red-shirt, but the Blue Devils will blow these expectations out of the water thanks to these five factors.
Mike Krzyzewski and company are looking to raise Duke back to an elite level following arguably the worst NCAA tournament loss in school history to No. 15 Lehigh in the first round.
The team only loses two players, although one is one-and-done leader Austin Rivers, who iced arch-rival North Carolina with a buzzer-beating three to cap a huge comeback. Even without Rivers the Blue Devils are to be feared in the 2012-13 season.
These are the five keys to Duke's success, and the Blue Devils will be able to exceed expectations yet again because of them.
Quinn Cook Will See More Time at Point Guard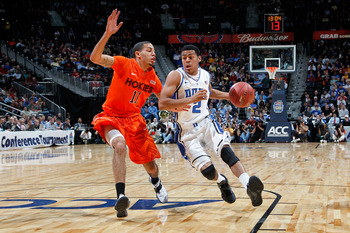 Kevin C. Cox/Getty Images
Quinn Cook is a a former McDonald's All-American and a very quick point guard who will see much more playing time without Austin Rivers in the mix next season.
Rivers may have been a better scorer, but Cook is the better point guard by far, posting the highest assist/minute and assist/turnover ratios for the team last year. He has great vision and passing ability, which allows him to be a great facilitator.
Cook also scores more than most other point guards, and could easily average double-digit points if he starts playing 20 minutes per game and becomes more consistent with his jumper (he already has the ability to drive through the lane with his quickness and speed).
The Blue Devils seem to play at a much quicker, urgent pace when Cook is controlling the tempo. The team has the personnel to make this strategy work, since the team has an athletic frontcourt and a plethora of guards who can run the floor well.
With Cook in control, the Blue Devils can utilize their distinct advantage over most teams.
Redshirts Return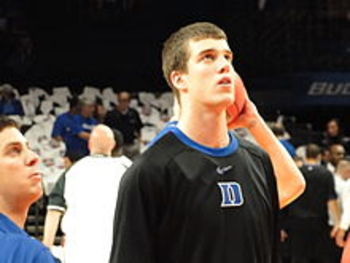 http://upload.wikimedia.org/wikipedia/commons/thumb/1/1c/Marshall_Plumlee_Duke_vs_Michigan_State.jpg/220px-Marshall_Plumlee_Duke_vs_Michigan_State.jpg
Duke's 2011 recruiting class was the second-best in the nation behind only Kentucky. With Austin Rivers heading the class, some fans forgot about two redshirt freshmen who will come back to the team this year.
Alex Murphy has been called the next Kyle Singler. He is an athletic small forward who has the potential to see a lot of playing time this season. He left high school a year early so that he could practice with the team, and it appears that it has paid off. Murphy will be ready for college ball next season.
Marshall Plumlee is the youngest of the three Plumlee brothers, and although he was the only one to redshirt, he has also been called the best of the 6'10" trio. Marshall added some weight and now looks like he is ready for the college game.
These two redshirt freshmen are going to be vital to Duke's success this year.
The Frontcourt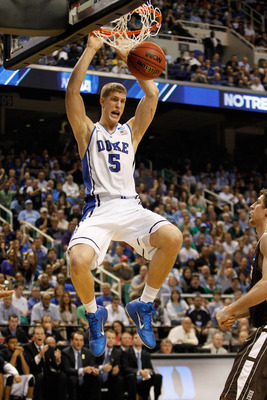 Streeter Lecka/Getty Images
The Blue Devils are returning every member from their frontcourt from last year except for Miles Plumlee. While the eldest Plumlee did play a big role on senior night against North Carolina, he will not be missed much, as Mason Plumlee and Ryan Kelly both add another year of experience.
Mason Plumlee could have gone to the NBA, but he decided to return to Duke, which was a huge boost. Couple that with a 6'11" power forward like Ryan Kelly who can also shoot over 40 percent from three, and you have a good combination down low.
The Blue Devils could also add Amile Jefferson to the front line, but even if they don't, Josh Hairston is ready to step up. Having the two redshirts from the last slide come in could help as well.
Duke usually only plays with two forwards at a time, and the frontcourt of the Blue Devils will be very talented next year.
Rasheed Sulaimon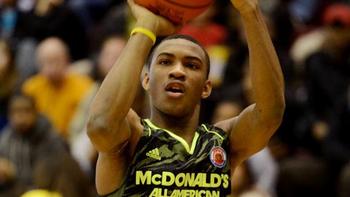 http://a.espncdn.com/media/motion/2012/0326/rise_120326_McDonalds_3PT_Rasheed_Sulaimon.jpg
Rasheed Sulaimon is a McDonald's All-American and Duke's only recruit this year, but he will be an immediate impact player like Austin Rivers was.
This kid is a prolific scorer who could start at shooting guard for the team, and he will definitely see a lot of playing time the season.
Sulaimon has a freaky first step that allows him to get past defenders, and he specializes in getting to the rim or knocking down pull-up jumpers. He also has good range and will be yet another three-point-shooter for Duke next year.
Sulaimon is one of the immediate impact-players in the Class of 2012, and it's a good thing that the Blue Devils have someone like him to help make up for the loss of Austin Rivers.
Mike Krzyzewski Is a Genius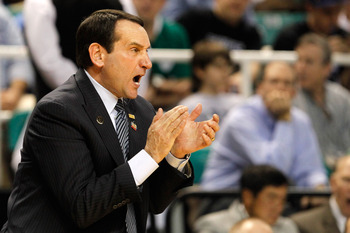 Streeter Lecka/Getty Images
Whether you love him or hate him, there is no getting around the fact that Mike Krzyzewski is arguably the best coach in college basketball history. He's already the all-time winningest coach, and should be the first to reach 1,000 wins.
Coach K is a great coach who can take an average team into the top 25 like he did last year. With one of the least talented squads he's has had in a while apart from Austin Rivers, he led the Blue Devils to a No. 2 seed in the NCAA tournament.
With a good amount of talent this year, including a few future NBA ballers like Mason Plumlee and Rasheed Sulaimon, Krzyzewski will have some options to work with. Even if Andre Dawkins redshirts, this team will be strong enough to compete with the best.
The Top 25 seems much weaker this upcoming season, with an increased reliance on a recruiting class that is not even close to being as good as last year's, or the next two. The field around the Blue Devils will be significantly weaker, and that greatly favors a Duke team that returns four of five starters and loses only two players.
Especially one led by a mastermind like Krzyzewski.
Keep Reading

Duke Basketball: Like this team?