2012 NFL Draft: Possible Jacksonville Jaguars First Round Selections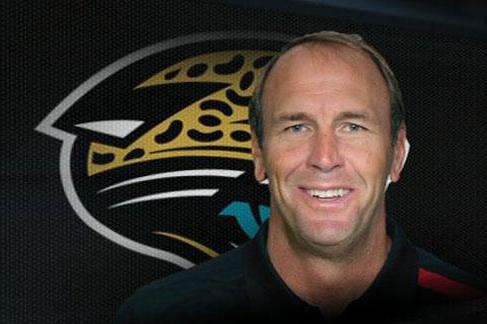 Jaguars head coach Mike Mularkey
It's the time of year that Jacksonville Jaguars fans have come to either love or loathe: the annual NFL draft. Not unlike years past, fans of the Jaguars are wondering what GM Gene Smith will decide to do with his first pick, the seventh pick overall in the first round.
The Jaguars have desperate needs at DE, WR, and arguably OT. Smith has shown a propensity to build both the offensive and defensive lines with his first-round draft picks, but perhaps this time he will throw caution to the wind and select a playmaker instead.
Let's take a look at possible strategies and scenarios that the Jaguars may employ.
Begin Slideshow

»
It is no secret that the Jacksonville Jaguars are in need of an elite pass-rusher, and the most agreed-upon selection that fits into Gene Smith's typical first-round draft strategy is Melvin Ingram of South Carolina.
Ingram is an aggressive pass-rusher who could play in a 4-3 or 3-4 scheme and is known to be a player of high integrity and morals. Picking Ingram would be the safe choice if both Justin Blackmon and Trent Richardson have been previously selected.
There has been talk of the Jaguars trading their seventh pick in the first round to gain a second round pick that was traded away last year. Unfortunately, this is an unlikely scenario.
However, if this were accomplished, what would the Jaguars do with the lower first round draft pick? Would DE Quinton Coples of North Carolina or possibly a WR—like Michael Floyd of Notre Dame, Kendall Wright of Baylor, or Stephen Hill of Georgia Tech—come into play? It's unlikely that Floyd would still be on the board, but the latter two WRs may be.
The question is: would any trade be worth a second-round pick and losing a chance at Melvin Ingram.
Although unlikely, what would the Jacksonville Jaguars do if either Alabama RB Trent Richardson and/or Oklahoma State WR Justin Blackmon were still on the board?
In Blackmon's case, this should be a slam-dunk decision: the Jaguars take him with no questions asked. The implications for Jacksonville if they passed on Blackmon could be potentially devastating.
Yes, they have picked up Laurent Robinson and Lee Evans in the offseason, but the Jaguars are longing for a clear-cut No. 1 WR. The Jaguars haven't had a superstar at that position since Jimmy Smith ran down the Jacksonville sidelines.
Now if Trent Richardson was still on the board— which is highly unlikely—the decision to take him would be more difficult to make. Personally, I feel he may be the second coming of Emmitt Smith, and not because he comes from the same high school.
Richardson is simply one of the best RBs to come out since Adrian Peterson, and his upside is through the ceiling.
That being said, the RB position has become less important in the NFL, and some feel that spending such a high draft pick on a RB would be foolhardy. Under most circumstances, I would agree. However, in this case, if Richardson is available for the Jaguars at No. 7, they may feel compelled to take him, and I wouldn't blame them.
What if the so-called experts get their projections wrong—as they normally do after the first few picks—and unexpected players are available at the No. 7 pick?
Trent Richardson and Justin Blackmon have already been discussed, so let's analyze the possible availability of the following players: USC's Matt Kalil (OT) and LSU's Morris Claiborne (CB).
If the Minnesota Vikings shock the world and bypass Kalil—and he's available for the Jaguars to take—it's a no-brainer. Eugene Monroe is proving to be a good OT, but he is not of Kalil's stature. Besides, the jury is still out on Eben Britton, and the last USC OT the Jaguars selected in the first round turned out to be pretty good—Tony Boselli.
The Tampa Bay Buccaneers are expected to take Claiborne, but what happens if they go a different direction? Should the Jaguars take a long hard look at Claiborne? If Gene Smith goes with the "Best Player Available" strategy, then, yes, he should be taken. However, if Smith looks at team need over best available, then no. The team has other positional needs.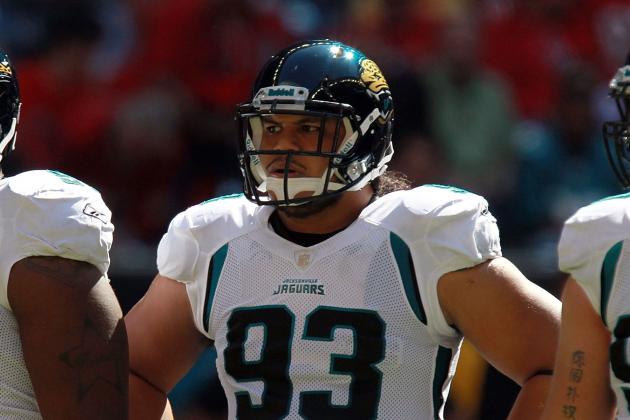 Ronald Martinez/Getty Images
Tyson Alualu
In the 2010 NFL draft, GM Gene Smith shocked experts and fans alike when he picked Tyson Alualu with the No. 10 overall pick. Alualu was expected to be a late first-round or early second-round draft pick, but Smith grabbed him way earlier. The jury is still out on Alualu, but in my opinion, he hasn't earned the draft pick and was a questionable choice.
Is there anyone out there that Smith may grab earlier than expected with the No. 7 pick this year? If forced to guess, I would say one possibility would be Stanford's David DeCastro (OG). Again, he fits into Gene Smith's historical first-round draft strategy—i.e. lineman and high-character player—but if Smith really likes DeCastro, he surely can trade down to get him.
I hope for the Jaguars' sake that Gene Smith doesn't repeat 2010 once again.