Robert Griffin III: Why Heisman Trophy Winner Will Redefine QB Position
April 24, 2012

Ronald Martinez/Getty Images
Any other year, Robert Griffin III would be a lock for the No. 1 overall pick in the draft.
RG3 will not be getting that honor because of Andrew Luck, who many think is the best quarterback prospect to come out of college since John Elway. Indianapolis Colts general manager Ryan Grigson announced today that Luck will be the team's No. 1 overall pick on Thursday, according to the Associated Press.
''We didn't the see the point in prolonging what the world already knows,'' Grigson told reporters Tuesday. ''It's about Andrew and we wanted to do the right thing by him.''
Everyone figured the Colts were going to take Luck, but before Tuesday, there was at least a possibility that they would choose to take RG3 instead. And indeed, there are some who think that RG3 is more worthy of being taken No. 1 than Luck.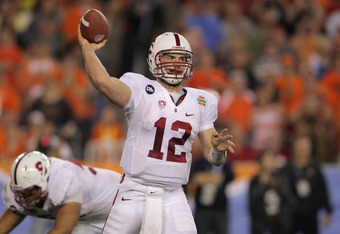 Doug Pensinger/Getty Images
Take Greg Cosell of NFL Films, for example. He has RG3 going to the Colts in the mock he posted a couple days ago, and he wrote in a longer evaluation of RG3 and Luck that Griffin is a "a superior arm talent and natural passer."
This stuff sounds bold when placed alongside all the great things that have been said about Luck over the last year or so. Luck has been built up as the ultimate quarterback prospect, so to hear that Griffin may actually be better sounds strange.
It's not. I'll wager that Luck is more ready to play in the NFL now than Griffin is, but long-term, Griffin's ceiling is higher than Luck's. 
In terms of pure physical tools, Luck has nothing on Griffin. He has the advantage in terms of arm strength, as he can throw a beautiful deep ball and fire passes home with excellent velocity. To boot, Griffin's accuracy is oftentimes uncanny. We praise Luck for being able to make "all the throws," but RG3 can make all the throws too.
RG3 most definitely has Luck beat in terms of athleticism. Griffin is one of the fastest quarterbacks to ever come along, and his speed is an asset that he will most certainly use in the NFL. He doesn't have elite lateral agility, but he'll be able to outrun 95 percent of the league's defensive players.
Between his arm and his legs, Griffin is best described as a prototype. The scary part is that he's got a great head on his shoulders too, and he's far more polished as a quarterback than other ultra-athletes who have come along at the position over the years.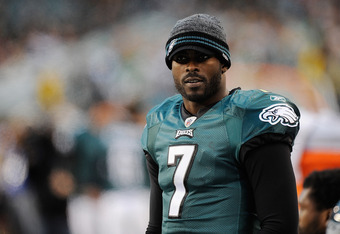 Patrick McDermott/Getty Images
For example, the two players Griffin is most often compared to are Michael Vick and Cam Newton. A lot of people don't like the Vick comparison, but I've maintained that I think it's a fair comparison to make as long as people give RG3 credit for being a far more accomplished passer than Vick was when he was entering the league. It's not going to take him nearly as long to become a capable passer in the NFL as it took Vick.
The comparisons to Newton are a little more valid. Newton had a reputation of being a below-average passer when he was drafted last year, but that reputation proved to be a bunch of nonsense. Newton put up good passing numbers in 2010 at Auburn, and he went on to complete 60 percent of his passes as a rookie for over 4,000 yards. He added over 700 rushing yards with his legs.
If Newton can make that kind of instant impact in the league, it's scary to think what Griffin will be able to do both immediately and long-term.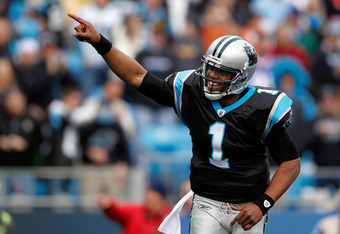 Streeter Lecka/Getty Images
Griffin is a better passer now than Newton was this time last year. Newton was more efficient in 2010 than he got credit for, but RG3 was even more efficient in 2011. He completed better than 72 percent of his passes, and his rating of 189.5 was second behind Russell Wilson. His rating was nearly 20 points higher than Luck's, for the record.
What made Griffin such a dangerous passer wasn't just his arm strength and his accuracy. We tend to think of athletic quarterbacks like Griffin as scramblers, but he was at his best when he was standing tall in the pocket, and he rarely flinched when he had to throw from a broken-down pocket. He's at home in the pocket, which is something you couldn't say about Vick or even Newton when they were entering the NFL.
A pocket passer with Griffin's speed. Just think about that for a second. You'll realize that Griffin has the potential to be unlike any other quarterback in the history of the game.
Think of the best pocket passers in the business, and you'll think of players like Drew Brees, Aaron Rodgers, Tom Brady and Peyton Manning. Now imagine what those players would be like with Griffin's speed. 
That's the kind of ceiling Griffin has. And once he achieves it, all the familiar perceptions of what goes into a truly great NFL quarterback will be forever changed. Football people at all levels will be looking for the next RG3.
The game is constantly evolving. It was just a matter of time before a player like RG3 came along.