5 Ways Richard Hamilton Will Help the Bulls This Postseason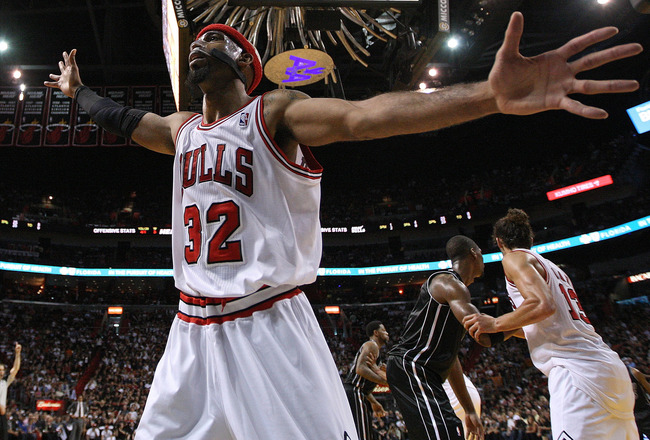 Mike Ehrmann/Getty Images
The Chicago Bulls are easily one of the best teams in the NBA. Although players like Derrick Rose get most of the credit for this success, players like Richard Hamilton should not go without being mentioned. In fact, Hamilton is very important for the Bulls success in this year's playoffs.
Chicago is once again an elite team in the NBA, and there is no person that should be surprised if the Bulls take home the hardware this year.
With that said, read on to find out five ways that Hamilton will help the Bulls this postseason.
His Scoring Ability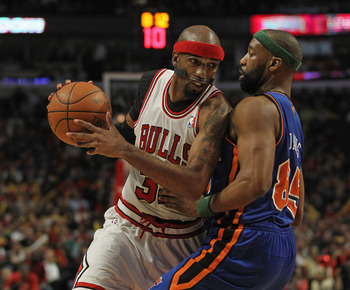 Jonathan Daniel/Getty Images
Richard Hamilton is not the offensive player he used to be, but he is still a good one. On the season, Hamilton is averaging 12 points per game, which is pretty impressive considering that he is only playing around 25 minutes a game.
Hamilton is not known as a three-point shooter, but he is efficient from behind the arc when he needs to be.
He is great without the ball and is a professional at getting open and knocking down mid-range shots, literally because he is in the NBA and all.
Hamilton has had a pretty successful month in April, averaging 13.1 points per game, which has included three games of 20 points or more.
His scoring ability will help out the Bulls quite a bit come playoff time.
Transition Game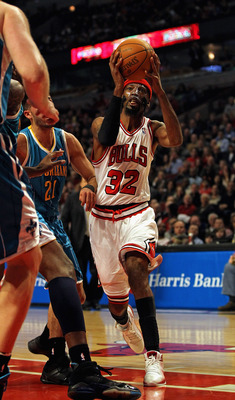 Jonathan Daniel/Getty Images
Hamilton is great in transition, which will play wonders against teams like the Miami Heat.
As a result of his great transition game, Hamilton draws a lot of fouls, which is crucial in the playoffs. He is also a very elite athlete, who can run around up and down the basketball court all day.
Passing Skills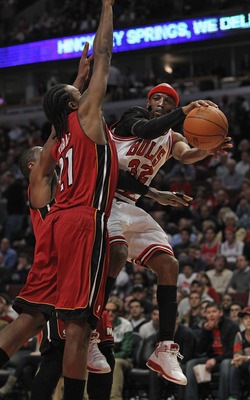 Jonathan Daniel/Getty Images
Hamilton may only be averaging three assists per game on the season, but that is due to the fact that he is a shooting guard, and the Bulls obviously have one of the best point guards in the league in Derrick Rose.
Therefore, Hamilton rarely carries the ball up the court, but when the ball is given to him, he is capable of making highlight reel passes.
On Defense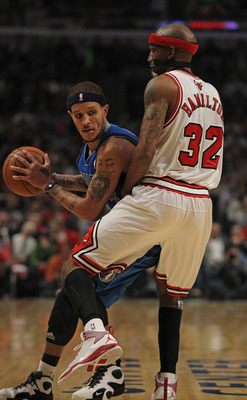 Jonathan Daniel/Getty Images
Hamilton lacks strength, which surely does not help on the defensive side of the ball. He also does not seem fully engaged on defense at all times, but that has always been the story of the NBA.
Despite those two issues, Hamilton is great at keeping his man in front of him and is amazing at guarding very quick guards. He is also 6'7'', which is pretty tall, considering Hamilton is a shooting guard.
Hamilton Is a Vet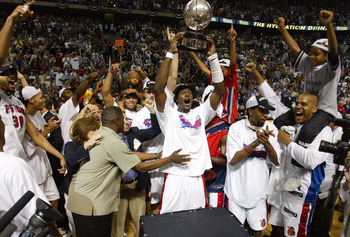 Ezra Shaw/Getty Images
The man with the mask has been in the league for 13 years now. He has played on some great Detroit Pistons teams that have obviously had a lot of success in the playoffs.
This is very important to the Bulls in so many ways. The stage will never be too big for Hamilton because he has been here before. Shine the bright light on Hamilton and he will not be fazed one bit.
Hamilton is one of the oldest players on Chicago at the age of 34. His leadership qualities and being a veteran will be huge for the Bulls in competing for a championship in this year's playoffs.
If you're a tweeter, feel free to follow me @TheTrevorLowry.
Keep Reading

Chicago Bulls: Like this team?