Mel Kiper Jr 2012 NFL Mock Draft: Biggest Reaches from ESPN's Expert
April 25, 2012

Joe Robbins/Getty Images
When Mel Kiper Jr speaks on the NFL draft, we all listen.
The ESPN expert may have got too much of a whiff of his hairspray before completing his final 2012 mock (ESPN Insider), though, because there are a few selections that just don't add up.
Of course, that doesn't mean it can't go down the way that he projects on draft day. After all, we've all witnessed teams making massive reaches for players they fall in love with during the scouting process.
That being said, here are the biggest reaches from the Hairdo's latest mock.
Dontari Poe to the Carolina Panthers at No. 9
Poe is a workout warrior. He dominated the NFL Scouting Combine and has since rocketed up draft boards from the second round and into the Top 10. A more appropriate grade would be somewhere in the middle-to-late first round.
There's no doubting that Poe has as much—if not more—potential to become a star than any defensive tackle in this year's draft, but he is far from a safe pick at this stage. 
The Panthers do need to draft a defensive tackle, but the player that Kiper should have had them take is Fletcher Cox. 
Poe is way too raw and was far too unproductive in college against relatively weak competition to have him going this high. 
Courtney Upshaw to the New York Jets at No. 16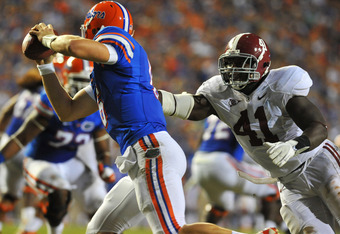 Al Messerschmidt/Getty Images
Having missed out on Melvin Ingram, the Jets won't take Upshaw instead to rush the passer from the outside linebacker position. 
Upshaw is a one-trick pony who isn't any good in coverage and would be better suited to play defensive end in a 4-3 scheme.
He is short and stout and knows how to use his hands better than anyone in the draft, but isn't explosive off the line and won't be able to bully NFL offensive tackles like he was able to do against lesser competition in college.
Mike Tannenbaum might get run out of town if he ends up taking Upshaw at No. 16. If the Jets are looking to take a pass-rushing outside linebacker at this point in the draft, they'd be better off taking USC's Nick Perry instead.
Chandler Jones to the San Diego Chargers at No. 18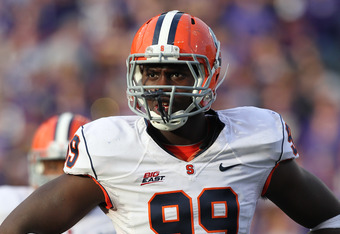 Otto Greule Jr/Getty Images
This is the biggest, most surprising reach so far from Kiper's mock draft.
Jones is a tantalizing pass-rushing prospect, to be sure, but he's as raw as they come and won't make an impact right away for the Chargers. He has never played in a two-point stance and won't make the transition easily.
I see Jones playing better at the next level as a 4-3 defensive end. He isn't particularly fast, having run a 4.8-second 40-yard dash at the combine, and his frame will easily hold another 15-20 pounds as he ages.
The Chargers definitely need to select a pass-rusher at some point in the first few rounds. However, if they were to take one at this point in the draft, they would find a more polished and well-rounded player in Nick Perry.
Derek Wolfe to the New England Patriots at No. 31
Kiper really outdid himself with this one.
Wolfe isn't a first-round prospect. Wes Bunting of NationalFootballPost.com—one of the most respected scouts in the industry—has Wolfe rated as his 18th-best defensive end.
The Patriots would easily be able to draft Wolfe in the third round, and there's a chance he'd even be available in the fourth.
Sorry, Mel, I have to let you have it on this one. Turrible, just turrible (in my best Charles Barkley voice).