Real Madrid vs. Bayern Munich: Chelsea's Win Adds Intrigue for Jose Mourinho
April 25, 2012

Angel Martinez/Getty Images
As if Real Madrid needed any more motivation ahead of Wednesday's UEFA Champions League semifinal clash with Bayern Munich.
As if Jose Mourinho wasn't already geeked for the opportunity to add a third European title to his already-loaded CV.
Chelsea's win on aggregate against Barcelona gave them (and him) plenty of fuel with which to stoke the roaring flame at the Santiago Bernabeu.
After all, Mourinho's already been there and done that with regard to Los Blancos' next match. He beat the Bavarians while on the touchline with Inter Milan on Madrid's hallowed grounds two years ago.
Madrid have a one-goal deficit to make up, but have more than enough world-cass attacking talent—between Cristiano Ronaldo, Karim Benzema, Gonzalo Higuain, Mesut Ozil, Angel Di Maria and Kaka (among others)—to bust through Bayern's bunker and set out for a return trip to Munich.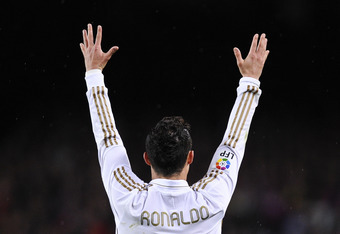 David Ramos/Getty Images
That one away goal could prove handy, as well, should Madrid manage to put the ball through only once.
But the bigger carrot awaits in Bavaria, not just in what "The Special One" is searching for (the European Cup) but through whom his side will have to beat to capture Madrid's 10th continental crown.
Chelsea.
As in the same club that he left by "mutual consent" in September of 2007 on account of growing tensions with owner Roman Abramovich.
The same club he helped, in his first three seasons, add six pieces of silverware to its Stamford Bridge trophy case—not to mention coming within sniffing distance of a quadruple just months before he left.
Not that Mourinho was any worse for wear thereafter. All he did was jump to the top job with Inter Milan, whom he guided to two Serie A titles, a Coppa Italia, a Supercoppa Italiana and the aforementioned Champions League title against Bayern in 2010. 
Think he wouldn't mind getting a bit of revenge against the club from which he was deposed—the club he never had the opportunity to see through to the Champions League final?
Assuming that doing so never gets old for him, after pummeling the Blues while with Inter in 2010.
Think Los Blancos wouldn't mind cementing their superiority over their Clasico rivals by ousting the same Chelsea side that sent Barca back home?
Of course, they'd better not get caught looking ahead, lest they trip over themselves just as their Catalonian adversaries did on Tuesday.
Lest they let the chance to write their own chapter in the annals of football history fall by the wayside.
That should be motivation enough.