Baltimore Ravens Mock Draft: Final 7-Round Predictions for Baltimore
April 24, 2012

Jonathan Daniel/Getty Images
We're just two short days away from NFL Christmas, otherwise known as the draft. All 32 teams will have ample opportunities to fill their roster holes with new players and hope they're lucky and smart enough to find the next game-changing superstar in the process.
In seven rounds, finding someone who changes the face of the franchise for the better is certainly a distinct possibility, even for the Baltimore Ravens, who are using this year's draft as a way to primarily build depth at some key positions.
With all that in mind, here is my final seven-round mock draft for the Ravens this year.
Round 1, Pick 29: OG/C Peter Konz, Wisconsin
I know, I know: Everyone is bored of this Konz-to-the-Ravens talk. But, at 29th overall, he represents the right player at the right time. The Ravens need a starting guard immediately and will need a center to replace Matt Birk in the future. Sure, Baltimore can address center in next year's draft, but at least having the depth already on the roster alleviates some of the pressure.
As an alternative, the Ravens could go after linebacker Dont'a Hightower if the Pittsburgh Steelers (or some other team) haven't claimed him already. There's also a chance they take a receiver with this pick, with Stephen Hill having the greatest odds to become a Raven.
Round 2, Pick 60: OLB Ronnell Lewis, Oklahoma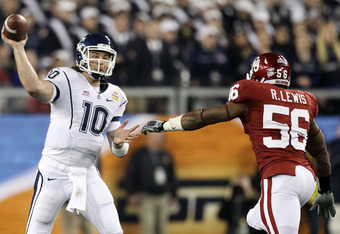 Christian Petersen/Getty Images
Paul Kruger will ostensibly be taking over the outside linebacker position vacated by Jarret Johnson when he left for San Diego in free agency, but if they can get a more consistent player worthy of that starting spot in this year's draft, it should prove more beneficial.
Ronnell Lewis is nearly as strong against the run as Johnson was, but he also has pass-rush skills that he can throw into the mix as well. Even if he splits time with Kruger in his rookie year, picking him up in the second round will be worth it both immediately and in the long-term.
Round 3, Pick 91: WR Juron Criner, Arizona
How about a sure-handed possession receiver who can get separation from defenders and present a devastating red-zone threat to pair up alongside Torrey Smith? The Ravens can get just that in the third round by selecting Juron Criner. Even better yet is that he's adept at catching jump balls, which should take a bit of pressure off of Joe Flacco to make the perfect throw every time. No, Criner isn't the fastest, but his receiving skills are stellar. He'd be a steal with this pick.
Round 4, Pick 130: OG Lucas Nix, Pittsburgh
Time for the Ravens to add some depth on the offensive line. Lucas Nix is a talented guard who needs more time to perfect his technique. His rookie year could certainly help him do so, and if the Ravens want to move Konz to center next year, Nix could likely take that starting guard spot.
Round 5, Pick 164: S Tavon Wilson, Illinois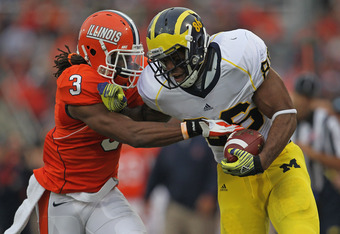 Jonathan Daniel/Getty Images
Tavon Wilson was inexplicably not invited to the NFL Scouting Combine this year, but it's clear that teams have interest in him considering how many pre-draft visits he made in the past few weeks.
No one really knows what the future holds for Ed Reed—last we heard, he was again contemplating retirement and saying that he "felt disrespected." While Reed should take the field this year, it very well could be his last. Wilson is a strong safety by design, but he also has a background at cornerback. He's a great tackler who always has his eye on the ball. He'd be well worth the Ravens' development, because he could certainly become a starter in a year or two.

Round 5, Pick 169 (Compensatory): CB DeQuan Menzie, Alabama
This would be the latest a team could likely pick up Alabama cornerback DeQuan Menzie, and he very well may already be off the board. If not, he would be perfect for the Ravens at this pick. Menzie dealt with an Achilles tear last year, but he bounced back very quickly and managed to hold his own in the stacked Alabama secondary. He's fast, thus allowing him to help out on kick and punt coverage, and he plays well in both zone and man schemes. 
If Menzie is spoken for and the Ravens want a fifth-round corner, Texas A&M's Coryell Judie could be an option here as well.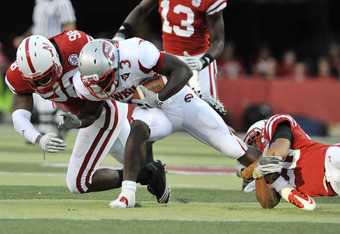 Eric Francis/Getty Images
Round 6, Pick 198: RB Bobby Rainey, Western Kentucky
Bobby Rainey's skill set makes him seem quite comparable to Ray Rice in many ways, namely his size and speed. He's less strong than Rice, however, and has already spent years as a workhorse back. He'd be well-suited to spell Rice as the team's No. 2 rusher.
Round 7, Pick 236: ILB/OLB Jerry Franklin, Arkansas
Jerry Franklin was another player snubbed by the NFL Scouting Combine, but his under-the-radar status could pay huge dividends for the Ravens in the seventh round. Baltimore is likely looking for some developmental inside pass rushers; Franklin would be worth that effort, considering the speed he displayed at his pro day and the coverage skills he showed off in college. In the Ravens' 3-4 defense, he'd be an outside linebacker. He played both outside and middle linebacker in Arkansas.