2012 NFL Mock Draft: 1st-Round Sleepers Destined for Great Rookie Seasons
April 24, 2012

Joe Robbins/Getty Images
One job of NFL general managers at the draft is to find the first-round sleepers that can really help their teams next season and make a profound impact as rookies.
The draft is all about value, so teams will look to find sleeper players who offer the team as many skills as possible.
Let's look at a few first-round sleepers in this fresh NFL mock draft.
1. Indianapolis Colts: Andrew Luck, QB, Stanford
The Colts have already informed the Stanford quarterback that they will select him No. 1 overall, according to NFL Network's Albert Breer.
2. Washington Redskins (via STL): Robert Griffin III*, QB, Baylor
The Redskins have a lot of confidence that Griffin will be a phenomenal quarterback, and it's hard to disagree with them considering the skill set he has.
3. Minnesota Vikings: Morris Claiborne, CB, LSU
The LSU star will be a shutdown NFL corner and a player teams can build their defense around.
4. Cleveland Browns: Ryan Tannehill, QB, Texas A&M
The Browns might think about Justin Blackmon or Trent Richardson, but the quarterback position is a serious need for the team.
5. Tampa Bay Buccaneers: Matt Kalil, OT, USC
Kalil will be a talented left tackle that the Buccaneers can have protect young quarterback Josh Freeman for many years.
6. St. Louis Rams (via WA): Trent Richardson, RB, Alabama
According to Evan Silva of NBC Sports, the Rams will attempt to trade Steven Jackson around the draft, which means Richardson could be their choice as his replacement if available at No. 6.
7. Jacksonville Jaguars: Justin Blackmon, WR, Oklahoma State
Blackmon would give the Jaguars a No. 1 receiver like they haven't had since Jimmy Smith was a perennial Pro Bowler for them several years ago.
8. Miami Dolphins: Melvin Ingram, DE/OLB, South Carolina
Ingram would give the Dolphins a much-needed pass-rusher in a division with several talented quarterbacks.
9. Carolina Panthers: Quinton Coples, DE, North Carolina
Coples is going to be a star pass-rusher in the pros with his great combination of size and athleticism.
10. Buffalo Bills: Riley Reiff, OT, Iowa
The Bills could use a right tackle to help their offense protect the passer better, which means Riley Reiff is a no-brainer with this pick.
11. Kansas City Chiefs: Michael Floyd, WR, Notre Dame
Floyd has impressive physical skill and strength and would be a strong addition to a great Chiefs offense when everyone is healthy.
12. Seattle Seahawks: Luke Kuechly, ILB, Boston College
The Seahawks won't get the receiver they need at No. 12, so they will select one of the best talents in this class in Luke Kuechly of Boston College.
13. Arizona Cardinals: Dontari Poe, DT, Memphis
Poe would be a significant upgrade to a Cardinals defense that has to face many talented running backs as part of the NFC West division.
14. Dallas Cowboys: Mark Barron, SS, Alabama
The Cowboys will hope no one trades ahead of them to select Mark Barron because Dallas needs a safety upgrade.
15. Philadelphia Eagles: Courtney Upshaw, OLB, Alabama
Upshaw is a talented linebacker, but the Eagles would rather have his defensive teammate, Mark Barron, fall to them.
16. New York Jets: Whitney Mercilus, OLB, Illinois
Mercilus will give the Jets the pass-rusher that the team thought they were getting with the Vernon Gholston selection in 2008.
17. Cincinnati Bengals (via OAK): Michael Brockers, DT, LSU
The Bengals would be making a smart choice by picking Brockers, who can play defensive end or tackle.
18. San Diego Chargers: David DeCastro, G, Stanford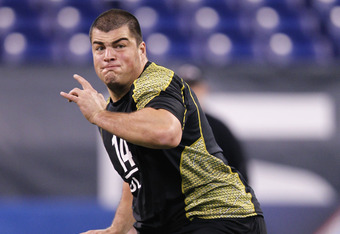 Joe Robbins/Getty Images
The Chargers need some help in the secondary, but DeCastro does solve some of the team's massive issues along the offensive line.
DeCastro did a fine job protecting top pick Andrew Luck at Stanford and can excel in both run-blocking and pass protecting situations.
With his impressive strength and good foot quickness, expect DeCastro to be a Pro Bowler throughout his NFL career.
19. Chicago Bears: Jonathan Martin, OT, Stanford
The Bears would also like a cornerback or safety with this pick, but like the Chargers, a strong offensive lineman is a need.
20. Tennessee Titans: Stephon Gilmore, CB, South Carolina
Gilmore could end up being a Pro Bowl player as a rookie in the Titans defense.
21. Cincinnati Bengals: Dre Kirkpatrick, CB, Alabama
This is an easy pick for the Bengals because Kirkpatrick is going to be a star for a long time.
22. Cleveland Browns (via ATL): Kendall Wright, WR, Baylor
Wright doesn't have the speed you would expect from a receiver of his build, but his route running is extraordinary.
23. Detroit Lions: Nick Perry, DE/OLB, USC
Without a top cornerback available at pick No. 23, the Lions will go after Nick Perry from USC.
24. Pittsburgh Steelers: Jerel Worthy, DT, Michigan State
The Steelers need to add some youth to a defensive line hurt by injuries over the past few seasons.
25. Denver Broncos: Dont'a Hightower, ILB, Alabama
Hightower and star Von Miller would be a tremendous young linebacker combo for the Broncos defense.
26. Houston Texans: Stephen Hill, WR, Georgia Tech
Hill is a good all-around receiver who is NFL-ready, which bodes well for a team like Houston, who are a Super Bowl contender right now.
27. New England Patriots (via NO): Peter Konz, C, Wisconsin
Patriots head coach Bill Belichick isn't afraid of taking offensive linemen late in the first round, and could do it again with center prospect Peter Konz.
28. Green Bay Packers: Chris Polk, RB, Washington
The Packers need a more balanced offensive attack next season, which means they must add some talent at running back.
Polk has a lot of strength and proved at Washington that he could handle the workload that comes with being a No. 1 back.
On a team like the Packers, who have an awesome passing attack and a strong offensive line, Polk could have an awesome rookie season.
29. Baltimore Ravens: Andre Branch, DE, Clemson
The Ravens would be smart to add another talented young player to an already elite defensive unit.
30. San Francisco 49ers: Rueben Randle, WR, LSU
Randle may go higher in the first round, but the 49ers would be happy to take him at pick No. 30.
31. New England Patriots: Cordy Glenn, OG/OT, Georgia
Glenn would be a nice pickup for New England, but I can't see it keeping both of these late first-round picks.
32. New York Giants: Chase Minnifield, CB, Virginia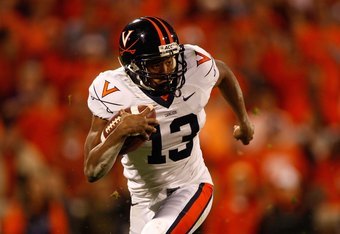 Streeter Lecka/Getty Images
The Giants secondary underperformed last season and was bailed out by the team's amazing pass-rush. Minnifield would be a good step in the rebuilding of the Giants secondary.
Minnifield is a very good coverage corner, and his strong tackling skills make him an effective run stopper too.
With all the talk about the talents of Morris Claiborne, Dirk Kirkpatrick and Stephon Gilmore, people have not given Minnifield enough credit as a top-tier corner in this draft class.
Expect Minnifield to have a solid rookie season wherever he goes in the draft.