Cyrus Gray: 5 Biggest Strengths and Weaknesses of 2012 NFL Draft Prospect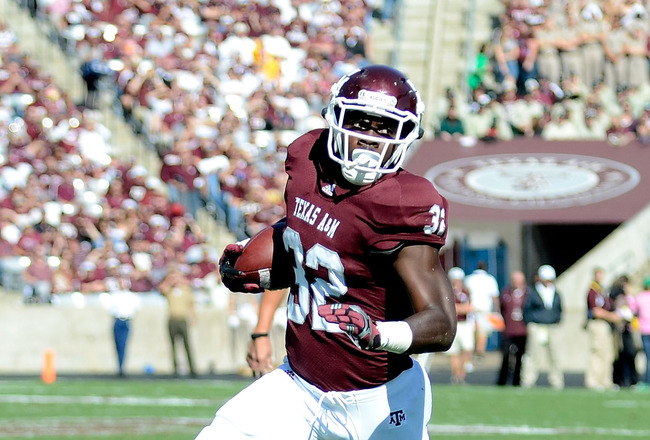 Sarah Glenn/Getty Images
Cyrus Gray is the No. 13 ranked running back on my big board. However, he would have jumped up considerably if it weren't for durability concerns.
This is a running back prospect that was considered a second-round pick prior to injuries and inconsistency that set him back during the 2011 season.
"Upside" is a word that I would use to best describe the Texas A&M product. The team that selects him in the middle rounds is going to get a pretty damn good football player, when healthy.
This article is going to focus on five different strengths and weaknesses as they relate to Gray and his transition to the National Football League.
Strength: Power Running Abiliy
Take four minutes out of your life to look at the embedded video. It shows Cyrus Gray hitting the hole in shorter order and piling past would be tacklers on a consistent basis.
This is something that you wouldn't expect from a running back a bit short in stature (5'10"), but this is what Gray can do.
Much like some of the other mid-tier prospects in this draft, Gray runs with a lower center of gravity. This enables him to pile past defenders and gain that extra yard or two that is needed for a first down. This is also one of the reasons that he could in fact be an every down back at the next level.
Weakness: Dances a Tad Too Much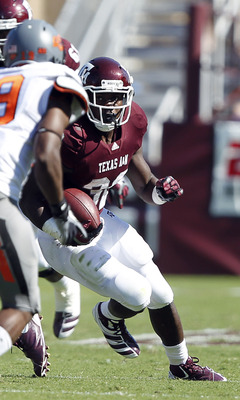 Bob Levey/Getty Images
While Cyrus Gray can hit the hole incredibly fast when he is asked to, he does seem to dance too much in the backfield. This might not be a major issue in college, but it will be in the National Football League.
He needs to start understanding that running down hill is the primary way he is going to succeed as a running back at the next level.
If this doesn't happen we could be looking at another Steve Slaton.
Strength: Great Initial Burst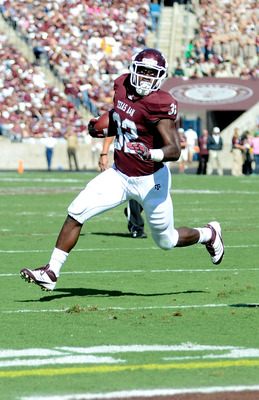 Sarah Glenn/Getty Images
Cyrus Gray does not possess game-breaking speed and will not beat faster defensive backs to the outside and down the field.
What Gray does possess is a really fast initial burst off the line of scrimmage, which negates some issues in regards to dancing in the backfield.
I noticed him consistently driving past the front seven of opposing defenses with this first gear before would be tacklers could make an adjustment. I understand that the NFL is a whole new story in terms of speed, but don't expect this to change for Gray moving forward.
Weakness: Durability Concerns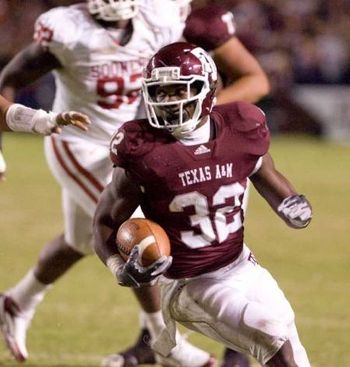 Cyrus Gray didn't suffer multiple serious injuries at Texas A&M. He didn't miss extended playing time a whole lot and could be counted on to suit up on Saturdays.
That really isn't the point.
Durability issues still stand. Gray got nicked up a great deal in college, which led him to miss extended stretches during games.
Despite being the starting running back throughout the majority of his college career, Texas A&M wasn't able to count on him consistently. The talented running back actually carried the ball 10 times or less in nearly 39 percent of his games at College Station.
Strength: Great Field Vision and Cutback Ability
Cyrus Gray is a running back, not just a pure runner. Differences between the two are huge and indicate that he should be able to make an instant impact at the next level.
A pure runner lacks the nuances to succeed in the National Football League and needs more seasoning in order to make an impact. A running back has that ability already entrenched into his core.
This is the case with Gray.
He possesses excellent field vision and cutback ability. You will see the Texas A&M product consistently change direction, thus throwing defenders off balance. He will wait for lanes to open up in the backfield when need be, but will also dart through the line when he sees even a marginal opening.
Keep Reading