Ronnie Hillman: 5 Biggest Strengths and Weaknesses of 2012 NFL Draft Prospect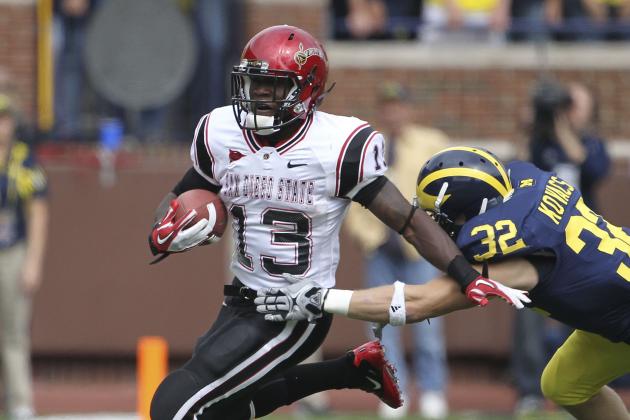 Leon Halip/Getty Images

Ronnie Hillman is the No. 10 ranked running back prospect on my big board. This doesn't mean that he is a marginal prospect, it just represents how deep the 2012 NFL draft is at this position.
The San Diego State product may lack the size to be an every down back at the next level, but makes up for it with acceleration and athleticism.
He is built in the form of a Darren Sproles and has been just as productive in college as the former was with Kansas State.
This article is going to focus on five different strengths and weaknesses that the small running back possesses heading into the National Football League.
Begin Slideshow

»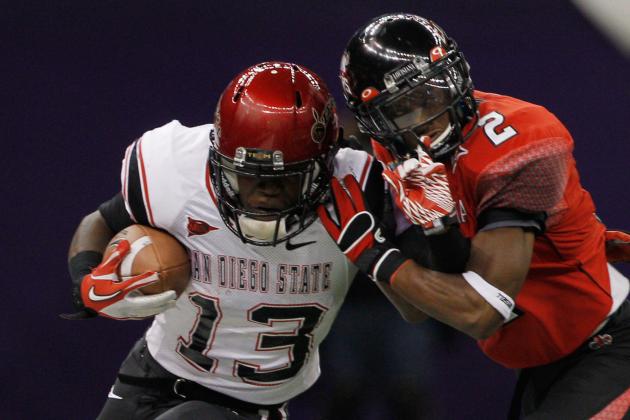 Chris Graythen/Getty Images

One thing that you might not get from Ronnie Hillman's compact 5'8" frame is that he can act like a human bowling ball. He consistently drives defenders past the point of contact due to the fact that he possesses brute strength and runs with a low center of gravity.
Hillman consistently churns those legs, which leads to extra yardage on nearly every single run on the outside and between the hashes.
This is one of the primary reasons that he was able to score 38 touchdowns in two seasons at San Diego State. You got that right, 38 touchdowns.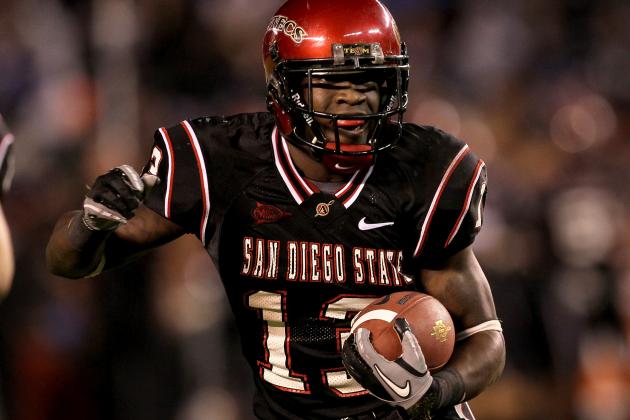 Stephen Dunn/Getty Images

Despite being a very productive running back, Ronnie Hillman did struggle to get it going against top-level competition in college. Some of this had to do with inferior blocking and the fact that San Diego State was playing from behind, but it is noteworthy nonetheless.
This has led some to believe that Hillman is going to get lost in the mix in the National Football League. That the game will just be "too big" for him.
While I am not ready to make that concession, it is a fair point to make.
I had mentioned strength at the point of contact in a prior slide, now I am going to focus on field vision and cutback ability.
As you will see on the embedded video, Hillman has the capability to see what is happening yards in front of him, adjusting accordingly. He turns the ball off field rather quickly, has exceptional cutback ability and tends to do a good job drawing plays out on the outside.
Moreover, Hillman understands when to wait for a play to develop or go against the grain and take the ball away from blockers before they are able to set up.
This separates pure runners, who struggle with the nuances, from true running backs.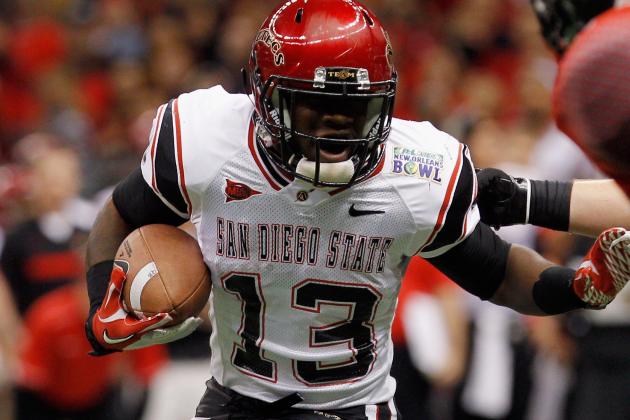 Chris Graythen/Getty Images

Ronnie Hillman will not be able to shoulder the load in the National Football League. He doesn't have the size to carry the ball 20 times a game, that just isn't going to happen.
At a time when running backs are being undervalued in the draft, it is important to be considered an every-down player. Without this, a prospect can see his draft stock plummet as the three-day event runs on.
I see this is as a strong possibility for Hillman later in the week.
Ronnie Hillman does compare favorably to Darren Sproles, who also possesses the ability to be a duel-threat back.
This means that the San Diego State product will be able to come in on third downs and be a receiving threat on the offensive side of the ball. He played wide receiver as well as running back in high school and was dynamic in both aspects.
This translated well to the college level and promises to do the same in the National Football League. Additionally, Hillman is a surprisingly decent blocker for someone that lacks size to dominate at the point of contact.