Kendall Wright to Titans: Video Highlights, Scouting Report and Analysis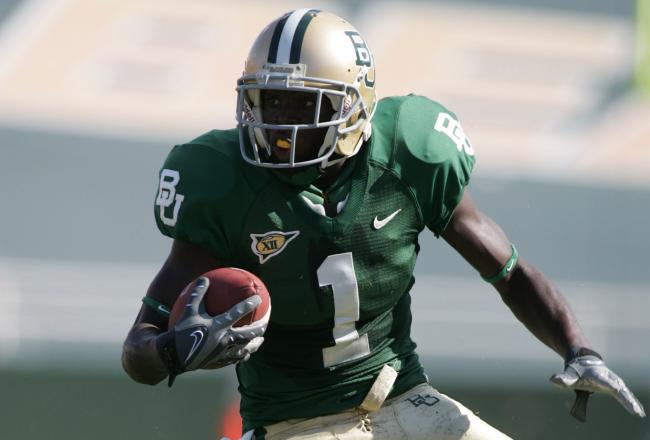 The Robert Griffin III era has turned the Baylor football program into a veritable pipeline of NFL talent. Griffin will join the league this year along with his No. 1 receiver, Kendall Wright. Wright actually started as a freshman in 2008 before RG3 took the helm, and set Baylor career receiving records far beyond what anyone had accomplished before his arrival. Wright is only 5'10", but he is solidly built and should be able stay outside a la Santonio Holmes or Steve Smith. He would also be lethal in the slot in the mold of Victor Cruz.
Scouting reports reveal that Wright is a complete player beyond limitations that come from his frame, functional strength and what he was asked to do at Baylor.
Strengths:
• Just average height but good bulk and a solid build
• Explosive athlete w/ great speed, quickness, burst
• Excellent agility and terrific change of direction skills
• Elusive and can be incredibly difficult to corral in space
• Dangerous vertical threat who can stretch the field
• Decent hands and does nice job of locating the ball
• Versatile and is able to excel both outside or in slot
• Tough and not afraid to work the middle or take a hit
• Super competitive and is very confident in his abilities
• Also offers potential as a return man on special teams
• Productive w/ lots of experience versus top competition

Weaknesses:
• A small frame with short arms and small hands
• Must work on polishing raw route running skills
• Will drop some passes due to poor concentration
• Is not very strong and will get pushed around
• Won't offer very much when it comes to blocking
Charlie Campbell, Walter Football:
Wright is very adept at getting separation downfield. He is very good at running go routes and stop-and-go routes. Even when cornerbacks give Wright a sizable cushion, he eats up the space quickly and gets onto corners before they expect. There weren't any defensive backs whom Wright played in 2011 that really held him down. Despite being undersized, Wright never missed a game with an injury during his collegiate career.
Matt Miller, Bleacher Report & New Era Scouting:
He has the production and experience that you like to see from a wide receiver. He has played through some mild injuries and is a tough competitor. He is versatile having played both outside and in the slot. Wright would be a very valuable weapon for any team. He will bring an ability to get behind the defense and blow the top off of coverages a lot, similar to what Titus Young has accomplished this year with the Lions. He has the mental toughness along with the ability to make an immediate impact at a position that usually requires time to develop.
Wright will be an instant impact rookie as a punt returner and slot receiver. He could start early in his rookie year depending on how much his offense asks of him in terms of diversity of routes. His speed and open-field running makes him the kind of player that a team finds ways to use even if they aren't ready to handle all of the responsibilities of a starter.
Long-term, Wright can be an extremely productive starting wide receiver who impacts the game in various ways. His ability to both threaten defenses deep and turn short catches into long gains will keep cornerbacks off balance and make him a player that they must always account for in their game plan. With a good quarterback, Wright could easily spend a long time among the top 10-20 most productive receivers in the NFL.
Pick Analysis:
I like this pick. Titans need more offensive playmakers, especially on the perimeter, and Wright fits the bill. Best case scenario is that he and Jake Locker team up to make one of the most explosive tandems in the AFC for years to come.
This article is
What is the duplicate article?
Why is this article offensive?
Where is this article plagiarized from?
Why is this article poorly edited?