2012 NFL Mock Draft: What Are Some Last-Minute Trades We Could See?
April 25, 2012

Kevin C. Cox/Getty Images
One of the most exciting parts of the NFL draft is seeing trades go down. Whether it's a team boldly moving forward to a player they are enamored with, or another team dropping down and being rewarded with more picks, trades make for extremely compelling television. 
Every mock draft will tell you where a certain player will go. This mock draft is different in that it will attempt to predict which trades go down on draft day. Along with all my picks for the first round, I will include several trades that I see happening on Thursday night.
1. Indianapolis Colts: Andrew Luck, QB, Stanford
It's already official: the Colts will get their new franchise quarterback in Andrew Luck. Colts GM Ryan Grigson has confirmed that his team will grab Luck, taking away all possible suspense from the first overall pick.
2. Washington Redskins: Robert Griffin III, QB, Baylor
Almost as much of a slam-dunk pick as Andrew Luck. The Redskins will get the draft's other elite quarterback prospect and will hope that he can finally give them some stability at the quarterback position.
3. Minnesota Vikings: Matt Kalil, OT, USC
I'll admit that this pick has the potential to end up differently. Vikings general manager Rick Spielman has been known to make unpredictable moves, and there have been trade talks heating up. Still, the right move has got to be taking Matt Kalil and locking down a tackle who can protect Christian Ponder.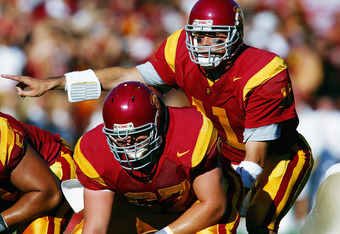 Donald Miralle/Getty Images
4. Cleveland Browns: Trent Richardson, RB, Alabama
The Browns really need someone, anyone who can bring some spark to their offense. Trent Richardson will give the Browns a workhouse back who finally brings some excitement to their otherwise dull offense.
5. Tampa Bay Buccaneers: Morris Claiborne, CB, LSU
Given Aquib Talib's recent troubles with the law and the abysmal state of their secondary last season, the Bucs will take the draft's top corner.
6. St. Louis Rams: Justin Blackmon, WR, Oklahoma State
Blackmon is a good fit for the Rams as they try to finally give Sam Bradford a valid threat at wide receiver.
7. *TRADE* New York Jets: Melvin Ingram, OLB, South Carolina 
This is where the draft's first trade comes in. The Jacksonville Jaguars have expressed interest in trading down so they can acquire extra picks. 
Who better to trade down to than the Jets? The Jets supposedly have expressed a desire to trade up and take Ingram, possibly to prevent the division rival Buffalo Bills from getting him. It's a pick that should pay off well, as Ingram can become a legitimate pass-rusher in Rex Ryan's 3-4 defense.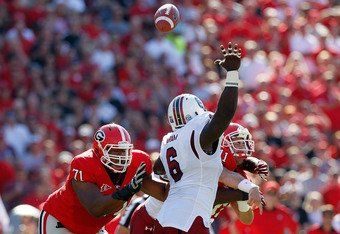 Kevin C. Cox/Getty Images
8. Miami Dolphins: Ryan Tannehill, QB, Texas A&M
It may be way too soon, but the Dolphins are going to pull the trigger on Ryan Tannehill as their new franchise quarterback. Blame the perpetually quarterback-starved Dolphins for taking this guy off the board at least 10 picks too early.
9. Carolina Panthers: Fletcher Cox, DT, Mississippi State
Great performances at the NFL combine and at his pro day workout have seen Fletcher Cox rise in many mock drafts. His ascent will go all the way to ninth overall, as he gives the Panthers a versatile defensive lineman who can help improve their woeful defense from last season.
10. Buffalo Bills: Stephon Gilmore, CB, South Carolina 
Cornerback is a major position of need for the Bills, so by taking Stephon Gilmore, the Bills will be able to bring some young blood into their aging secondary.
11. Kansas City Chiefs: Luke Kuechly, ILB, Boston College
The Chiefs get the draft's best linebacker and add another potential star to their defense alongside Tamba Hali and Eric Berry.
12. Seattle Seahawks: Quinton Coples, DE, North Carolina
Arguably the best defensive end in the draft, I think that Quinton Coples will be one of those players that will drop down the draft board thanks to questions about his speed. That will end, though, with Seattle swooping him up. 
13. *TRADE* New England Patriots: Mark Barron, S, Alabama
This is one of those blockbuster trades that will have the entire sports world talking. So how is it going down?
The Patriots are loaded with draft picks, so they have the ammunition needed to trade up to No. 13 to get Mark Barron. The Arizona Cardinals, meanwhile, could be swayed to trade down since several of their coveted offensive linemen will still be on the board. So the Pats swoop up and grab Barron just one pick before the Dallas Cowboys would have taken him.
14. Dallas Cowboys: Dre Kirkpatrick, CB, Alabama
The Cowboys are extremely taken aback after losing their ideal player in Mark Barron. However Jerry Jones is able to react quickly and get Barron's teammate, Dre Kirkpatrick, who can also fill a need in their secondary. 
15. Philadelphia Eagles: Dontari Poe, DT, Memphis
Defensive line is probably the Eagles' biggest need going into the draft. After failed attempts to trade up, they'll settle for Dontari Poe, who will drop down the draft board a bit as scouts look past his impressive combine performance and remember his uneven play during his college years.
16. *TRADE* Jacksonville Jaguars: Michael Floyd, WR, Notre Dame
By trading down, the Jaguars will ensure that they miss out on the draft's premier pass-rushers. So instead, they address another pressing need at wide receiver by taking Floyd at No. 16. 
17. Cincinnati Bengals: Whitney Mercilus, OLB, Illinois 
Another pass-rusher off the board. Whitney Mercilus will attempt to make the transition to OLB in the Bengals' 3-4 defense.
18. *TRADE* Arizona Cardinals: Riley Reiff, OT, Iowa
The Cardinals trade back up here to make sure they get an elite offense lineman. Although it would have been tempting for them to get someone like Michael Floyd, their biggest need is to fix their atrocious offensive line, and Riley Reiff should fit that need.
19. Chicago Bears: Chandler Jones, DE, Syracuse
Chandler Jones will try to come back from his severe knee injury in 2011 and make an impact on the Bears' defensive front.
20. Tennessee Titans: Dont'a Hightower, ILB, Alabama
This may seem early for Dont'a Hightower to go off the board, but the Titans know other teams are looking at Hightower, so they'll make their move and get him off the board quickly.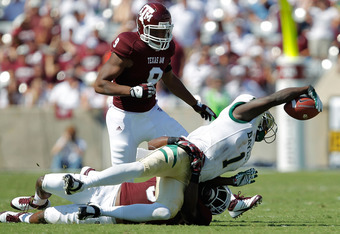 Sarah Glenn/Getty Images
21. Cincinnati Bengals: David DeCastro, G, Stanford
For their second first-round pick, the Bengals go to the offensive side of the ball. They get David DeCastro to help protect Andy Dalton from the fierce defensive fronts of the AFC North.
22. Cleveland Browns: Kendall Wright, WR, Baylor
So it looks like Cleveland still wants to start Colt McCoy at quarterback. If so, they really need weapons for him, and with no standout receivers currently on their roster, Kendall Wright should make an instant impact for them.
23. Detroit Lions: Janoris Jenkins, CB, North Alabama
He may be the best cornerback in the draft, but character issues will cause Janoris Jenkins to drop. The Lions won't be afraid, though, and they'll add him with the hope that he'll become a shutdown cornerback.
24. *TRADE* San Diego Chargers: Cordy Glenn, OG Georgia
After dropping down from No. 18, the Chargers trade up again to ensure they get an impact offensive lineman.
25. Denver Broncos: Michael Brockers, DT, LSU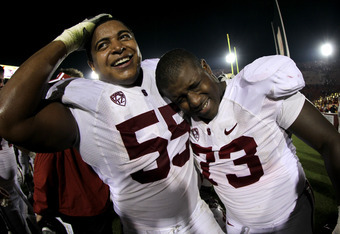 Stephen Dunn/Getty Images
Contrary to public opinion, the Broncos' resurgent defense was a major reason for their AFC West title in 2011. The defense gets that much scarier with Michael Brockers on the defensive line.
26. *TRADE* Cleveland Browns: Jonathan Martin, OT, Stanford
I'm going to be bold here and say that the Houston Texans trade out of the first round. They are one of the most solid teams in the NFL, with no major weaknesses, so they can afford to stockpile some draft picks.
The Browns don't have that luxury. Everyone from the coaches to the quarterback is on a very short leash this season, even with the brutal schedule. Expect the Browns to go all-in and address three major offensive holes in the first round, ending with Jonathan Martin to address their tackle issues.
27. *TRADE* Pittsburgh Steelers: Peter Konz, C, Wisconsin 
The Steelers will have missed out on their ideal first-round pick in Dont'a Hightower. So they return the favor by taking the hated Baltimore Ravens' most coveted prospect, Peter Konz, just two picks before they go.
With Maurkice Pouncey locked in at center, the Steelers will hope that they can switch Konz over to the guard position.
Kevork Djansezian/Getty Images
28. Green Bay Packers: Nick Perry, DE, USC
Nick Perry is a promising prospect who is versatile enough to play at defensive end or to even line up outside of Clay Matthews at linebacker.
29. Baltimore Ravens: Harrison Smith, FS, Notre Dame
Ed Reed could be playing his final season in Baltimore, so now is the time for them to draft his successor. The four-year standout from Notre Dame could be ready for that role by then.
30. *TRADE* Jacksonville Jaguars: Courtney Upshaw, OLB, Alabama
The San Francisco 49ers are a deep team with no pressing needs. They could trade out of the first round, especially as the Jaguars move up to take advantage of a free-falling player.
That will be Alabama's Courtney Upshaw, who will unfortunately be passed over in favor of several of his teammates at Alabama. The Jags need a pass-rusher in the worst way, so they will pounce after seeing how far Upshaw falls.
31. New England Patriots: Kevin Zeitler, G, Wisconsin 
Guard is a position for need, and Kevin Zeitler is one of the highest-rated players remaining.
32. *TRADE* Buffalo Bills: Stephen Hill, WR, Georgia Tech
The New York Giants will end the first round by trading out. In their place, the Buffalo Bills will come up and address their need for a wide receiver to start next to Steve Johnson. Stephen Hill is arguably the fastest player in the draft, and he should fill that void for them.