2012 NFL Mock Draft: Forecast and Analysis of Round 1
April 25, 2012

Kevin C. Cox/Getty Images
The Minnesota Vikings are now on the clock.
We already know Andrew Luck is going No. 1 to the Indianapolis Colts and Robert Griffin III is going No. 2 to the Washington Redskins.
The Vikings hold the keys to the entire first round of the 2012 NFL draft.
GM Rick Spielman and the Vikes have three legitimate options with one darkhorse option: draft USC OT Matt Kalil, draft LSU CB Morris Claiborne, trade the pick away or draft Oklahoma State WR Justin Blackmon.
Everyone thought Kalil was a no-brainer, but it seems Claiborne is very much on Minnesota's mind. And, when the clock starts ticking, there is no telling what type of deal they may get.
So let's put everyone on the clock and see what we get.
1. Indianapolis Colts (2-14): Andrew Luck, QB, Stanford
The Colts have long been working on their other draft picks.
2. *Washington Redskins (5-11): Robert Griffin III, QB, Baylor
Much of the same goes for Washington, who needs to hit on one of their other picks to make something happen.
3. Minnesota Vikings (3-13): Matt Kalil, OT, USC
Even with all the other scenarios, Kalil is the still best fit for the Vikes. He can come in immediately and help their two most important players, Christian Ponder and Adrian Peterson, starting on Day 1.
4. Cleveland Browns (4-12): Trent Richardson, RB, Alabama
The best thing for the Browns to do is add the one player who'll make the biggest impact and that is Trent Richardson.
They lack an elite playmaker on the offensive side of the ball and don't have a trustworthy No. 1 rusher either.
Richardson fills both those needs and then some as a bell-cow back and playmaker.
5. Tampa Bay Buccaneers (4-12): Morris Claiborne, CB, LSU
The Bucs have eyes for Claiborne and Richardson only at No. 5, and if they're both gone Tampa Bay will do everything humanely possible to trade out.
6. *St. Louis Rams (2-14): Justin Blackmon, WR, Oklahoma State
There are plenty of options for the Rams, but are they really going to pass on a proven playmaker for Sam Bradford?
7. Jacksonville Jaguars (5-11): Stephon Gilmore, CB, South Carolina
The cornerback's stock has continued to rise throughout the draft process, and he's all but a sure-fire Top 10 pick at this spot. He smells of a Jags pick, too.
8. Miami Dolphins (6-10): Ryan Tannehill, QB, Texas A&M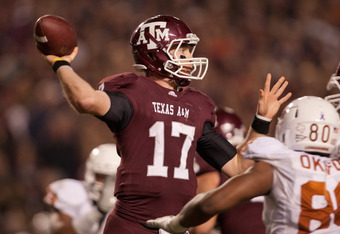 Darren Carroll/Getty Images
The Dolphins need a quarterback, but they don't need to draft Tannehill here. This pick is a complete toss up after they made such a mess of things in the offseason.
9. Carolina Panthers (6-10): Fletcher Cox, DT, Mississippi State
The Panthers need a defensive playmaker and Cox has great upside with even better versatility.
10. Buffalo Bills (6-10): Michael Floyd, WR, Notre Dame
Pairing up a proven touchdown-scorer like Floyd with Stevie Williams will finally give the Bills an offense to fear again.
11. Kansas City Chiefs (7-9): David DeCastro, OG, Stanford
Scott Pioli would like to see Floyd drop here, but DeCastro is a bigger help to them. It's hard to justify the selection of a guard this high, but with Jamaal Charles returning, they'll get the most out of their first-round pick if they can help their most important player.
12. Seattle Seahawks (7-9): Quinton Coples, DE, UNC
If Coples doesn't go here, he'll fall down the board a bit.
13. Arizona Cardinals (8-8): Luke Kuechly, LB, Boston College
Kuechly could go as high as No. 7, but it is hard to see him lasting any longer than No. 13.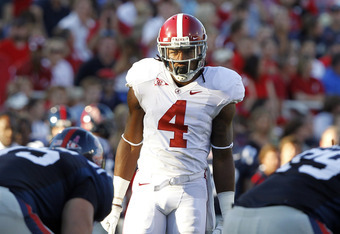 Butch Dill/Getty Images
14. Dallas Cowboys (8-7): Mark Barron, S, Alabama
One of the hottest players in the draft. The way Barron's stock has soared in the past week, it wouldn't be surprising at all to see a team move up into the Top 10 to land him.
15. Philadelphia Eagles (8-8): Michael Brockers, DT, LSU
Philly has been the subject of a possible move up the board, but they'll be happy to see Brockers on the board here.
16. New York Jets (8-8): Melvin Ingram, DE/OLB, South Carolina
Gang Green needs a pass-rusher, and with Courtney Upshaw falling down the board a bit, Ingram slides in to give Rex Ryan the weapon he wants.
17. Cincinnati Bengals (via OAK 8-8): Dre Kirkpatrick, CB, Alabama
A potential superstar with great upside, Kirkpatrick fits in with what the Bengals need.
18. San Diego Chargers (8-8): Chandler Jones, DE/OLB, Syracuse
A rising star with tremendous upside, Jones is the type of player the Chargers could fall for.
19. Chicago Bears (8-8): Cordy Glenn, OG, Georgia
With so much versatility, it will be hard for the Bears to pass on the massive O-lineman from Georgia. Glenn gives them someone who can start at right tackle, but can also kick inside at guard and make a difference.
20. Tennessee Titans (9-7): Nick Perry, DE, USC
The Titans can make something out of the promising USC pass-rusher as well as anyone in the league.
21. Cincinnati Bengals (9-7): Kendall Wright, WR, Baylor
Putting Wright opposite A.J. Green would give the Bengals a dangerous receiving duo for Andy Dalton to grow with. This is a great pick for now and the future.
22. Cleveland Browns (via ATL 10-6): Stephen Hill, WR, Georgia Tech
This is a potential-based pick, but Hill continues to creep up the board, and his combination of size and potential are beyond intriguing.
The Browns already landed one star playmaker in Richardson. Why waste this pick on a QB like Weeden when they can give Colt McCoy another weapon?
23. Detroit Lions (10-6): Riley Reiff, OT, Iowa
The Lions might want to add a pass-rusher here, but Reiff is a great value and gives them a potential starter at tackle for quite some time. Plus, the best rushers available are likely better fits in a 3-4 defense.
24. Pittsburgh Steelers (12-4): Dontari Poe, DT, Memphis
The Combine darling has seen his stock drop in the past week, but the Steelers couldn't be happier that he's on the board.
25. Denver Broncos (8-8): Devon Still, DT, Penn State
With Fletcher and Brockers well gone, and Poe going one pick earlier, the Broncos add a proven run-stopper in Still.
26. Houston Texans (10-6): Rueben Randle, WR, LSU
The Texans have plenty of options, but Randle can come in immediately and provide a boost opposite Andre Johnson.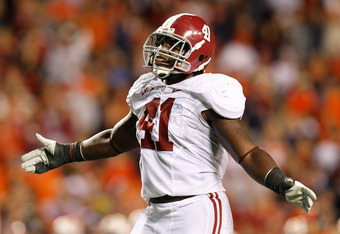 Kevin C. Cox/Getty Images
27. New England Patriots (via NO 13-3): Courtney Upshaw, DE/OLB, Alabama
The latest buzz around Upshaw is that he's tumbling down the board because of his lack of athleticism or defined position.
But he got the job done for Nick Saban and that will work for Belichick, especially this late in the first.
28. Green Bay Packers (15-1): Shea McClellin, DE/OLB, Boise State
A potential pass-rushing threat opposite Clay Matthews Jr. is key for the Packers at No. 28. McClellin has risen up the draft board steadily and fits well here.
29. Baltimore Ravens (12-4): Dont'a Hightower, LB, Alabama
Since Poe fell to the Steelers, the Ravens get lucky enough to land a potential replacement for Ray Lewis.
30. San Francisco 49ers (13-3): Kevin Zeitler, OG, Wisconsin
The 49ers have been linked to a number of offensive playmakers here, but Kevin Zeitler is an immediate starter for them at guard.
31. New England Patriots (13-3): Kendall Reyes, DT, Connecticut
A likely trade out spot for the Pats, but if they sit tight, they can fill another need in their front seven.
32. New York Giants (9-7): Jonathan Martin, OT, Stanford
Big Blue could go after two Stanford players here, Martin or Coby Fleener, but landing a potential starting left tackle takes precedent over a pass-catcher here.
The Giants are notorious for taking best player available regardless of position of need. 
*Rams trade No. 2 overall pick to Redskins for 2012, 2013, 2014 first-round picks and 2012 second-round pick.