Mayweather Can't Resist Talking About Pacquiao While Promoting Cotto Fight
April 26, 2012

Chris Trotman/Getty Images
Barely a week before colliding with Puerto Rican boxing idol Miguel Cotto, unbeaten American WBC welterweight champion Floyd Mayweather can't resist talking about future foe Manny Pacquiao.
Mayweather is facing Cotto at the MGM Grand Garden Arena on May 5, while Pacquiao collides with Palm Springs boxing sensation Timothy Bradley, who remains undefeated in 28 professional fights.
As his fight with Cotto draws near, Mayweather has again started talking more and more about Pacquiao instead of his opponent, Cotto, who appears to be more focused on his preparations for the fight. 
It may be recalled during the last leg of the press tour to promote his upcoming fight with Cotto, Mayweather said he's focused on his May 5 fight and not on Pacquiao.
But in a recent interview on "Speaking Out," a half-hour talk with respected author Michael Eric Dyson, a professor at Georgetown, Mayweather said his offer of $40 million guaranteed purse to face Pacquiao won't change.
Floyd told Dyson he indeed called Pacquiao, and they chatted. He said Pacquiao wanted a 50-50 split. 
"My offer it won't change. I'm not budging. Forty million is what you are getting. Either you take it or you leave it...Manny Pacquiao needs Floyd Mayweather, Floyd Mayweather don't need Manny Pacquiao," he said.
Mayweather is hoping a fight with pound-for-pound king Manny Pacquiao can still be made, but was apprehensive the fight could still be a viable option after June 9 when Pacquiao squares off with Bradley. He said Pacquiao will have a hard time with the unbeaten Palm Springs star.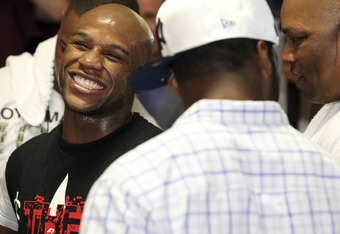 Jeff Bottari/Getty Images
"We wanted the Pacquiao fight for May 5th, but it didn't happen, so there's nothing I can do. You know, like I said before, I'm always looking to give the fans what they want to see, so, I'm pretty sure Pacquiao has a tough task on his hands with the young fighter, I don't really know his name [Timothy Bradley], but I know the fighter can box a little bit," Mayweather told fighthype.com during his open workout.
Meanwhile, Mayweather has included yoga for the first time in his training. He said he's been interested with yoga in for the last five years, but only found this time to do it. 
"I think I can push myself and perform a lot better with yoga," Mayweather said. 
In an interview during the media day in Las Vegas, Mayweather said,  his fight with Cotto won't go the distance.
"This fight won't go the distance," Mayweather said. "He's coming in for the kill and I'm going in there for the kill. This is boxing, this is the hurt business, it's about excitement and that's what I'm here to do."
Rapper Curtis "50 Cent" Jackson joined Mayweather during the media day. 50 Cent is one of Mayweather's closest friends and business partner.