NBA Playoffs 2012: Complete Guide to Beating the L.A. Lakers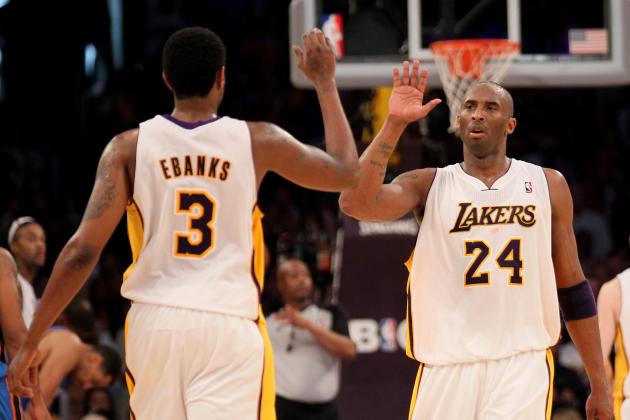 Stephen Dunn/Getty Images

While the Los Angeles Lakers have endured their share of criticism this year, they've still compiled a respectable record (currently 41-24) and will likely secure the three-seed in the Western Conference.
Overall, they've had a handful of positive developments this season.
Andrew Bynum has become a superstar-caliber center and will arguably be the most formidable big man in the playoffs (now that Dwight Howard is out for the season). Kobe Bryant, despite a handful of atrocious shooting performances, is tied with Kevin Durant for the league's scoring title (27.9) and appears poised for another deep playoff push. And the addition of Ramon Sessions has given the Lakers a versatile point guard who can create and distribute.
What's more, the team appears to be buying into coach Mike Brown's schemes, especially after their emphatic double-overtime victory over the Thunder on Sunday.
This is all to say that the Lakers are going to be a tough out come the playoffs. Their experience coupled with their desire to avenge last year's playoff embarrassment (when they were swept by the Dallas Mavericks) make them as dangerous as anybody in the Western Conference.
Opponents of the Lakers must be decisively strategic if they're going to oust the 2012 Lake Show. The Lakers surely won't bite the dust as easily as they did last year, so what will it take to topple this year's squad?
Here's a guide to thwarting the Lakers' attack.
Begin Slideshow

»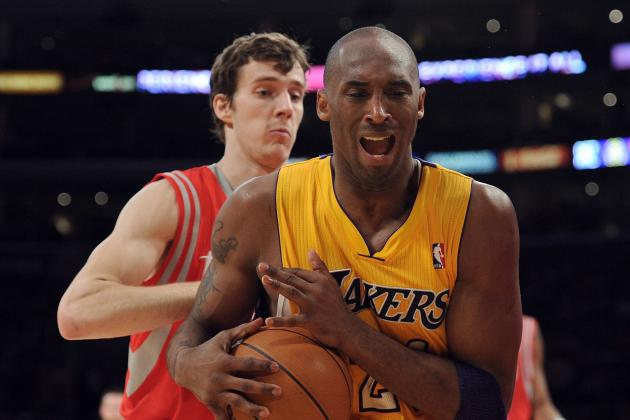 Harry How/Getty Images

Kobe Bryant is remarkable. We all know that.
But forcing him to single-handedly carry this team could spell trouble for the Lakers. How can opponents ensure that this happens?
The most easiest way to put excessive pressure on Bryant is to consistently double-team Andrew Bynum and Pau Gasol in the post. If the Lakers struggle to get Bynum and Gasol involved, Kobe will be forced to put the team on his back. He certainly has the capability to explode for a 40-plus point performance, but he's also shown his tendency to have off-nights, in which he may tally over 20 points but shoot a dismal percentage.
Opponents of the Lakers should be content to allow Bryant to play like this. Furthermore, limiting the touches of Bynum and Gasol puts more pressure on the Lakers' role players. And let's be honest, their roster is rather weak after their core of Bryant, Gasol, Bynum and Sessions.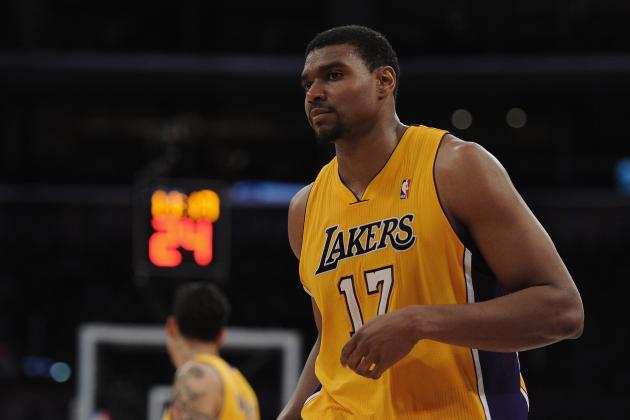 Harry How/Getty Images

While Andrew Bynum's career has come to life in the past year, he's also still shown flashes of immaturity.
He appears to still be at a stage where opponents can successfully "get in his head."
There's no need for teams to play dirty with Bynum, but playing highly physically with him is a wise idea. Bynum is likely to become easily frustrated, which will then lead to foolish shots, frustration fouls on defense and an overall performance that is substandard to what he's produced throughout this season.
By no means is this strategy guaranteed to work successfully, but it's worth a shot. Opponents would be wise to play overly aggressively with Bynum and even use scrub big men to use up some fouls in antagonizing him.
This tactic could not only limit Bynum's game offensively, but it could also lead to him mentally disengaging at times, which would be highly costly for the Lakers.
Stephen Dunn/Getty Images

Ramon Sessions has given the Lakers an admirable threat at the point guard position. He definitely has much more in his repertoire than the aging Derek Fisher, who was Kobe's backcourt mate for years.
What Sessions doesn't possess is any playoff experience. Fisher was rather limited offensively, but over the years he did come through at crucial stages in the playoffs.
Can Sessions do this? His talents exclaim "yes," but we all know the playoffs are a completely different animal. Opposing teams would be wise to place pressure on Sessions to make key plays, particularly late in ball games. Opponents should seek to take the ball out of Kobe's hands during pivotal possessions and force Sessions to make plays.
This could always backfire, as Sessions could become the Lakers' newest hero, but there's always wisdom in challenging a player who's not playoff-tested.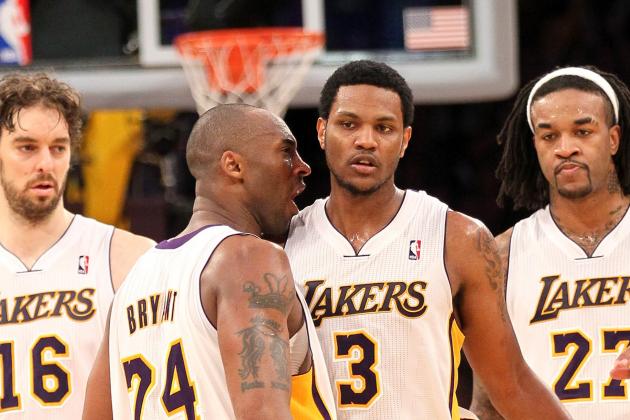 Stephen Dunn/Getty Images

While players such as Jordan Hill and Steve Blake have notched stellar performances recently, the Lakers are undeniably lacking in depth.
If opposing teams can attack the paint and potentially get Bynum and Gasol in foul trouble, forcing the Lakers to go to their bench, they could be in trouble.
No matter what, opponents should seek to play extra physically with the Lakers' core players and in the process, force their bench players to emerge.
The majority of the Lakers' Western Conference opponents (San Antonio, Oklahoma City, L.A. Clippers and Memphis) are deeper and these teams should seek to expose this weakness in a series with the Lakers.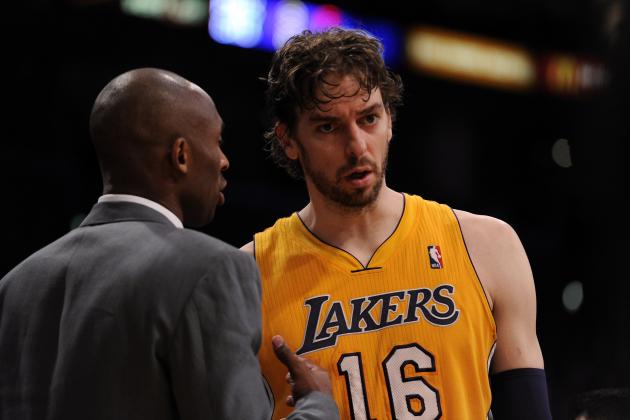 Harry How/Getty Images

There's no easy strategy to beating the Lakers, namely because they possess Kobe Bryant, and Andrew Bynum and Pau Gasol are arguably the best big man duo in the league.
But these strategies have the potential to cause headaches for the Lakers.
Don't expect these tactics to work in the Lakers' first round series, because it's highly unlikely that the Lakers will bow out early. But teams like San Antonio, Oklahoma City, Memphis and even the local L.A. Clippers could pose a danger to the Lakers if they creatively execute these plans.
What do you think? What's the best way to stop the 2012 Lakers?
Or, are they simply a loaded bunch who will prove too difficult to stop?
Share your opinion below!