Darius Fleming: 6 Biggest Strengths and Weaknesses of 2012 NFL Draft Prospect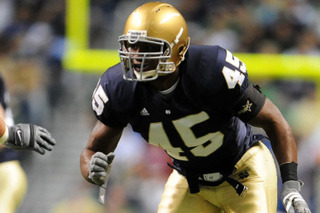 Darius Fleming arrived at Notre Dame in 2008 as a highly-touted prospect from Chicago.
He is now leaving Notre Dame, four years later, with the hopes of being a late-round selection in this month's NFL draft.
Fleming was a solid contributor for the Irish over the past four seasons, but he never quite lived up to the lofty expectations that the program had for him.
Known as an above-average pass-rusher, Fleming also has many aspects that he needs to improve in order to make it at the NFL level.
Let's go ahead and break down six strengths and weaknesses of Darius Fleming's game.
Bleacher Report Style!
Begin Slideshow

»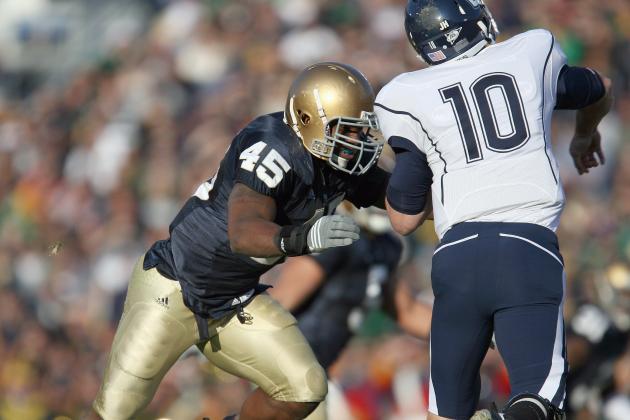 Jonathan Daniel/Getty Images

Fleming arrived at Notre Dame in 2008 as a linebacker/defensive end hybrid and eventually settled on outside linebacker as his go-to position.
But the Irish liked him at both spots because of his ability to rush the passer from the outside. Fleming has great size, but what makes him so intriguing to NFL scouts is that he also has quickness and a strong burst off the line to get to opposing quarterbacks.
Fleming is a very good lateral mover and is aggressive in pursuit once he sees an opening and goes for it.
A total of seven tackles for a loss and 3.5 sacks might not be eye-popping numbers for a defensive end, but it is solid for an outside linebacker.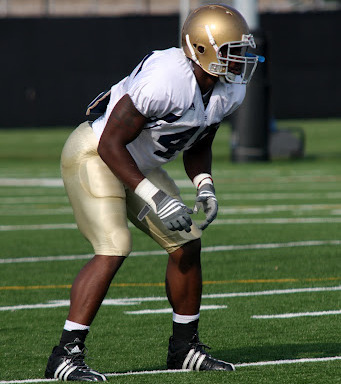 To put it as nicely as possible, Darius Fleming is not very good at dropping back into coverage. In fact, that very aspect of his game might make the difference in him being selected in the middle rounds of the draft to being a late-round selection.
Fleming doesn't have great speed and often looks lost at times when called upon to cover opposing tight ends or slot receivers.
The bottom line here is that this is a guy who can be a liability in coverage, which means that he would best be suited in a 3-4 defense where the outside linebacker is primarily used as a rush end.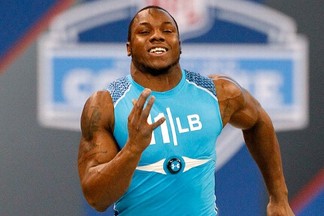 Darius Fleming may not be the most skilled outside linebacker in this year's draft class, but he is certainly one of the strongest.
Weighing in at 250 pounds, Fleming has an ideal body build for an NFL-ready linebacker. He is able to use that strength to bull rush tight ends and get to opposing quarterbacks.
Fleming put up a total of 27 reps on the bench press at this year's NFL Combine, which was the sixth highest total among linebacker prospects in this year's draft class.
You can't teach strength, and this guy has plenty of it.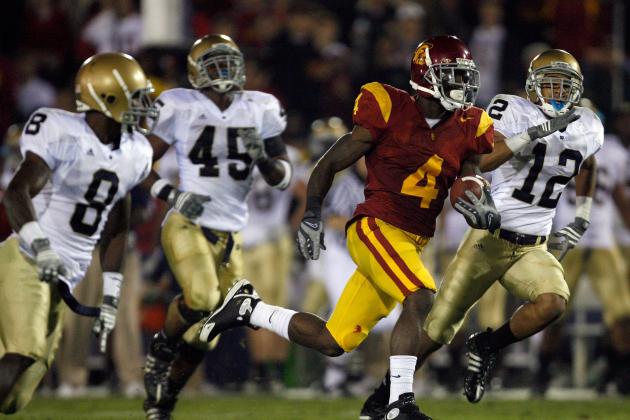 Harry How/Getty Images

Fleming loves to go after opposing quarterbacks, but for some reason, he really struggled in stopping the run game.
This aspect of his game becomes most noticeable when teams would run inside against Notre Dame's defense. Fleming is better when just setting the edge to keep the play inside, but when asked to make a tackle when facing up to his man, it wasn't always pretty.
Fleming often shows some tightness in his hips and freezes at times in running situations.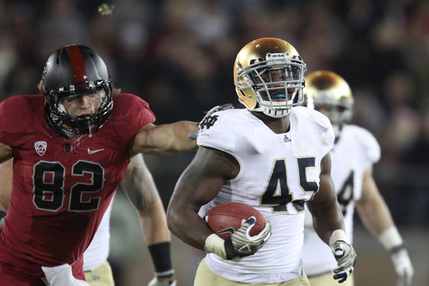 Darius Fleming isn't the fastest or quickest linebacker in this year's NFL draft, but he is one of the most athletic players.
Fleming can move around the field and has the skill set to play multiple positions. He has the strength of an inside linebacker, the pass-rushing abilities of a defensive end and the body control of an outside linebacker.
Fleming can even catch the ball and run with it as he showed after his 34-yard interception return against Stanford this past season.
Fleming's athleticism should land him a spot somewhere in the NFL.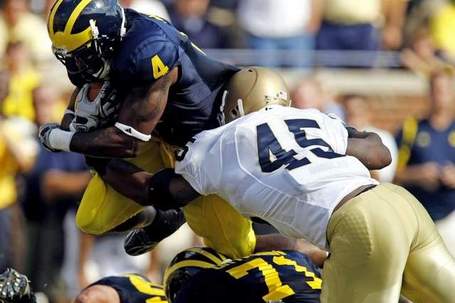 Being an independent football program, Notre Dame doesn't play the toughest schedule in the world by any means. But the 2011 season's schedule was not an easy one.
When looking at the Fighting Irish's schedule, their toughest games came against Michigan, Michigan State, USC, Stanford and Florida State.
But in those five games, Fleming had just 18 total tackles and zero sacks. That's an average of less than four tackles per game.
Fleming did have a memorable interception in that Stanford game, but then he did next to nothing in the Irish's bowl game against Florida State, recording just one tackle.
Scouts would like to see some more consistency from this guy if he is going to be playing on Sundays in the foreseeable future.