Should Drew Brees Consider Leaving the New Orleans Saints?
April 24, 2012

Jed Jacobsohn/Getty Images
It might be time for Drew Brees to consider leaving New Orleans.
A scandal on top of another scandal, a banished head coach, the loss of draft picks and a flighty, noncommittal owner should, but probably won't, make the superstar quarterback think about exiting the Big Easy.
At the moment, Brees is the most valuable commodity in the NFL. Few, if any, players are more productive on the field; none are more important off of it. He's the stalwart, perfectly mannered face of a sinking franchise that just months ago was everyone's second-favorite team.
Since arriving in post-Katrina New Orleans, he's done wonders for the city, its favorite franchise and home state. Without Brees, who knows if the Saints would even still be in town?
There should already be a statue of Brees outside of the Superdome. You know what, there should be two: one of him holding his son after winning the Super Bowl, another of him giving one of his patented pregame pep talks.
No athlete in New Orleans or Louisiana history has achieved anywhere near the success of Brees. From 1967 to 2005, the Saints laid claim to a pathetic one playoff victory and just five postseason appearances.  During Brees'—and to be fair, exiled head coach Sean Payton's—six seasons in the Big Easy, the Saints have won five playoff games, including Super Bowl XLIV.
For all of his good work, what does Brees get? Franchised. The tag is a one-year, $16 million slap in the face for a 33-year-old looking at what is probably his final deal.  
It's hard to say that kind of money is an insult, but in Brees' case, it is. He's one of the few elite quarterbacks in the NFL and deserves to get paid like one—not only this year, but for the next three or four.
Franchise is a four-letter word for Brees. The San Diego Chargers franchised the former second-round pick in 2005 for $8 million after he led the Bolts to a 12-4 mark and AFC West championship the previous season, while being named a Pro Bowler and NFL Comeback Player of the Year. Having torn the labrum in his right shoulder during the final game of the 2005 season, the team disposed of Brees without the security of a long-term deal for Philip Rivers.
Saints owner Tom Benson and his cronies should have known that franchising Brees was like shoving a knife into his back or, more appropriately, his right shoulder. Yet instead of continuing negations in good faith, they slapped the tag on Brees in bullish fashion. To make matters worse, Benson purchased the nondescript New Orleans Hornets from the NBA for $338 million earlier this month. Brees or the Hornets, which do you think will make Benson more money?
Maybe the Saints do the right thing and ink their star signal-caller to a multi-year contract. Even then, is New Orleans where Brees should be? Payton can return after this season, but what effects will a year roaming the football wilderness have on his coaching abilities? How diminished, if at all, will they be?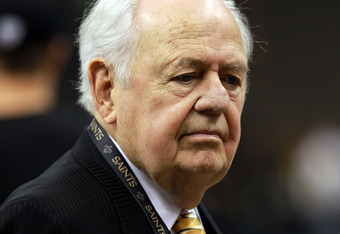 Ronald Martinez/Getty Images
Uncertainty surrounding upcoming drafts should be an ever-growing concern. New Orleans has already lost its 2012 and 2013 second-round picks due to "Bountygate." What if the wire-tapping allegations and current accusations against general manager Mickey Loomis turn out to be true? How many more selections could be forfeited?
The Patriots were docked their original 2008 first-round pick after "Spygate;" it's likely that NFL commissioner Roger Goodell would come down even harder on the shady Saints, taking maybe two or more invaluable first-round selections. From there, the Saints' only option would be free agency, and how many top-shelf talents are likely to sign with an organization on double-secret probation and without a handful of its most important draft picks for the foreseeable future?
Brees remaining in New Orleans would be the best outcome for the team, city and league. But is it the best thing for Brees?