2012 NFL Draft Predictions: High-Profile Prospects Who Will Go Too High
April 24, 2012

Bob Levey/Getty Images
The 2012 NFL Scouting Combine, game tapes and Mel Kiper's Big Board are the only things that NFL franchises have to reference when drafting a player.
Sometimes it doesn't always work out as expected and they get a JaMarcus Russel or even a Ryan Leaf.
This year it is no different. There will be a player who is drafted that just won't live up to the hype.
These players might not fall completely on their face, but they will definitely be drafted too high.
Ryan Tannehill
The hype behind Ryan Tannehill is at an all-time high as the draft approaches. With the endorsement of Miami Dolphin-great Dan Marino, expect the Dolphins to draft Tannehill with the No. 8 pick.
That's way too high for a quarterback that had only an average career for Texas A&M.
Tannehill is not going to come to Miami and change anything in his first year. Matt Moore will most likely be taking the snaps when the season starts, so why take a quarterback so high if he is going to be on the bench for most of the year?
 A top-10 pick is supposed to be an impact player immediately. With some time in the league, Tannehill will develop as a solid quarterback. But, if he is thrown into a starting role too early, it could be his downfall.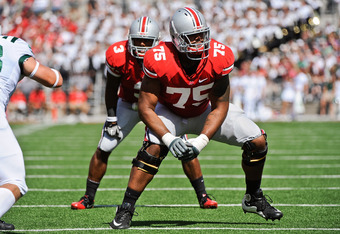 Jamie Sabau/Getty Images
This year's draft is filled with a plethora of talented offensive linemen, including Mike Adams. Adams has massive size and weight to anchor an offensive line, but he just doesn't have first-round potential.
The former Buckeye never really stood out as a run-blocker in his years at Ohio State, which could really hurt him in the long run.
The thing that jumps out to NFL scouts is his size and the way he can protect the passer.
Another thing that has haunted Adams is his off-the-field decisions. He is now going to be under bigger lights, and if he couldn't handle the spotlight at Ohio State, I don't see him adjusting smoothly in the NFL.
Dontari Poe
The combine can elevate a player's draft stock so much, and Dontari Poe is a prime example. Poe definitely had a standout performance in Indianapolis, where he blew scouts away with his athleticism. 
The thing is that the combine doesn't always translate to the field on Sundays, and that might be the case with Poe. This past season at Memphis, Poe had a very average season where he recorded only one sack.
Teams are going to be so blinded by Poe's combine performance that they will draft him way higher than deserved.
Hopefully when the 2012 season starts, these players will prove me wrong and will be standouts. For now, though, these players are showing up way too high on draft boards.