Saints Spygate: Latest Black Mark for Saints Proves NFL Has No Boundaries
April 24, 2012

All the New Orleans Saints have done is merely an extension of the New England Patriots' "Spygate" back in 2007.
After reportedly setting up a bounty system to injure opponents from 2009 to 2011, the Saints were found to have more dirt under their fingernails on Monday. ESPN's Outside the Lines detailed sources saying general manager Mickey Loomis had an electronic device in his Superdome suite that was re-wired to allow him to eavesdrop on opposing coaches for nearly three seasons.
Loomis, who is already suspended for the first eight games of next season after "Bountygate," reportedly had the device available for most of the 2002 season and all of the 2003 and 2004 seasons.  
And although ESPN was not able to confirm if Loomis ever used the device, having it in his suite in the first place shows how far teams will go to gain a competitive advantage.
To think Spygate wouldn't even measure up to the Saints' latest display, years down the line. If proven true, Spygate II would be even more egregious than Spygate I. Loomis reportedly had the ability to listen to an opposing teams' offensive and defensive coaches by simply flipping a switch on the device.
It's become the Wild West in the NFL: Anything goes. No longer is watching game tape good enough for some teams—they must cheat and be slimy and sneaky to come out on top.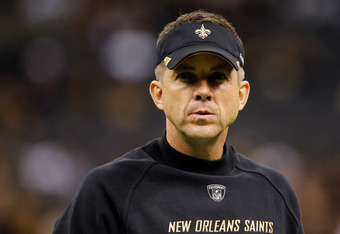 Chris Graythen/Getty Images
Then again, we could have seen this coming. As the stakes get higher and the rich get richer, there is always room for controversy. Imagine if the Patriots hadn't been caught taping the New Jork Jets' coaches in the Sept. 7 game. How much longer would that have gone on? If you say it was a one-time thing, you are blind. The Patriots would have continued doing that as long as they could get away with it.
Same goes for the Saints. Their own version of Spygate is not only more serious than the Patriots', they actually set up a system to injure the stars of the NFL. Imagine how many players would have fallen needlessly moving forward if the Saints hadn't been caught.
Hopefully this kind of nonsense will end if the NFL continues bringing down harsh penalties on the offenders, but, the reality is, there will be more incidents just like this, because organizations are always looking for that competitive advantage.
Follow me on Twitter. We can talk about the NFL together.