Ryan Tannehill: The Ryan Leaf of the Decade?
April 24, 2012
Darren Carroll/Getty Images
Ryan Tannehill is a large quarterback prospect whose draft stock has risen over the past few months. With an impressive combination of intelligence, size, strength and mobility, the former Texas A&M Aggie strikes similarity to the NFL's biggest draft bust ever—Ryan Leaf.
Tannehill is considered the No. 3 quarterback in the 2012 NFL draft class behind Stanford's Andrew Luck and Baylor's lone Heisman Trophy winner Robert Griffin III. Many experts project Tannehill to be drafted by the Miami Dolphins, who have the No. 8 pick overall.
With only one full season as quarterback (he converted from wide receiver) at the college level, I honestly believe Tannehill will have an excruciating transition to the level of play in the NFL, just as Leaf did.
Let's compare Tannehill to Leaf from an NFL scout's stand point.
Ryan Tannehill: 6'4", 221 Pounds; Scouting Report by Chad Reuter.
Accuracy: "Very good accuracy in the short passing game puts ball on the numbers or in a place where receiver can make a play after the catch, also puts some zip on shorter to intermediate throws and places the ball to the outside."

Arm Strength: "Possesses an NFL arm. Gets the ball from one hash to the opposite sideline in a hurry. Has the zip to hit tight windows on short and intermediate throws. Tight spiral aids velocity."

Setup/Release: "Inconsistent release, at times flipping the ball out quickly like Philip Rivers and winding up on other throws."

Reading Defenses: "Sees the field very well when the play breaks down and occasionally changes plays at the line, but needs work recognizing coverages.Needs to be cognizant of blitzes and outside pressure, puts himself (and the ball) in danger too often by failing to see late comers and secondary rush. Stares down receivers too often, NFL-caliber defenders close on his passes to create turnovers."
Ryan Leaf: 6'5", 235 Pounds, Scouting Report by CNN/SI
 "Leaf is a physically imposing QB with great size and strength....he is very sturdy and durable in the pocket, and is a surprisingly good athlete for his size...He has a strong arm and shows good touch, and can change up the speed on his passes...There are no physical or athletic limitations to hold Leaf back from becoming a great NFL QB. There is a huge upside with Leaf, and it is conceivable that he could be one of the best young QB's in the game in 2-3 years."
My Analysis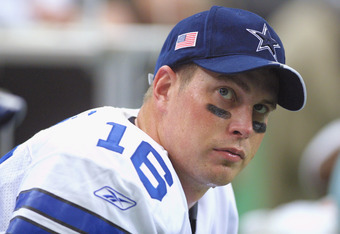 Scott Halleran/Getty Images
Now, I can agree with the fact that it is way too early to say Ryan Tannehill will be a bust, but I just see Ryan Leaf in Tannehill (except Tannehill is and will always be more mature than Leaf). Tannehill showed inconsistency throughout the 2011 season against ranked Big 12 teams. In the loss against No. 3 Oklahoma State, Tannehill went 28-for-47, throwing for 309 yards, two touchdowns and three costly picks. The next week against No. 5 Arkansas, Tannehill once again struggled, throwing 25-for-35 for 247 yards and a pick.
Oklahoma State's defense finished 113th in passing yards allowed (out of 120 FBS teams) and Arkansas finished in 32nd. Tannehill struggled against Texas and Texas Tech last season also, and they ranked 49th and 47th respectively.
With Tannehill's struggles against a relatively weak Big 12, how in the world can he excel in the NFL? Ryan Leaf was the quarterback for the Washington State Cougars. Leaf's 1997 Cougars played in a pretty decent Pac-10. They beat a tough UCLA team early in the year and went on to beat No. 23 USC, No. 20 Arizona State and No. 17 Washington before losing to No. 1 Michigan in the Rose Bowl.
Unlike Tannehill's performance last year, Leaf did not struggle in the 1997 season. Leaf was a force in each game, averaging over 330 yards passing and 2.8 touchdowns with 0.9 interceptions per game. Leaf put up video-game numbers while Tannehill averaged 288 yards per game with 2.2 touchdowns and 1.1 interceptions in 2011. Tannehill also had a much easier schedule than Leaf did last year.
Stat Comparison
Ryan Tannehill
3,744 passing yards, 29 touchdowns and 15 interceptions (2011 season)
5,450 passing yards, 42 touchdowns and 21 interceptions (Texas A&M career)
Ryan Leaf
3,968 passing yards, 34 touchdowns and 11 interceptions (1997 season)
7,433 passing yards, 59 touchdowns and 24 interceptions (Washington State career)
As by evidence from the statistics, Leaf was a little bit better player than Tannehill in college, but if Tannehill played at least two full seasons as the man behind center at A&M, the two would have strikingly similar stats.
I'm just giving out an opinion that I don't believe Tannehill will be what these experts/fans believe he will be. It's the same old story...mobile quarterback, great size, intelligent and huge upside. Well, I'm just pointing out that what they are saying about Tannehill is eerily similar to Leaf, and we all know what happened to Leaf in the NFL. Like the NFL scouts said above, they both are two naturally-gifted athletes who are mobile, have great size and good accuracy.
As the general manager for the Dolphins or any team, I wouldn't draft Tannehill. He is not going to be able to transition into the NFL due to his lack of experience and his struggles against decent to top teams at the college level. Address other needs, teams of the NFL; do not draft the Ryan Leaf of this decade.
Once again, this is just my opinion on Ryan Tannehill.