RB Trent Richardson should start searching for real estate in the greater Cleveland area
Butch Dill/Getty Images
June 24, 2016
The draft is bearing down on us—as of this writing it is a mere two days away—which means the final push to predict just what teams are going to do. To do so for the Cleveland Browns is a harder task than for most teams, what with their 13 picks this year.
However, no challenge is too great. Here is my final, full, seven-round mock draft for the Cleveland Browns.
Round 1, Pick 4: RB Trent Richardson, Alabama
What more can I say about the Browns' need to take Trent Richardson that I—or anyone else—hasn't said already?
He's the most elite running back of this year's draft class, can make plays like no other, has the power to be his own lead blocker and is great in the passing game and in pass protection. In short, he's a one-man army and just the kind of game-changing playmaker that will help the Browns immeasurably.
Richardson's it. Period.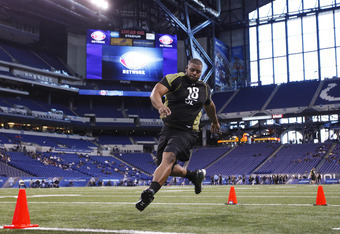 At this point, I will be shocked if Cordy Glenn doesn't end up in the AFC North, the Browns having one of the better chances to land him
Joe Robbins/Getty Images
Round 1, Pick 22: OG/T Cordy Glenn, Georgia
The Browns certainly need to grab a wide receiver, but with three picks in the first 37, it can wait until the early second round.
Bolstering the offensive line is a huge priority for Cleveland this year, and a starting right tackle tops that list. Cordy Glenn has played guard but would be well-suited for tackle duties in the NFL. He's long-armed and quick for his size and should be an immediate starter.
Round 2, Pick 37: WR Mohamed Sanu, Rutgers
There are likely to be a number of quality receivers that the Browns could snag in the second round, so I am not completely sold that Mohamed Sanu will be the one they select.
However, if he is, they would be making a wise choice. There have been some questions about Sanu's speed, but none about his reliable hands and strong route-running. He knows how to get separation from defenders, and his track record of good health is an added plus.
Round 3, Pick 67: OLB/ILB Mychal Kendricks, California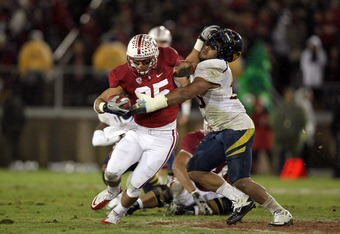 Mychal Kendricks isn't going to give up on a tackle
Ezra Shaw/Getty Images
While I'd prefer the Browns land someone like Ronnell Lewis or Lavonte David, both will likely be spoken for. But there's nothing wrong with Cal's Mychal Kendricks, who has slowly and steadily risen up draft boards in the last month.
He rated as the fastest linebacker to run the 40 at the scouting combine in 12 years, and that speed has shown in his pass-rush skills when he's played at outside backer.
The Browns need help in the pass rush as well as stopping the run, and Kendricks' speed and good tackling means he'll be more than solid at both.
Round 4, Pick 100: OT James Brown, Troy
Might as well bring in more depth on offensive line—the more starter-capable players they have, the better the odds for quarterback Colt McCoy's success as well as Richardson's.
Brown is good enough to play left tackle, has athletic ability and explosiveness and could pay huge dividends for the Browns over his career.
Round 4, Pick 118: OLB Sean Spence, Miami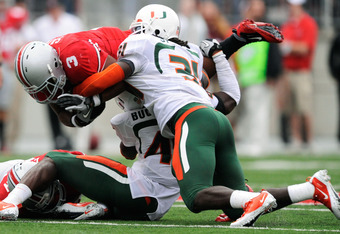 Sean Spence goes smash
Jamie Sabau/Getty Images
If there's one area on defense on which the Browns need help, it's in stopping the run, and that's just the thing Sean Spence is suited to do.
He's a bit smaller, which makes him almost exclusively useful as a 4-3 outside linebacker, but he's a great tackler and destined to defend the run. He needs to add another 10 or 20 pounds, but that won't be a problem when he starts an NFL conditioning program. 
Round 5, Pick 139: WR Jarius Wright, Arkansas
The Browns lack a solid slot receiver, and the fifth round is a good time to pick up one of these small, fast players.
Jarius Wright is excellent at running routes and has good hands. As a plus, he could also contribute on the kick- and punt-return end of things. Basically, the more weapons for McCoy to throw to, the better—if not Wright, then someone else who can catch a few passes will be a smart fifth-round add.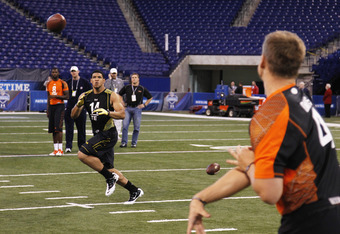 Now that's a tight end, Browns fans
Joe Robbins/Getty Images
Round 5, Pick 160: TE Evan Rodriguez, Temple
Yes, the Browns have a number of tight ends on the roster—five, to be exact—but none of them are talented at both catching passes and blocking, which explains why they have so many. Temple's Evan Rodriguez may prove to be a real steal for the Browns in the fifth round.
Rodriguez isn't the fastest tight end in the draft, but he's consistent, has good hands and is a solid blocker. He could be used an an H-back in the NFL, but with so many tight ends already rostered up, however the Browns use him he'll be worth the pick.
Round 6, Pick 204 (Compensatory): FS Tramaine Thomas, Arkansas
The Browns could use additional depth in their secondary, especially at safety. Tramaine Thomas may go in an earlier round if teams think he can play as a corner, but he projects better at safety.
If the Browns bring him on, he could play a hybrid role and take over the nickel corner duties that used to belong to Dimitri Patterson.
Round 6, Pick 205 (Compensatory): QB Russell Wilson, Wisconsin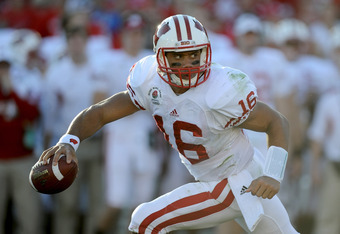 QB Russell Wilson is a steal in the sixth round
Harry How/Getty Images
A few inches makes the difference for Russell Wilson. If he were closer to 6'1" rather than just over 5'10", he'd be a first- or second-round pick. But his height shouldn't be a concern for the Browns.
They need a better backup quarterback than Seneca Wallace, and Wilson has every chance to develop into a starter in a few years' time. He'd be a sixth-round steal for Cleveland.
Round 7, Pick 211: OT Landon Walker, Clemson
Landon Walker didn't receive a scouting combine invite and may be off of many teams' radars. He had an up-and-down senior season, but he's been a starter since his freshman year and has a great work ethic. He's just the kind of player the Browns could use for offensive line depth with this late-round pick.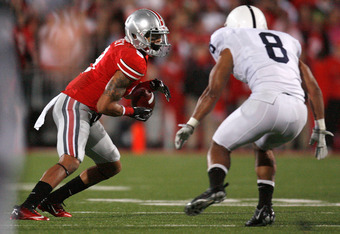 WR DeVier Posey would be high-risk in an earlier round; in the seventh, he's worth the Browns' time
Kirk Irwin/Getty Images
Round 7, Pick 245 (Compensatory): WR DeVier Posey, Ohio State
DeVier Posey is a high-risk receiver, namely because of his extended suspension last season and serious questions about his work ethic, but he isn't a lost cause.
In fact, he could be quite the high-value addition for the Browns if he blossoms into a more mature player in the pros. Posey has size, speed and good hands to his credit. If he can shake his issues, he's worth it for the Browns.
Round 7, Pick 247 (Compensatory): ILB Ronnie Thornton, Southern Miss
Ronnie Thornton is another under-the-radar prospect who could develop into a player of value for Cleveland.
He was Southern Miss' leading tackler in 2011 but had 40 fewer tackles in his previous season. The production is up and down, to be sure, but if he can prove himself a strong run-stopper in camp, there may be some rotational work in his future.
Like the new article format? Send us feedback!