Frankie Edgar Hints at Likely Drop to 145 Lbs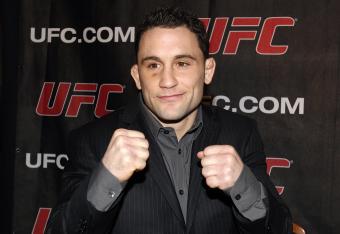 Michael Cohen/Getty Images
For months since his UFC lightweight championship loss to Ben Henderson, Frankie Edgar has had to contend with voices telling him to drop to 145 lbs. Now, for the first time, Edgar has hinted that he would go down a weight class and fight Jose Aldo for the featherweight title.
"We'll see what the future holds, but I think it's inevitable that I'll eventually get down there," MMA Fighting reported Edgar as saying. "I just don't know when."
Edgar lost his title in a gruelling five-round decision to Henderson at UFC 145 in February. Since that fight, UFC president Dana White has said that he would like to see Edgar drop to featherweight and fight for the title there.
Edgar is a small lightweight and looks dwarfed by his opponents in almost all his fights. During his fight against Henderson, it looked as though two weight divisions separated the fighters, with Edgar at 5'6''—three inches smaller than Henderson.
It was a similar story in his match against a 5'8'' Gray Maynard. In both those fights, Edgar was battered and bullied over five rounds and it was only though his now legendary resilience that he was able to defeat Maynard.
It is this ability Edgar possesses to fight and defeat much larger opponents that led to Dana White to call him the best pound-for-pound fighter in the world.
However, his loss to Henderson exposed his weaknesses at that weight class. These matches against the current crop of lightweights are gruelling and dropping to 145 lbs against opponents much closer to his size wouldn't be too difficult for Edgar.
White has promised Edgar an immediate title fight against Aldo should he chose to go down to featherweight, and Edgar says that fighting the Brazilian is one of his goals.
"I'm all about fighting big fights and fighting the best guys, and Jose Aldo's one of them," he said. "We'll see where it's at, whether it's at 145 or 155."
Right now Edgar still has work to do in lightweight. His rematch against Henderson has been confirmed, although when and where is still unknown.
For more MMA goodness, check out my blog: The Fight Week or add me on Twitter @thefightweek
This article is
What is the duplicate article?
Why is this article offensive?
Where is this article plagiarized from?
Why is this article poorly edited?