2012 NFL Draft: Mark Barron and Players Dallas Cowboys Can Move Down to Pick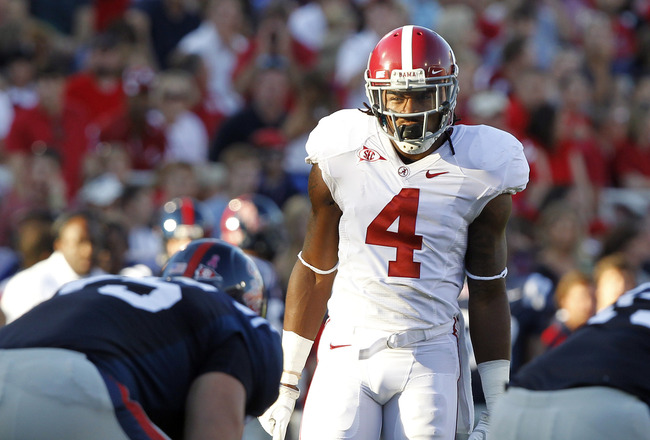 Butch Dill/Getty Images
The Dallas Cowboys will be looking at their share of prospects at No. 14 in the first round of the NFL draft.
They'll have plenty of defensive players to watch as players are taken off the board on Thursday, such as Quinton Coples and Fletcher Cox. On offense, the Cowboys will likely be monitoring David DeCastro.
The Cowboys may be looking at some prospects that could go several places after No. 14 as well.
If the Cowboys are confident that they want a player who is expected to go off the board well after their current pick, other teams either may not be inclined to draft him or need to draft at the position.
Here are a few players the Cowboys could trade down to draft.
Mark Barron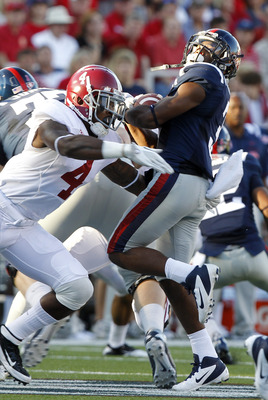 Butch Dill/Getty Images
Mark Barron is a popular choice for the Cowboys to take at No. 14. However, this writer doesn't endorse such a selection, mainly due to concerns about his hernia.
Also, Barron isn't a very good cover safety.
Now, if the Cowboys do want to draft him, they could stand to trade down four to eight spots to do it. While Barron has moved up the boards in the last few weeks (now ranked No. 15 overall by CBSSports.com after being ranked around No. 40 a few weeks ago), teams drafting after the Cowboys may not be interested in him.
Teams drafting after the Cowboys, such as the Chicago Bears and New York Jets, could use a new safety. However, the Bears and Jets seem likely to draft a wide receiver or pass-rusher.
Also, despite his rapid rise on the board, it's still possible that looming questions about his abilities could keep him from being drafted in the first half of the first round.
Thus, the Cowboys could trade down as far as the Cleveland Browns' No. 22 pick to get Barron.
Peter Konz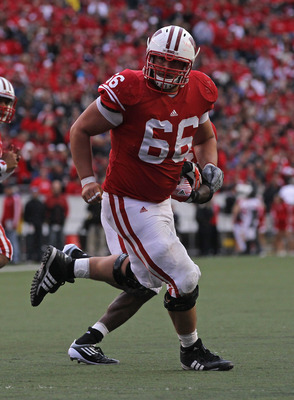 Jonathan Daniel/Getty Images
Peter Konz of Wisconsin might seem like a solid first-round pick. Konz is a physical blocker with great agility and explosion for his position.
However, the 6'5", 314-pound center has injury questions that have dropped him down the board. Konz suffered ankle injuries in 2010 and 2011. He also had a blood clot in his lung in 2009.
The Cowboys could easily trade down to the late first round to pick up Konz.
Teams that might be interested in drafting a center in the first round include the Baltimore Ravens and Kansas City Chiefs. However, the Chiefs could use their first pick to draft elsewhere on the offensive line.
Thus, the Cowboys could stand to trade down as far as the Denver Broncos' No. 25 pick to get Konz.
Courtney Upshaw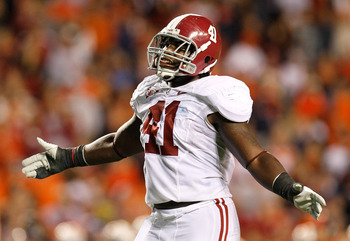 Kevin C. Cox/Getty Images
Courtney Upshaw could be an intriguing pass-rushing prospect for the Cowboys. He's a terrific pass-rusher who reads the offense well and is agile.
However, he's fallen down the draft board a bit because, as CBSSports.com noted, he didn't seem explosive at the Alabama pro day.
A few teams drafting after the Cowboys could be interested in drafting a pass-rusher. Particularly, the Jets and Bears could have their eyes on him. However, the Jets might end up drafting a wide receiver instead.
If the Cowboys get a strong indication that the Jets will draft someone other than a pass-rusher, they could trade down a few picks to get Upshaw.
The Cowboys could trade down to the San Diego Chargers' No. 18 pick to get Upshaw.
Keep Reading

Dallas Cowboys: Like this team?