NBA Playoff Schedule 2012: Most Dangerous Athletes to Watch This Postseason
April 24, 2012
Chris Trotman/Getty Images
The 2012 NBA playoffs are just around the corner, and there are a few players that teams need to fear the most. 
Several teams have what it takes to make a deep run in the postseason, but should they run into one of these players, they'll have a difficult time winning. 
Should some of these players square off against each other, it will make for a very exciting series. 
With that said, here's who I see as the three most dangerous athletes heading into the 2012 NBA playoffs. Be sure to drop a comment and share your thoughts. 
Are you surprised? He had to make this list somewhere, so it's best to just start with him.
LeBron is making a very strong case for the MVP, and in the postseason, he knows he has to tear it up to reach the finals once again. 
With Dwyane Wade suffering an injured finger, LeBron will be counted on even more in the playoffs. Sure, Wade may be good to go for the postseason, but one wrong move and he could easily re-injure that finger. 
Averaging 27.1 points, 7.9 rebounds, 6.7 assists and shooting .531 from the field, it's easy to see that LeBron is the most electrifying player in the game today, and teams definitely need to be afraid of facing him in the playoffs, even with the reputation of him being a no-show in the fourth quarter.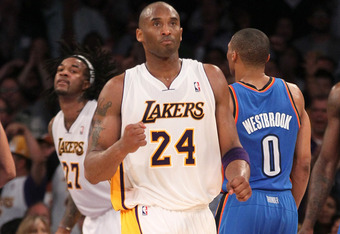 Stephen Dunn/Getty Images
When healthy, Kobe easily rivals LeBron as the best player in the league, and there is no question that the Los Angeles Lakers' star is going to turn his game up a notch in the postseason.
The Western Conference is strong, so getting through it won't be easy, especially since the Lakers won't be one of the top two seeds.
Still, L.A. will look to Kobe for help, and he is going to deliver big time. Last year was a huge debacle and meltdown for the Lakers, and they're not going to let that happen again.
Kobe will dominate throughout the playoffs, reminding everyone that he's too elite for some teams to handle.
Deciding who to choose for the third athlete on here wasn't easy, but given his recent success, I had to go with Carmelo. 
He is all the Knicks have right now and if they're going to pull a shocking upset and move out of the first round, it's mostly up to Carmelo to get the job done. 
In his last five games, Carmelo is averaging 32 points per contest, but it's not a fluke, as he has averaged 30 points per game in his last 10.
Carmelo is on fire right now and that will carry over into the playoffs. New York is likely to play Miami, Chicago or maybe even Indiana depending on how the final couple games of the season end up. No matter who they play though, the Knicks will look to Carmelo to bring them glory. 
Since others were incredibly close to Carmelo, here's who finishes out my top five. Rajon Rondo of the Boston Celtics is capable of having monster performances, and Kevin Durant of the Oklahoma City Thunder is going to shine bright as well. Also, watch out for Dirk Nowitzki, because he's going to turn it on big time in the playoffs.