NHL Stanley Cup Playoffs 2012: The Top Ten Players We Lost Respect For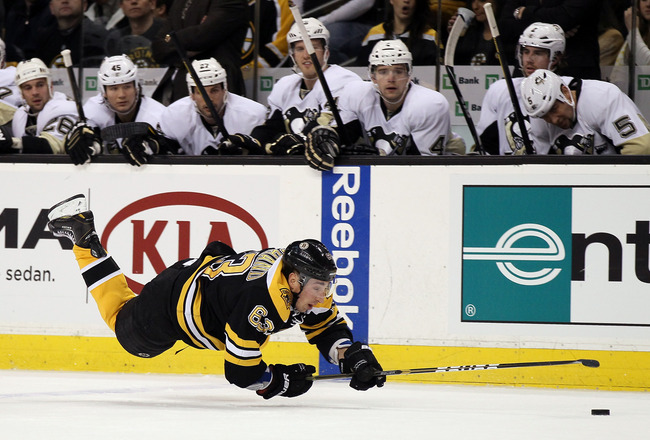 Elsa/Getty Images
The first round of the 2012 Playoffs will forever be remembered by the circus the cross-state Pennsylvania rivals put on.
The Pittsburgh Penguins and Philadelphia Flyers put up more penalty minutes, fights, scrums, and suspensions than we could have ever imagined!
The culprits, however, were on almost every team, most notably those in the Eastern Conference.
The following is a look at some of the players from the first round who, through their own classless antics, we've lost a great deal of respect for.
Well that is, if you had any respect for them to begin with.
10. Brian Boyle
Boyle has been a thorn in the side of the Senators all series long.
The guys from NBC Sports Network explain Boyle constantly pestering now Norris nominated defenseman, Erik Karlsson.
9. Chris Neil
Neil was a constant nuisance for the Rangers all series long. Not only did Neil net a game winning goal, but he made a point with his fists and body.
Neil is a player who will go after anybody, anytime.
8. Kris Letang
Kris Letang played just as bad, and as dirty for that matter, as any Penguin on the team.
Here Letang goes after Flyers' star defenseman Kimmo Timmonen, who is not exactly known for fighting.
7. James Neal
James Neal had a career year with the Penguins and as a result signed a six year contract extension.
Neal however was beyond useless in the playoffs and committed some very moronic acts which resulted in a one game suspension.
6. Carl Hagelin

Hagelin targets Captain Alfredsson's head

Hagelin decided to make a statement against the surprising underdog Ottawa Senators when he targeted the head of Sens' captain and future Hall-of-Famer, Daniel Alfredsson.
Alfredsson missed a few games and returned to action in Game VI, still a little shaken up.
Hagelin is not a dirty player, but his play against the old-timer was completely classless.
5. Andrew Shaw

Shaw takes out defenseless Smith

Mike Smith was the key to the Coyotes' success this postseason, there is no denying this.
When Andrew Shaw decided to take a run at Smith and hit him in the head, he got exactly what he deserved in a three game suspension.
Shaw is a young player with a bright future ahead of him. We all hope this is the last attack on another player's safety that we ever see from him.
4. Matt Carkner

Carkner jumps Boyle

In response to actions committed by Brian Boyle, Matt Carkner took it upon himself to check Boyle into the boards where he proceeded to pummel him unmercifully. Boyle didn't fight back because he didn't get the chance to.
3. Aaron Asham

Asham crosschecks Schenn

Mario Lemieux frequently calls for sanity to a game that has been plagues by thugs, brawls, and idiotic acts. It is ironic that he still signs Aaron Asham's checks.
Asham's acts are not as predatory as Matt Cooke's back in 2011, but he is quickly earning a reputation for being one of the league's least liked players.
2. Brad Marchand

Jon Stewart rips Marchand

To imply that you've lost respect for someone, one most already have respect.
Marchand's diving is so bad that even Comedy Central's Jon Stewart felt it necessary to make fun of him. I'm not sure what was worse, Marchand's diving or the NHL refs falling for it every time. Thankfully Marchand has no effect on the final outcome of this series.
1. Raffi Torres

Torres earns his 25 game suspension

Torres was suspended for twenty-five games for this vicious hit on Marian Hossa.
This total disregard for player safety, and Torres' status as a repeat offender, put him at the top of the list.
The Phoenix Coyotes will take the loss of a fourth liner in exchange for winning their first ever playoff series though.
Keep Reading