The Future of the L.A. Lakers by Way of Andrew Bynum
April 24, 2012

Harry How/Getty Images
Andrew Bynum is the Los Angeles Lakers' next great centre and right now is creating a legacy that will go down in the history of purple and gold big men in the same line as Laker greats George Mikan, Wilt Chamberlain, Kareem Abdul-Jabbar and Shaquille O'Neal. Standing on the stilts and running on the diesel of giants, Andrew Bynum is carrying the tall torch of the next post-presence of this storied franchise.
At only 24 years old, the paint punctuater is just that good, standing next to No. 24 Kobe Bryant with pride and power. Minus some Dwight Howard trade rumors and knee and growing pains 'Drew looks to be the greatest centre, not only for the Lakers but in the National Basketball Association, for at least the next decade.
He's that good, and the last (alongside the oft-compared and contrasted Howard) of a dying breed, keeping one of the most pivotal positions on the basketball floor alive and fighting: dominating, in fact.
Sure, there are still some maturing years before this kid reaches his prime, but the fact that he's looking this good now is just crazy. Sure, one week he was jacking up threes and getting tossed from games like he was acting his jersey size rather than his age, but the next seven days saw the No. 17 join the exclusive company of Mikan, Wilt, Kareem and Elgin Baylor by taking 30 rebounds away from Tim Duncan and the San Antonio Spurs.
The legendary giant Shaquille O'Neal never even did that. Now do you think Bynum, the young baby Shaq, is ready for the playoffs, the big time and another championship? You bet!
This week Andrew Bynum led his Los Angeles Lakers, sans Bryant (while Kobe showed he was "the Zen Mamba" of sideline coaching), just like he led the Western All-Star team this year. Standing next to fellow February star Bean Bryant, the former Western Conference Player of the Week, Bynum has shown the league it's best one-two punch aside from Kobe and Pau.
Minus a few years of experience and a youthful, Afro-sporting Kobe, this post and perimeter dominance is almost reminiscent of the dynamic duo that was Shaq and Kobe—minus the arguments. O'Neal and Bryant were arguably the NBA's greatest partnership ever, but on this new versatile Laker squad Bynum forms more than one great couple.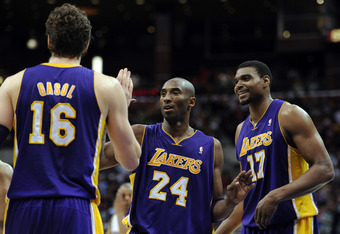 Harry How/Getty Images
There's the unstoppable-force-meets-the-immovable-object frontcourt tandem with Spanish fighter Pau Gasol, and then there's the future of this Showtime ballclub that is Andrew and the Lakers' new point Ramon Sessions. Long  after Pau heads back to Spain for retirement and Kobe lands somewhere in Italy for a post-sneaker-unlacing trip back down memory lane, No. 17 will still be in L.A. with the team's new No. 7, showing the Buss family and the rest of the league that trading for Dwight Howard would have been an unnecessary move.
Still, that's a long time from now.
Bynum is duking it out with Dwight, going elbow to elbow with the new Superman like he did Shaq in his rookie year. He'll be kryptonite to this generation's man of steel and whatever else the league of superheroes has to throw at him. People can expect more golden years for the purple-hearted Lake Show.
From Kobe to Pau to Sessions and more, the Lakers have double-team threats everywhere, like their renaissance men and defensive duo Matt Barnes and Metta World Peace, causing hell for the opposition's offence. Still point for point, pound for pound, standing at the centre of it all will be Andrew.
Team USA will sure miss him this  summer, but if this knee issue is finally cleared up in Germany like Kobe's was, then this young man can finally show us just how good he can really get. From the zen of Phil Jackson's mastering to Kareem Abdul-Jabbar's legendary teaching and tutoring, the torch will well and truly be passed.
Sure, not carrying the Olympic flame for the U.S. may singe his status a little bit, but once Bynum shows us more of the fire inside, he will look to burn brighter than most of the illuminating star talents in the league.
From being the youngest player to ever play in an NBA game to rounding out to being a solid 20 and 10 threat, this young man has achieved so much but still has so much more to do. Once he stops flagrantly ripping off his jersey, you can count on that No. 17 one day being raised in respect next to the 13 of Chamberlain and the 33 of 'Cap. Right now, he's just that good. Give it a few years and he could be truly one of the greats.