Arsenal Transfer Rumours: Likely Summer Striker Clearout for Gunners
April 24, 2012
Scott Heavey/Getty Images
I must admit that I first thought about the subject of this article when I read this morning's rumour that Robin Van Persie's agent had "held talks" with Juventus over a possible "summer move" to the Italian champions-in-waiting.
And while there's nothing completely untoward in an agent meeting another club—that's their job, isn't it?—it made me look at Arsenal's current strikers with the somewhat disturbing realisation that come next season, we could have an entirely new roster at the club.
The Present Incumbents
Robin Van Persie: Let us begin with the talisman, the PFA and Football Writers' Player of the Year, the 34-goal phenomenon that is Van Persie . First up, there is NO WAY that he will go to Juventus.
The Italian League has lost its lustre and it is clearly third best—if not fourth, behind Germany—in Europe. Juventus may be the latest "invincible" team—they are undefeated with five league-games to go—but they will hold no attraction for the Dutchman.
If he does leave Arsenal for greater riches, I am sure Real Madrid, Barcelona, Manchester City and Chelsea can pay more than Juve. And if he leaves to "win trophies", he will move within the Premier League—which I doubt very much—or to Spain. 
If Arsenal can tie up third place, I am fairly confident that he will stay, because we will surely do better in this summer transfer window than we did in the last.
Marouane Chamakh: I wonder if Chamakh ever lies awake at night wondering what exactly happened. Because I do! A striker who looked like a strong, confident and truly fantastic "Plan B" for the first six months after he arrived seems to have forgotten how to play the game.
Of course, he hasn't been helped by his captain's form and fitness, and his manager's unwillingness to use him at all, but the Moroccan's days at the Emirates Stadium are surely numbered. Fiorentina, Bordeaux and Paris Saint-Germain are all reportedly interested in Chamakh, and Arsene Wenger will be keen to cut his losses on a man who has started just one league game this season.
Ju Young Park: It amazes me that Wenger has not been grilled by the press on this one. Signed amid all sorts of controversy—lured away halfway through a Lille medical—Park was certainly expected to play and score a lot more this season.
His highlights video from his time at Monaco points towards him being a handy finisher, and we got a glimpse of the same when he scored for Arsenal in the Carling Cup. But five-minutes-of-football-in-35-league-games later, I am well and truly scratching my chin at Wenger's very apparent refusal to use him.
There are murmurings that Park's contract/transfer deal contains a payment clause based on appearances, which Wenger does not want to invoke. This obviously  indicates a strong desire to sell. But with no club rumoured to be interested—surprise, surprise—a loan spell may be the best Arsene can hope for.
Nicklas Bendtner: A player never shy to build himself up, Bendtner will hopefully be the first to admit that he has had a sub-par season. Seven goals in 25 games in not "best striker in the world" form, but I expect Bendtner to want out of Arsenal come season-end. Because there is no way he will want to sit on the bench behind Van Persie or whoever Arsenal's number one striker will be next season.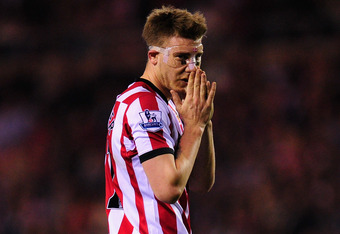 Stu Forster/Getty Images
There is the faintest talk of Sunderland being interested in signing Bendtner on a permanent deal, but somehow, I don't see that happening. It is much more likely that he will be playing his football in Germany, France or Spain next season.
Carlos Vela: Now here's a slight surprise. Signed by Arsenal midst a flurry of hope and expectation, Vela consistently failed to deliver. His dinked finishes were a joy to behold—when they happened—but other than that, his output was disappointing.
I always believed that English football was not for him, and that he would do better in warmer weather with slightly more protective referees.
And so it has transpired. Vela has been excellent for Real Sociedad this season, and has recently hit a welcome purple patch. Rumours suggest that Sociedad want him permanently, and I believe that a move away from the Emirates will suit all parties concerned.
Vela now has 11 goals and eight assists in 30 league games, and a few more between now and the end of the season will push his sale price up considerably.
So there we have it. Five strikers presently on the books, none of whom might be around when August arrives.
The Fresh Faces
This section has probably been beaten to death by all and sundry, so I'm going to keep it brief.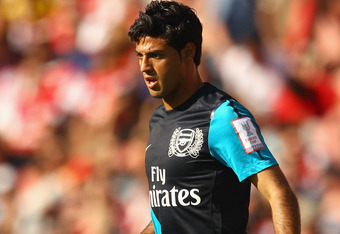 Richard Heathcote/Getty Images
Lukas Podolski: The Podolski story looks like a done deal, with only the announcement pending. The FC Koln front-man will be a wonderful signing at the Emirates, and you only need to look at some of these video highlights to see how good he really is.
Olivier Giroud: The Montpellier striker is another player rumoured to be heading towards North London. With 23 goals this season, the 6"3' French international would be an imposing addition to the Arsenal strikeforce.
Clint Dempsey: Fulham's American hit-man, has hit the headlines this season with one barnstorming performance after another. Craven Cottage is surely too small to match his burgeoning ambition next season, or so say the press.
Benik Afobe: And finally, a player already on Arsenal's books, Benik Afobe. The young striker, currently on loan at Reading, is rated highly by peers and coaches alike, and should get some game-time for Arsenal next season. He's one I'm really looking forward to watching.
So there we have it. A revolving door full of strikers in north London.
Fingers crossed that Arsenal "strike" it rich!