Arsenal: Three Goalkeepers Set to Leave This Summer
April 24, 2012

If news reports are to be believed, current Arsenal No. 1 keeper Wojciech Szczesny may not have much competition for his spot next season.
Manuel Almunia, Lukasz Fabianski and Vito Mannone, each of whom have featured as Arsenal's first-team shot stopper over the past few seasons, all appear likely to move away from the club in pursuit of more frequent football.
This leaves highly-rated, but unseasoned, 20-year-old Damian Martinez as the only holdover in the goalkeeping ranks.
This is not a pleasant proposition should Szczesny succumb to injury. Martinez has been named to the first-team substitutes' list twice this season—once in the Carling Cup and once in the FA Cup. Hardly the sort of experience required for a backup at a top club.
The lad is in need of games but at this stage they should come via a loan deal—not with Arsenal in key matches.
With silverware in 2012-13 looking like a very real possibility for the Gunners, who are currently enjoying a run of nine wins in their last 12 Premier League matches, having a serviceable No. 2 keeper is a must—particularly when it comes to instilling confidence where certain players are concerned.
Namely, a Dutchman.
With Robin van Persie's contract situation still unresolved—and with his agent seen talking to Juventus officials this week—it is imperative that Arsenal manager Arsene Wenger forge a side with a competitive outlook.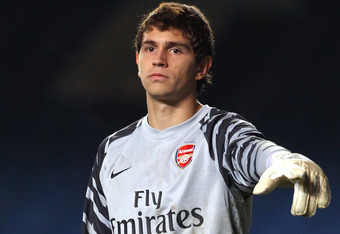 Arsenal are very nearly there; what they cannot afford, at this point, is to lose strong players. If they do, then they must be replaced in kind.
Van Persie, who is out of contract in 2013, will re-sign with his club of eight years if he feels they have a genuine chance to win trophies in the coming seasons.
He has every right to be cagey; he will be 29 by the time next season rolls around. His competitive clock is ticking.
Almunia's departure this summer was expected—the Spaniard has played only four first-team games this season and they all came while he was on loan with West Ham during the first half of the season.
He is out of contract at the end of the season and was never going to be re-signed. That he appears to bear no ill will with the club—and praises Wenger for his instruction—serve as stirring testaments to his character.
Fabianski and Mannone's cases are more layered and subsequently worrisome.
The Polish shot-stopper Fabianski, now the backup to compatriot Szczesny with both club and country, appears ready to ply his trade away from Ashburton Grove.
Back in February, he had expressed his desire to go out on loan in search of consistent playing time, obviously with a beady eye fixed upon this summer's European Championships, which will take place in part in his home country.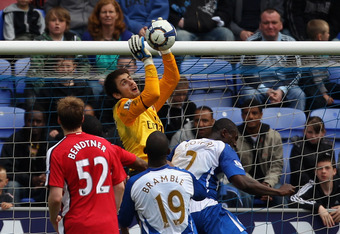 Alex Livesey/Getty Images
"I want to play, and like we all do, I'll fight as hard as I can to get as many chances as possible," Fabianski said.
"It's a big few months for me – come on, the Euros don't come round in your home country very often in your career if at all, so it's important that I'm playing and giving myself a chance to be involved."
Wenger did not grant him his wish. Mannone has spent this spring on loan with Hull City and Wenger probably did not wish to have to rely on Almunia had Szczesny gone down to injury.
Mannone, days after joining Hull, had voiced his desire to make the move permanent. A plea which must have grated on Wenger's ears, to be sure.
It's no secret that good players wish to play. They should expect to. Fabianski and Mannone would both start for most clubs—and are obviously aware of this fact.
Both have featured for the first team in sequences over the past few seasons, and both have shown vast reserves of potential. Were they given more time, maybe they'd have developed consistency.
Fabianski overcame his horror-show performances back in spring 2010, when his gaffes cost Arsenal goals in key matches down the stretch of the season.
He has since recovered from that psychological toll and has been far more consistent in goal in recent appearances.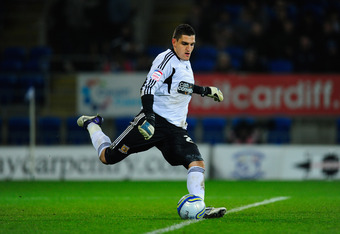 Stu Forster/Getty Images
Mannone has cut an even more peripheral figure at Arsenal these past seasons. Despite playing superbly during a stretch in the early portions of the 2009-10 season—when injuries forced Arsene's hand in giving the Italian games at No. 1—he has never appeared to earn Wenger's full trust and has spent the past couple seasons in and out of loan deals with Hull.
He is now 24 years old—still very young for a keeper—but his patience must be waning.
And in all rights, it should be—ditto for Fabianski.
Szczesny is in no danger of acceding his current No. 1 position. Thus, those two wish to start their careers anew, elsewhere.
They should be wished the best of luck.
This development does put Arsenal in a quandary, however. Wenger has already been linked with any number of outfield players this summer as he looks to bolster the ranks for a run at the 2013 league title.
He may now have to add a backup keeper to his shopping list.