NHL Playoffs 2012: Previewing New Jersey Devils vs. Florida Panthers Game 6
April 24, 2012

Joel Auerbach/Getty Images
Tonight, the New Jersey Devils will try to stave off elimination when they meet the Florida Panthers in Game 6, airing at 7:30 p.m. ET. The Panthers lead the series 3-2 after a shutout victory in Game 5.
The Panthers have not won a playoff series since 1996, when the team made a surprise run to the Stanley Cup Finals, and fans and players are hungry for some postseason success.
In Newark, the Devils are used to the playoffs and will only be happy with further success.
They will have the benefit of home ice for Game 6 though, where they have outscored the Panthers 7-4 in the series. A win would mean extending their postseason by at least a game, while a loss could very well spell the end of an era.
Florida Panthers
The Panthers were quickly able to derail a hot New Jersey team. The Devils won six straight games to end the season, along with a 3-2 squeaker in Game 1.
In Game 2, Jose Theodore and his Panthers switched roles with the Devils, going up 3-0 and ending with a tense 4-2 (an empty-netter as time expired) win.
The Cats have seen solid production from across the board.
Kris Versteeg and Sean Bergenheim have each contributed two goals and two assists. Brian Campbell and Mikael Samuelsson also have four points, while Stephen Weiss, Tomas Fleischmann, Marcel Goc and Scottie Upshall have each contributed three.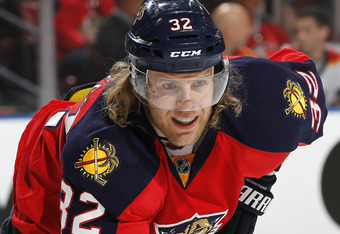 Joel Auerbach/Getty Images
In the crease, Jose Theodore has stood fairly strong, going 2-1 through his four starts with a .919 save percentage and a 2.59 goals-against average. He was able to shut out the Devils in Game 5, putting aside 30 shots.
Most important of all, the Panthers special teams—specifically the power play—have been superb.
Against a Devils team that set the post-expansion record for best penalty kill, the Panthers are currently sporting a 31.8 percent conversion rate.
Five different players have scored man-up, and though the success has slowed in the last couple of games, the PP has been crucial to the outcome of more than one game.
New Jersey Devils
Entering the playoffs with what was considered one of the more favorable matchups, the Devils now find themselves on the brink of elimination.
At times—Game 1 first period, Game 4 third period, Game 3 opening minutes—the team looked stellar. But inconsistent play has cost the team, and led to the only lead change the series has seen so far, one which may end up deciding the series.
The Devils offense has been stagnant at times, explosive at others.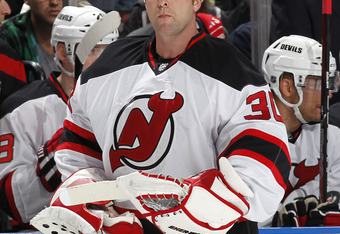 Joel Auerbach/Getty Images
Travis Zajac has two goals and two assists. Zach Parise, Ilya Kovalchuk and Patrik Elias have each scored twice, white Parise and Kovalchuk have added a helper as well.
Part of the team's trouble lies in offensive players not meeting expectations.
David Clarkson, who had 30 goals this past season, has just three assists in the series. The two goals are the only points Elias has. Alexei Ponikarovsky and recently named Calder nominee Adam Henrique each have but one assist.
Without Parise, Kovalchuk and many others producing at a higher level, the defense has to pick up the slack, and they have not quite been doing that.
Martin Brodeur is 2-2 in five games, while boasting a .916 save percentage and 2.32 GAA.
At times, Brodeur has looked brilliant. This was the case in Game 4, when Brodeur stopped 26 shots for his 24th career postseason shutout, the most all-time.
On the other hand, look at the games surrounding that performance: Game 3 saw Brodeur give up a few questionable goals when he was screened before being pulled from the game; Game 5 had Marty playing well, keeping his team in the tight 1-0 game, until a mindless giveaway handed the Panthers a two-goal lead with seven minutes left.
Special teams have been the biggest area of concern, where they are sporting just a 68.2 percent success rate on the penalty kill—an abysmal number, really.
They have enjoyed moderate success on the power play—satisfactory, though not game-changing—with a conversion rate of just over 22 percent.
The Skinny
Realistically, this is not a heated rivalry. With few exceptions, the only physicality has been clean hitting. The Devils may up the intensity in tonight's game, and that could show in any number of ways (fighting, huge hits, hair-pulling, bench-throwing).
But because the Devils know what's at stake, they will not take this game lightly.
The Devils will come out ready to play, and desperate for a W. This should be exciting, given the caliber of forwards New Jersey has to offer. Look for lots of fast-developing plays that feature Kovy and Parise among others.
For Florida, this is not quite as important of a game.
It's crucial, no doubt, but the Panthers will be preparing for what the Devils have to offer, and the game would likely focus around a Panthers counterattack. They do not need to score and they do not have any fans to impress; they just have to outlast the Devils' onslaught and wait for an opening to emerge.
Players to Watch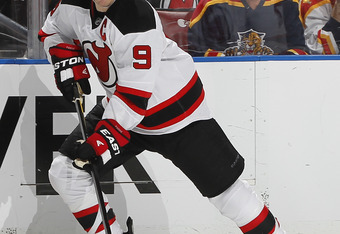 Joel Auerbach/Getty Images
Zach Parise, Forward, New Jersey
This could very well be Zach Parise's last game as Devil. Of course, he'll try to put that out of his mind. Even without it, he's the captain of his team and its most talented player.
Elimination games are when great players shine, and make no mistake, Zach Parise is a great player. Given his familiarity with the big stage, look for Zach to have some spectacular chances this game.
Jose Theodore, Goalie, Florida
There's no question that Sean Bergenheim, Stephen Weiss and Kris Versteeg will play huge roles offensively, but the most intriguing to watch would be Theodore.
After being pulled in Game 3 and sitting out Game 4, Theodore came back with a 3-0 shutout in Game 5. He has surely secured his starting job for now, but if this team is to succeed moving forward, Theodore will need to do better than he has this series.
He can't keep giving up three goals in one period; he can't keep going back and forth between brilliant and somewhat competent.
If Theodore can put up a strong performance in Game 6, it would send a strong message, win or lose. Even if they lose, it tells the Devils that goaltending is not where the Panthers are going to break in this series.
Should the Panthers win, they'd advance with a goalie that they feel fully confident in.
The game begins at 7:30 p.m. ET and will be broadcast on the NBC Sports Network. Should the Devils win, Game 7 would take place on Thursday the 26th.
All numbers courtesy of NHL.com and Hockey Reference.